Germany's Business Confidence Unexpectedly Increases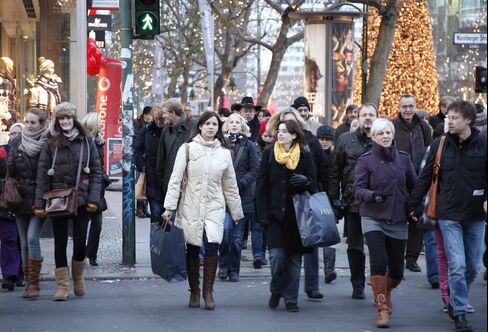 German business confidence unexpectedly rose to a record in December as stronger domestic demand helped bolster the recovery in Europe's largest economy.
The Munich-based Ifo institute said its business climate index, based on a survey of 7,000 executives, increased to 109.9 from 109.3 in November. That's the highest since records for a reunified Germany began in 1991. Economists predicted a drop to 109, the median of 36 forecasts in a Bloomberg News survey shows.
Germany's economy is fueling the euro region's recovery as declining unemployment encourages consumer demand and companies boost investment, helping counter weaker exports. German investor confidence also improved in December. While countries from Ireland to Spain are struggling to restore growth and lower budget deficits, the Bundesbank on Dec. 3 forecast German economic growth at a record pace this year.
"The German economy is entering the New Year at full throttle as it is taking the next stage toward a self-sustained recovery," said Carsten Brzeski, senior economist at ING Groep NV in Brussels. "Industrial production and exports will remain an important growth driver next year, while at the same time private consumption will pick-up further."
The euro was little changed after the release, trading at $1.3354 at 11:03 a.m. in Frankfurt, up from $1.3244 yesterday. The single currency has depreciated 6.8 percent against the dollar this year, making exports more competitive abroad.
Improving Confidence
Ifo's gauge of executives' expectations rose to 106.9 from 106.3. An indicator of the current situation jumped to 112.9 from 112.3. That's the highest since April 2007.
"Consumption is picking up and that's a good sign," said Gernot Nerb, an economist at the Ifo institute. "Germany is benefiting from the relatively weak euro."
Germany's benchmark DAX stock index has gained about 18 percent this year, making it the best performer among major European equity markets. Investor confidence improved for a second month in December, the ZEW Center for European Economic Research in Mannheim said on Dec. 14.
While weaker exports were among the main reasons behind a slowdown in the third quarter, consumer demand may help bolster an expansion in 2011, the Bundesbank said on Dec. 13. The economy will probably grow 3.6 percent this year, the fastest pace since data for a reunified Germany was first compiled in 1992, before cooling to 2 percent in 2011, it forecast.
Economic Expansion
By comparison, the European Commission last month forecast the 16-member euro region to expand 1.7 percent this year and 1.5 percent in 2011 as governments step up austerity measures.
In Germany, unemployment fell for a 17th straight month in November, keeping the jobless rate at 7.5 percent. That's the lowest since April 1992. Manufacturing growth accelerated in December and industrial output increased in October.
A consumer sentiment index published by GfK AG rose to its highest level in three years, the Nuremberg-based market-research firm said on Nov. 23.
Axel Strotbek, chief financial officer of Volkswagen AG's Audi luxury-car division, said on Dec. 14 that orders for the new A1 compact are "higher than expected." Peter Bauer, chief executive officer at Infineon Technologies AG, Europe's second-largest chipmaker, said last week the sales target for the current fiscal year may be "conservative."
'Good News'
"The impulses from exports are getting at least somewhat weaker, whereas consumer spending and, very likely, investment activity are taking over," said Andreas Rees, an economist at UniCredit in Munich. "This is good news for Germany and the rest of Europe."
German companies may struggle to maintain their sales growth as governments from Spain to France lower budget deficits by cutting spending, undermining the region's recovery. German factory orders from euro-area countries dropped 0.9 percent in October from the previous month.
European leaders late yesterday agreed to create a permanent crisis-management mechanism in 2013 in an effort to restore investor confidence after Ireland last month became the second euro-region country to ask for external aid.
"The euro crisis would become something of a burden for the German economy if every two months another country had to be rescued," said Fabienne Riefer, an economist at Deutsche Postbank in Bonn, Germany. "It would also affect the mood of the public and eventually the real economy."
Before it's here, it's on the Bloomberg Terminal.
LEARN MORE