Tencent Faces Hurdle After Beating Microsoft in China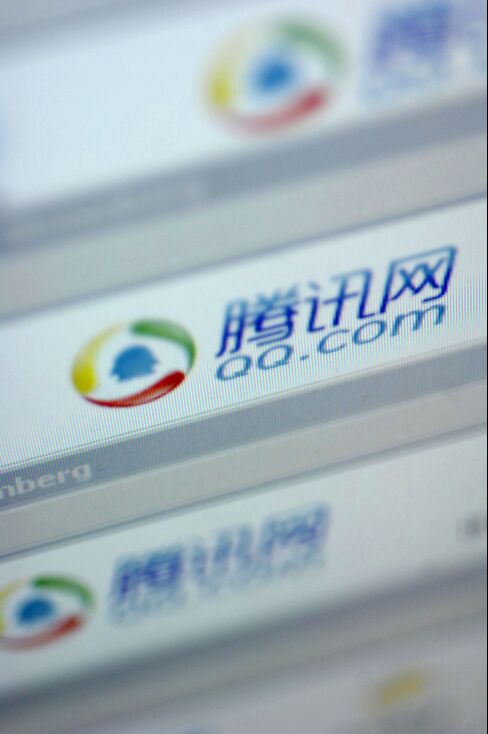 Tencent Holdings Ltd. overcame Microsoft Corp. and Yahoo! Inc. to conquer China's instant-messaging market. Analysts doubt it can replicate that success with foreigners.
The expansion of Tencent's flagship QQ messaging service to English, Japanese and French speakers -- announced yesterday -- won't be as successful as the Chinese version, analysts including Jiong Shao said. There are 637 million user accounts for QQ, more than Facebook Inc.'s subscribers globally.
"They are going to have a lot more challenges to succeed overseas," said Shao, who has an "underperform" rating on Tencent as head of Hong Kong and China research at Macquarie Group Ltd. "Their competitive position is really only in China."
Tencent, led by billionaire Chairman Ma Huateng, invested more than $300 million expanding in Russia and Thailand as sales of online games and QQ's user additions in China slowed. The move to offer foreign-language versions of QQ and an English social-networking site reflect the Shenzhen, south China-based company's concerns about growth at home, Shao said.
The shares fell 0.2 percent to HK$173.50 in Hong Kong trading today, the lowest level in two weeks. China's biggest Internet company has gained 3 percent this year after tripling in 2009, giving it a market value of HK$318.4 billion ($41 billion).
"Let's be honest: what are the chances of QQ being successful against all the other services that are available?" said Paul Wuh, head of Internet research at Samsung Securities Co. in Hong Kong. "Not very good."
Targeting Expats
The foreign-language services are targeted at expatriates in China, and overseas users with acquaintances in the country, said Claire Jin, a product manager for the international version of QQ at Tencent.
"At this stage, we still want to be very China-focused," said Jin. She declined to comment on the prospects of the service in overseas markets.
Charles Shen, a Beijing-based spokesman at Microsoft, declined to comment. Lisa Tam, a Hong Kong-based spokeswoman at Yahoo, didn't reply to two phone calls seeking comment.
The company also plans to set up a social networking site in English early next year, Tencent's statement yesterday said.
The new international QQ service will offer "a bridge to any non-Chinese user to connect with the existing 600 million active Chinese language accounts," Tencent said. It will include free applications to explore job opportunities in China, news, language tools, travel deals and videos, it said.
Overseas Acquisitions
The move builds on Ma's plan to expand overseas after dominating the Chinese market. QQ accounted for 77 percent of the nation's instant-messaging users at the end of last year compared with 4.2 percent for Microsoft's MSN service, according to research firm Analysys International.
In China, Tencent's QQ beat rivals such as MSN by being first to allow users to send files alongside their messages, and by focusing on younger users, according to Duncan Clark, chairman of BDA China, a Beijing-based technology consultancy.
While revenue at Tencent increased 61 percent to 14.1 billion yuan ($2.1 billion) during the first nine months, that's slower than the 73 percent surge during the same period last year. Growth of the company's Internet-services division is expected to slow, Tencent said in August.
Tencent and its largest shareholder, South Africa's Naspers Ltd., have invested in Internet portals, e-mail and instant-messaging services in India, Russia and Thailand in the past two years.
Naspers Ties
Most of Tencent's international expansion has been through investing in ventures with Naspers, which owns about 35 percent of Tencent. Naspers has been the largest holder in Tencent since 2001, predating the Chinese company's initial share sale in Hong Kong in 2004.
In 2008, Tencent bought a stake in a Naspers subsidiary in India. This year, Tencent bought 10 percent of Mail.ru Group Ltd., the Russian e-mail company that's a part owner of Facebook Inc., for $300 million, and 49.9 percent of Sanook, a Naspers unit in Thailand.
Facebook, the world's most popular social-networking service and valued at $43.1 billion by SharePost Inc., has in excess of 500 million users.
Founded in 1998 by Ma, Chief Technology Officer Zhang Zhidong, and fellow 1993 graduates of Shenzhen University's computer science program, Tencent has evolved into the world's biggest online games company by market value. That's been helped by the popularity of games such as "CrossFire" in China, which had 420 million users of Internet as of the end of June. The U.S. had 245.4 million users as of the end of 2009, according to the International Telecommunication Union.
Even so, expanding overseas isn't easy, said Tucker Grinnan, head of Asia telecommunications research at HSBC Holdings Plc in Hong Kong.
"If you look at companies that had tried to go aggressively overseas, it's been more problematic," he said.