RIM Beats Sales, Profit Estimates on BlackBerry Surge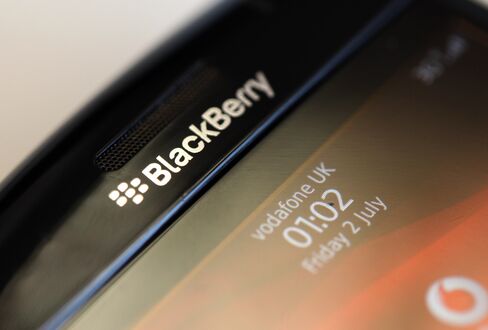 Research In Motion Ltd., maker of the BlackBerry smartphone, reported third-quarter revenue and profit that topped analysts' estimates, helped by demand for models such as the Curve and touch-screen Torch.
Sales rose 40 percent to $5.49 billion, RIM said today in a statement. Analysts had predicted $5.41 billion, the average of estimates compiled by Bloomberg. Earnings per share were $1.74 compared with an average estimate, excluding some costs, of $1.65. RIM added 5.1 million new subscribers, while analysts estimated 5.2 million.
RIM is counting on a new version of the BlackBerry Bold and the Torch, which has a slide-out keyboard and better Internet browser, to lure customers away from Apple Inc.'s iPhone. RIM is also tapping demand in markets such as Brazil and Indonesia for less expensive models like the Curve, which incorporate its free instant-messaging system, to fend off the challenge from a slew of new phones based on Google Inc.'s Android software.
Revenue this quarter will be $5.5 billion to $5.7 billion and earnings per share will be $1.74 to $1.80, RIM said. Analysts projected revenue of $5.46 billion and profit of $1.61 a share. The company said it expects BlackBerry shipments this quarter of 14.5 million to 15 million units, exceeding the average estimate from analysts of 14.2 million units.
"The fact that guidance is decently above consensus, to me that's pretty positive," said Tavis McCourt, an analyst at Morgan Keegan & Co. in Nashville, Tennessee. He has an "outperform" rating on the stock. "It's not a blowout, but things are trending in the right direction."
New Operating System
An improved BlackBerry 6 operating system, a strong ad campaign and AT&T Inc.'s price cut to $99.99 in the U.S. made the Torch "a strong selling product" last quarter, Wunderlich Securities analyst Matthew Robison wrote in a Dec. 10 note. Robison, based in Denver, has a "buy" rating on the stock.
Net income for the third quarter climbed to $911.1 million from $628.4 million, or $1.10 cents a share, a year earlier.
Still, RIM continues to lose market share globally to the iPhone and Android handsets. RIM's share of the global smartphone market slid to 15 percent in the third quarter from 20 percent a year earlier, according to researcher IDC. Apple's was unchanged at 17 percent while Samsung Electronics Co., which uses Android, jumped to 8.9 percent from 3 percent.
RIM, based in Waterloo, Ontario, rose 1.6 percent in late trading to $60.18, after closing 6 cents higher at $59.24 on the Nasdaq Stock Market. The stock has jumped 38 percent since August, narrowing its loss for the year to 12 percent.
PlayBook Surge
The stock's recent surge has been driven by expectations for the BlackBerry PlayBook tablet, which RIM will begin selling in the U.S. to go head to head with Apple's market-leading iPad.
RIM may sell 2.55 million tablets, generating about $1.1 billion in revenue in its first full year of sales, according to a Bloomberg survey of 17 analysts. By contrast, Apple sold 4.19 million iPads last quarter, for revenue of $2.8 billion.
Co-Chief Executive Officer Jim Balsillie reiterated on a conference call with analysts today that the PlayBook will be introduced in the first quarter of 2011, amid a flurry of new, competing devices from Samsung and Motorola Inc., and an expected second version of the iPad.
'Overwhelming Interest'
Some corporate customers are delaying plans to buy rival tablet devices while they wait for the PlayBook, Balsillie said. There is "overwhelming interest" to get hold of the PlayBook, which "redefines what a tablet should do," he said.
The gross margin, or percentage of sales left after costs, widened to 43.6 percent last quarter, compared with an average analyst estimate of 42 percent. RIM said its margin should be similar this quarter and is targeting a percentage in the "low 40s" in its next fiscal year.
RIM named Balsillie and co-Chief Executive Officer Mike Lazaridis as co-chairmen. Balsillie stepped down as chairman of the company in March 2007, after a review of its stock-option grants and a restatement of its results.
(The replay of the company's Q3 conference call can be accessed after 7 p.m. ET, Dec. 16, 2010, until midnight ET, Dec. 30, 2010. It can be accessed by dialing 416-640-1917 and entering passcode 4310313#.)
Before it's here, it's on the Bloomberg Terminal.
LEARN MORE