Nokia Expands Smartphone Patent Claims Against Apple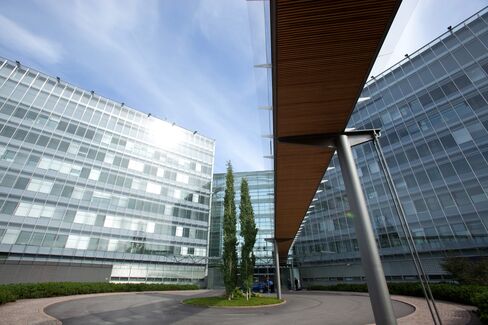 Nokia Oyj, the world's biggest maker of mobile phones, escalated its patent battle with Apple Inc. over smartphone technology by filing new infringement complaints in the U.K., Germany and the Netherlands.
Nokia claims Apple's iPhone, iPad and iPod Touch devices infringe 13 patents related to functions including touch user interfaces, signal noise suppression and on-device application stores, according to a statement today from the Espoo, Finland- based company. The cases add to lawsuits involving 24 additional Nokia patents asserted against Apple in the U.S.
Nokia, which has lost market share to competitors with more-feature rich phones, is expanding a patent war that began when it sued Apple in October 2009. Cupertino, California-based Apple has its own complaints against Nokia in the U.S. and U.K., and claims Nokia is trying to use the litigation to strong-arm Apple into providing access to proprietary iPhone technology. Nokia has denied Apple's patent and antitrust allegations.
"They both hold fairly important mobile tech patents, and they'll probably resolve these issues out of court over time," said Alkesh Shah, an analyst with Evercore Partners Inc. in New York who has an "underweight" rating on Nokia shares.
The newest lawsuits involve technology including patents for "using a wiping gesture on a touch screen to navigate content or enabling access to constantly changing services with an on-device app store, both filed more than 10 years before the launch of the iPhone" in 2007, Paul Melin, Nokia's vice president for intellectual property, said in the statement.
E7, Symbian
"The Nokia inventions protected by these patents include several which enable compelling user experiences," he said.
Nokia is planning to begin shipments early next year of the E7. The phone is the most complete of Nokia's latest series of handsets using a new version of the Symbian operating system and has both a touchscreen and a slide-out keyboard.
"Nokia wants freedom to move in the touch space because they were slow to get into that," said James Kelleher, director of research at Argus Research Co. in New York. "As they move forward with touch, they want to make sure they're not prevented from going there."
Kristin Huguet, a spokeswoman for Apple, said the company stands by a comment made in December 2009, when General Counsel Bruce Sewell said, "other companies must compete with us by inventing their own technologies, not just by stealing ours."
The International Trade Commission in Washington is reviewing patent-infringement claims that Nokia and Apple have filed against the other. A trial on some of Apple's claims against Nokia was held in November and an ITC judge is scheduled to release his findings in February. Nokia's allegations against Apple were tried earlier this month, with the judge's decision expected in April.
Nokia Market Share
The commission, which was set up to protect domestic markets from unfair trade practices, has the power to ban imports of products found to infringe U.S. patents.
Nokia's market share declined in the past year as it struggled to refresh its smartphone models to match offerings by Apple and manufacturers using Google Inc.'s Android system. Growth in Chinese unbranded handsets contributed to a drop in Nokia's overall global share of industrywide sales to 28.2 percent in the third quarter, from 36.7 percent a year earlier, according to researcher Gartner Inc.
Apple also is embroiled in patent litigation with Motorola Inc. and HTC Corp., both companies that make phones that use the Android system.
The cases are: HC 10 C 03053, U.K. High Court (London); 4b O 195/10, Dusseldorf District Court, Germany; 7 O 222/10, Mannheim District Court, Germany; and KG RK 10-3054, District Court of The Hague, the Netherlands.
Before it's here, it's on the Bloomberg Terminal.
LEARN MORE