Consumer Prices in U.S. Rise 0.1%, Core Rate Up 0.1%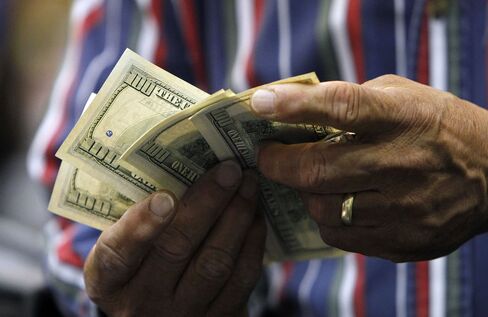 The cost of living in the U.S. rose less than forecast in November, indicating higher prices for commodities such as fuel aren't filtering through into other goods and services.
The consumer-price index increased 0.1 percent after a 0.2 percent rise the prior month, the Labor Department said today in Washington. The median estimate of economists in a Bloomberg News survey called for a gain of 0.2 percent. The so-called core measure, which excludes more volatile food and energy costs, also rose 0.1 percent, matching the median forecast.
Retailers such as Target Corp. and Wal-Mart Stores Inc. are discounting merchandise to stoke demand during the holiday shopping season as joblessness lingers near 10 percent. Limited inflation and a stagnant labor market underscore the Federal Reserve's decision yesterday to stay the course as it pursues record monetary stimulus.
"Inflation is a non-threat right now, there's a lot of slack in the economy," said Ryan Sweet, a senior economist at Moody's Analytics Inc. in West Chester, Pennsylvania, who correctly forecast the rise in the CPI. "Inflation will remain very subdued and tepid over the next several months."
The measure of consumer prices was restrained by a second straight drop in new vehicle costs, cheaper household furnishings and a decline in natural gas. Airline fares rose by the most since June 2008.
Stock-Index Futures
Stock-index futures held losses stemming from concern Europe's sovereign-debt crisis may derail the global economic recovery after Moody's Investors Service put Spain's credit rating on review for a possible downgrade. The March contract on the Standard & Poor's 500 Index dropped 0.4 percent to 1,232.5 at 8:42 a.m. in New York. The benchmark 10-year Treasury note rose, pushing down the yield to 3.43 percent from 3.48 percent late yesterday.
Estimates in the Bloomberg survey of 80 economists for the overall CPI ranged from no change to a gain of 0.3 percent. The core rate rose for the first time since July.
In the 12 months ended in November, prices increased 1.1 percent, matching the median projection in the Bloomberg survey.
The core rate increased 0.8 percent in November from the same month last year, exceeding the median forecast for a 0.6 percent gain.
Energy prices increased 0.2 percent from a month earlier, reflecting gains in gasoline and fuel oil. Food prices also rose 0.2 percent in November, led by higher costs for meats and cereals.
Housing Market
The ailing housing market is restraining the consumer price index. Rents, which account for about 40 percent of core consumer prices, have been held in check as foreclosures push more houses into the rental market.
Owners-equivalent rent, one of the categories designed to track rental prices, rose 0.1 percent for a second straight month. Compared with November 2009, owners-equivalent rent was up 0.2 percent.
The cost of medical care increased 0.1 percent last month. New-car prices declined 0.4 percent, the most since January, Tobacco costs fell 0.1 percent. Air fares increased 3 percent in November.
Apparel costs climbed 0.2 percent in November and were down 0.8 percent from the same month last year.
Fed Stimulus
The ongoing slump in housing, unemployment near 10 percent and a risk of sustained declines in prices are reasons why the Fed last month announced it would buy up to $600 billion in Treasuries through June. Yesterday, officials stood by the pledge.
"Longer-term inflation expectations have remained stable, but measures of underlying inflation have continued to trend downward," Fed officials said yesterday in their Federal Open Market Committee statement.
The Fed, which has a statutory mandate of fostering maximum employment and price stability, said "the unemployment rate is elevated, and measures of underlying inflation are somewhat low."
The CPI is the broadest of three monthly price gauges from the Labor Department, because it includes goods and services. Almost 60 percent of the CPI covers prices consumers pay for services ranging from medical visits to airline fares and movie tickets.
A Labor Department report yesterday showed the producer-price index in November increased 0.8 percent and the cost of goods excluding fuel and food rose 0.3 percent, both more than forecast. The cost of goods imported into the U.S., reported last week, rose 1.3 percent from the prior month, the most in a year, and higher than the median estimate in a Bloomberg survey.
Retail Prices
Retailers that are cutting prices are drumming up demand, while those not discounting enough are struggling.
Best Buy Co., the world's largest consumer-electronics retailer, yesterday slashed its annual profit forecast amid increasing competition from Wal-Mart and Target. Best Buy lost TV sales in the third quarter to "the large discounters" that promoted the least-expensive models, Chief Executive Brian Dunn said on a conference call.
"What has really gone big in home theater so far this season is opening price point, tier-three brands going out at really, really hot prices," Dunn, 50, said yesterday in a telephone interview. "We don't feature them."
Consumers bought cheaper models of flat-panel TVs with screens of 36 inches and smaller for $229 to $299, Dunn said. Rising demand for smartphones and tablet computers also hurt spending on TVs, he said.
For Best Buy, "the U.S. business was pretty miserable," Joe Feldman, an analyst at Telsey Advisory Group in New York, said yesterday. "Sales are going to places like Amazon, Wal-Mart, Target, Costco and Sears."
Today's report showed a 0.4 percent drop in the costs of personal computers.
Before it's here, it's on the Bloomberg Terminal.
LEARN MORE