Taiwan Offers Ruffle Best Chinese Value Amid Growth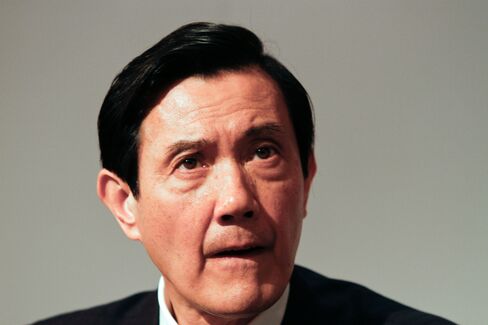 The best Chinese stock values these days are in Taiwan, where dividend yields lead Asia's 10 biggest markets and economic growth matches the mainland, said Chris Ruffle, manager of the island's best-performing mutual funds.
Taiex Index stocks are set for "explosive" growth as closer ties with China boost investment in Taiwan, Ruffle said in a Dec. 13 interview. The gauge has retreated 9 percent in two decades as the Shanghai Composite Index multiplied more than 20-fold. Ruffle, 52, targets stocks trading at 10-12 times earnings, against a multiple of 14.8 times for the Taiex, 14.4 times for Hong Kong's Hang Seng Index and 16.5 times in Shanghai.
"There's a lot of value," said Ruffle, who helps manage $19 billion at Martin Currie Inc. and is moving some funds invested in China-linked shares to Taiwan. "When we add the inflow of Chinese capital, that will be very exciting."
Taiwan's statistics bureau expects the economy to expand 10 percent this year, the most in two decades, in line with the median estimate for China among 18 economists surveyed by Bloomberg. Growth has accelerated from 6 percent in 2007, the year before President Ma Ying-jeou came to power and rejected his predecessor's pro-independence stance. Since then, 14 trade and cooperation accords have been signed with China and a sixth round of talks is set for this month.
Local election victories for Ma's Kuomintang party on Nov. 27 that tested his policies prompted Citigroup Inc., Nomura Holdings Inc., Morgan Stanley and Goldman Sachs Group Inc. to upgrade the island's stocks or set higher Taiex forecasts.
China Cooperation
"The election results mean cooperation with China will continue," Parker Wu, who helps oversee the equivalent of $98 million at the Agriculture Bank of Taiwan, said in a phone interview. "There was a lot of concern before the election about the possibility of Kuomintang losing badly. With that uncertainty gone, some investors who had held back their funds are entering the market again."
Taiwan has been governed separately since the Kuomintang fled to the island after losing a civil war against Mao Zedong's Communist Party in 1949. Former President Chen Shui-bian of the Democratic Progressive Party advocated the island's independence during his eight years in office, prompting hostility in China.
"You can say Taiwan suffered under the previous regime from a policy which effectively cut it off from its main source of growth on the Chinese mainland," said Ruffle, Martin Currie's China co-chairman. "Now that's been opened up again. You see Taiwanese expatriated capital coming back to Taiwan. And we are just seeing Chinese capital coming."
Dividend Yield
Ruffle's Taiwan Opportunities Fund Ltd. has this year jumped 40 percent while the Taiwan Fund Inc. surged 38 percent, leading total returns among 301 funds focused on the island, according to data compiled by Bloomberg. The Taiex Index has returned 11 percent in 2010. Its estimated current-year dividend yield is 3.4 percent, more than 3 percent for the Hang Seng Index and 1.8 percent for the Shanghai Composite, according to data compiled by Bloomberg.
Holdings in Martin Currie's Taiwan Fund include President Chain Store Corp., the operator of 7-Eleven and Starbucks outlets in Taiwan and Shanghai, and Far Eastern Department Stores Ltd., its website shows. President Chain shares have surged 72 percent this year, while Far Eastern jumped 30 percent.
Ruffle's China Fund Inc. has returned 22 percent from shares mainly listed in Hong Kong, Taiwan and Shanghai. Hong Kong's Hang Seng Index has returned 8.5 percent, while the Shanghai Composite has lost 9.6 percent. Taiwan's share of the fund will increase to about 30 percent from about 20 percent, Ruffle said in a phone interview on Dec. 13.
Easier Access
Access to Taiwanese is easier because overseas investors are limited in purchases of yuan-denominated shares in Shanghai, said Ruffle, a Mandarin speaker who has lived in the city for eight years. He recommends consumer, retail and infrastructure companies.
The Taiex, which today rose 0.2 percent to 8,756.71, the highest since May 2008, may reach 10,000 next year as capital expenditure boosts growth while cooperation with China opens the mainland market to Taiwan's exports, Citigroup analysts led by Peter Kurz wrote in a report Dec. 6.
Technology stocks "look pretty cheap," Kurz, ranked first for Taiwan research in Institutional Investor magazine's survey in the past three years, said in an interview. He singled out semiconductor, computer hardware, packaging and testing companies. Demand for manufactured products in emerging markets such as Taiwan may be curbed by a worsening debt crisis in Europe, he said.
'Biggest Risk'
Nomura raised its rating on Taiwanese equities on Dec. 6 to "bullish" from "bearish," recommending financial, technology and tourism companies. Morgan Stanley on Dec. 3 also set its Taiex target at 10,000. A day earlier, Goldman Sachs said it's "overweight" on Taiwanese shares, while Credit Suisse Group AG said the island is among the "most attractive" markets for small-cap stocks.
The "biggest risk" is that Taiwan's politicians may act too slowly to realize the opportunities, Ruffle said. Taiwan has limited investment in the island's shares from China to $500 million, even though the mainland had granted $66.9 billion of quotas as of the end of September allowing domestic institutions to invest overseas.
"It's a very small amount," Ruffle said, referring to Taiwan's investment restriction. "They are still very slow to grasp what I see as a huge opportunity."
Tourist Arrivals
The Kuomintang party won three of five municipal elections on Nov. 27, including Taipei. The Taiex has advanced 5.4 percent since then, as investors bet cooperation with the mainland will continue, adding to the treaties that opened direct weekly flights, cut tariffs on some shipments and allowed banks to open branches across the strait.
Mainland visitors are expected to be the biggest source of arrivals for the first time this year, surpassing the 1 million projected for travelers from Japan, Chang Shi-chung, chief secretary at the Tourism Bureau, said Nov. 23. Foreign tourist numbers may climb to 6 million next year from 5.4 million this year, the Cabinet said in a statement on its website Nov. 30.
Expectations for Taiwan have been "very low" after it lagged behind other markets for "decades," said Ruffle, who has been investing in the island's shares for about 20 years. "You are there for when things change."
Before it's here, it's on the Bloomberg Terminal.
LEARN MORE