Simon Bids More Than $4 Billion for Capital Shopping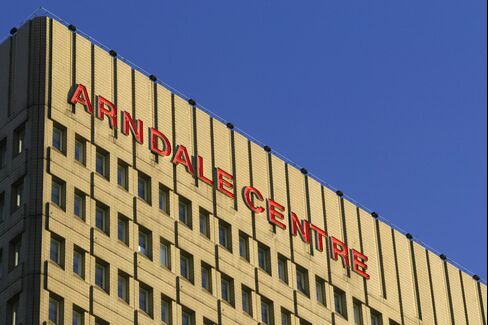 Simon Property Group Inc., the largest U.S. mall owner, made an offer for Capital Shopping Centres Group Plc that values the U.K. company at 2.9 billion pounds ($4.6 billion).
Simon would pay 425 pence a share in cash for London-based Capital Shopping, the U.K.'s biggest retail landlord, according to a statement today. That's 26 percent more than Capital Shopping's closing share price on Nov. 24, the day before Simon's interest was disclosed. Capital Shopping has so far refused to cooperate with the Indianapolis-based company.
Capital Shopping owns four of the U.K.'s 10 biggest malls, including the Manchester Arndale and the Lakeside Shopping Centre in Essex. Simon said its bid is conditional on Capital Shopping not completing the acquisition of Trafford Centre also in Manchester. The British company agreed last month to pay 1.6 billion pounds in shares and assumed debt for the mall in what would be the U.K.'s biggest property transaction.
"This is still a 'phony war' and inadequate," Mike Prew, a London-based analyst at Nomura International, said in a note to investors today. "It is not a knockout blow."
Simon's proposed offer is 13 percent higher than Capital Shopping's net asset value of 377 pence a share as of Nov. 1. Land Securities Group Plc, the U.K.'s largest real estate investment trust, closed yesterday at 9.4 percent below its net asset value as of Sept. 30 and British Land Co., the second-largest REIT, was 2.6 percent lower.
Shares Climb
Capital Shopping gained as much as 3.9 percent to 411.9 pence in London trading. The shares were priced at 407 pence at 12:05 p.m., bringing this year's gain to 2.4 percent. Simon said Dec. 8 that it owned 5.1 percent of the stock.
Capital Shopping is considering Simon's latest proposal at a board meeting today, according to a separate statement. The U.K. company disclosed Simon's interest last month while announcing the agreement to buy the Trafford Centre from closely held Peel Group.
To help with financing, Capital Shopping raised about 221 million pounds from selling the equivalent of 9.9 percent of its outstanding equity to investors. The deal would give Peel as much as 25 percent of Capital Shopping. Shareholders are scheduled to vote on the proposal on Dec. 20.
In the same statement, Capital Shopping said it rejected Simon's request to delay the purchase and share sale to give the U.S. landlord time to prepare an offer. Capital Shopping refused last week to provide Simon with information it said it needed to evaluate a possible takeover bid.
'Attractive to Shareholders'
"Our proposed offer is highly favorable and attractive to CSC shareholders," Simon said. "We are enthusiastic about this opportunity and committed to dedicating substantial time and financial resources with a view to concluding a transaction as soon as possible."
Investment in U.K. retail properties is at a four-year high, with spending this year set to top 5 billion pounds, including the Trafford deal. Investors are attracted by better income returns than they can get from cash or government bonds, according to property brokers including Cushman & Wakefield Inc.
The proportion of real estate investment across Europe allocated to buying malls and shopping centers is at its highest for more than a decade, Cushman said in a report last month.
Capital Shopping is considering Simon's latest proposal at a board meeting today, it said in a statement.
No 'Buy' Ratings
Capital Shopping is the only company in the benchmark FTSE 100 Index without a single "buy" recommendation from any of the analysts covering it. The average 12-month price estimate for the stock is 364.2 pence, 8.1 percent lower than yesterday's closing price. That's based on 14 estimates.
Of the 19 analysts covering the stock, 10 rate it "hold" or "neutral," while seven have a "sell," "reduce," or "underweight" rating. Two others are "restricted" because of their involvement in the Peel transaction.
The company hasn't had a "buy" rating since it spun off Capital & Counties Properties Plc in May. None of the analysts covering the company had a "buy" recommendation at the time of the demerger.
David Fischel, Capital Shopping's 52-year-old chief executive officer, has run the company since 1992, making him the second-longest-serving CEO in Britain's 100 largest companies after WPP Plc's Martin Sorrell.
Simon Property's chairman and chief executive officer is David Simon, the 49-year-old son of the founder, Melvin. Simon has run the company since 1998. The mall owner was valued at $28.6 billion at the close in New York Stock Exchange composite trading yesterday.
European Retreat
Simon cut its European holdings this year with the sale of its interest in a joint venture that owned seven shopping centers in France and Poland. It recorded a gain on the sale of $281 million, according to a regulatory filing.
Simon gets 3.5 percent of its net operating income from international operations, according to a third-quarter supplemental report. The company also owns outlet shopping centers in Japan, Mexico and South Korea.
Earlier this year, Simon unsuccessfully bid $6.5 billion for U.S. rival General Growth Properties Inc., which emerged on Nov. 9 from the largest-ever U.S. real estate bankruptcy.
Simon's announcement today doesn't constitute a firm offer for Capital Shopping and there can be no certainty that any bid will ultimately be made, the company said. Any offer is also conditional on due diligence and Simon arranging debt finance.
Simon appointed Citigroup Inc., Lazard Ltd. and Evercore Partners Inc. as financial advisers and Freshfields and Wachtell Lipton as its legal advisers.
Before it's here, it's on the Bloomberg Terminal.
LEARN MORE