RIM PlayBook-Led Rally May Fizzle as IPad Clash Looms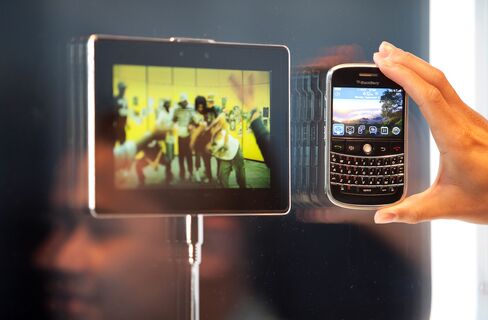 Research In Motion Ltd. has surged 38 percent since August on prospects for its new tablet device. That may be too big a jump given the product is late to a market led by Apple Inc.'s iPad, say analysts who are cutting ratings.
Sales estimates for the BlackBerry PlayBook vary from 1 million units next fiscal year to 8 million as analysts try to predict demand for a computer that won't emerge until the first quarter and will also face other rivals besides Apple.
"It'll be a modest seller and the iPad will likely do 10 times as much," said Shaw Wu, an analyst at Kaufman Bros. in San Francisco, who cut his RIM rating to "hold" Nov. 9. He estimates RIM will sell 1 million PlayBooks next year at most.
The tablet will show whether RIM can find growth beyond the BlackBerry handset, which is losing users to Apple's iPhone and devices that use Google Inc.'s Android software. PlayBook sales may reach $1.1 billion, or 4.8 percent of the $22.8 billion in revenue analysts predict for RIM next year. The calculation is based on the median of 17 estimates in a Bloomberg survey for RIM to sell 2.55 million tablets at an average price of $430.
At least six analysts have reduced their rating on RIM shares in the past six weeks, and fewer than half of those tracked by Bloomberg now recommend buying. Apple's stock is recommended by 90 percent of analysts following it.
Some are keeping the faith in RIM. Matthew Robison, an analyst at Wunderlich Securities in Denver, said in a Dec. 10 research note the PlayBook is compelling because it works with the BlackBerry, letting those hooked on the RIM smartphone to "continue using their preferred communications device." He reiterated his "buy" rating on the stock.
Fighting the Incumbent
RIM declined $1.27, or 2.1 percent, to $59.18 at 4 p.m. New York time on the Nasdaq Stock Market. The stock is up from a 17-month low of $42.84 on Aug. 31, before the company unveiled the tablet. Apple has jumped 56 percent since introducing the iPad Jan. 27.
RIM, based in Waterloo, Ontario, is racing to introduce the tablet for its main audience of what co-Chief Executive Officer Jim Balsillie calls "busy working people," aiming to prevent the iPad from making further inroads with business users. Apple sold 4.19 million iPads last quarter, for revenue of $2.8 billion.
By the time the PlayBook comes out, Apple will have sold about 17 million iPads, said Steven Fox, an analyst at Credit Agricole Securities in New York, who expects annual PlayBook sales of about 1 million. The iPad went on sale in April.
"Unlike smartphones, where iPhone had a high hurdle to overcome in penetrating enterprises dominated by incumbent RIM, the iPad is now the early incumbent in the enterprise that RIM would need to one-up in its features," Fox said in a note to clients last week. He cut his rating on RIM to "underperform."
Video Competition
RIM says the PlayBook is better than the iPad at tasks such as playing video. The stock climbed 12 percent in two days in October after co-CEO Mike Lazaridis demonstrated the PlayBook running video clips. He and Balsillie stress the PlayBook's handling of Adobe Systems Inc.'s Flash technology that underpins much of online video content. The iPad doesn't support Flash.
The iPad's dominance in the tablet-computer market will "change when we're in the market," Balsillie said in an interview last month. Apple CEO Steve Jobs has said devices like the PlayBook are "dead on arrival" because they are too small to compete with the iPad. The PlayBook has a 7-inch (18-centimeter) screen, smaller than the iPad's 9.7-inch display.
Expectations 'Too High'
Jeff Fidacaro, an analyst with Susquehanna Financial in New York, expects RIM to ship 8 million PlayBooks next fiscal year. While his forecast makes him the most bullish among the analysts surveyed, he says the stock's recent surge suggests investors are factoring in even higher sales, of about 10 million units.
"Investor expectations are too high for the incremental earnings power from this tablet launch," he said in a note.
Gleacher & Co.'s Mark McKechnie and Exane BNP Paribas's Alexander Peterc both cut their rating on RIM to "neutral," saying the stock's recent rally no longer made it cheap, given the competition. Peterc expects PlayBook sales of 3.3 million units next fiscal year. McKechnie predicts 1.8 million.
RIM declined to comment on analysts' estimates for PlayBook sales, said Tenille Kennedy, a company spokeswoman.
'PlayBook-Driven Rally'
"A lot of this is the actual PlayBook-driven rally," Colin Gillis, an analyst at BGC Partners LP in New York, said in an interview. "But the actual competitive positioning and landscape hasn't changed at all." He recommends selling RIM shares.
RIM reports fiscal third-quarter results tomorrow. Sales rose 38 percent to $5.41 billion, according to the average of 44 estimates compiled by Bloomberg, helped by new products like the BlackBerry Torch with a slideout keyboard. Profit per share is estimated to rise to $1.65 from $1.10 a year earlier.
The PlayBook's new QNX software is powerful and set to be the platform for all future RIM devices, said RBC Capital Markets' Mike Abramsky. Still, the onus is on RIM to build the software successfully into the PlayBook and persuade customers to opt for the device, Abramsky, who is based in Toronto and has a "top pick" rating on RIM, said in a research note.
"Apple has a huge lead and Android devices are proliferating," Abramsky said.
Before it's here, it's on the Bloomberg Terminal.
LEARN MORE