Otsuka Gains in Trading Debut After $2.4 Billion IPO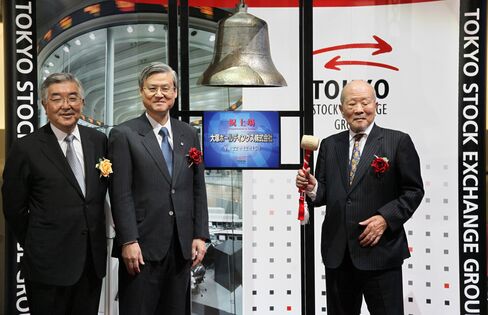 Otsuka Holdings Co. rose in its Tokyo trading debut after selling 198 billion yen ($2.4 billion) of shares in the world's biggest initial public offering of a health-care stock since at least 2006.
Otsuka, Japan's fifth-biggest drugmaker, climbed 1.9 percent from its IPO price to 2,140 yen at the 3 p.m. close in Tokyo. The discoverer of the Abilify mental-illness drug offered 94.5 million shares including overallotment at 2,100 yen apiece.
Chief Executive Officer Tatsuo Higuchi plans to use the IPO proceeds to buy drug and health-food businesses to bolster sales as its best-selling treatment Abilify is set to lose patent protection in the U.S. in 2015. Tokyo-based Otsuka has a market value of about 1.2 trillion yen at the current price, ranking it fourth among Japanese drugmakers led by Takeda Pharmaceutical Co., Astellas Pharma Inc. and Daiichi Sankyo Co.
"With the money that they get from the IPO, obviously it gives them more options," Ben Collett, head of Japanese equities at Louis Capital Markets (Hong Kong) Ltd., said in a Bloomberg Television interview today. "I don't have much concerns about the performance."
Otsuka added less than an eighth of the 15.6 percent-average gain in first-day trading of 87 health-care stocks that went public globally in 2010, according to data compiled by Bloomberg.
Japan's Topix pharmaceutical index, which tracks 33 Japanese drugmakers, has slipped 4.1 percent this year, set for a fourth straight year of declines.
Morgan Stanley, UBS AG and Nomura Holdings Inc. managed the Otsuka share sale, which had sought bids from investors in the range of 2,000 yen to 2,400 yen.
Abilify Sales
"We'll seek not only organic but inorganic growth, including M&As, with the money raised," Higuchi told reporters at a briefing in Tokyo today. "Going public will make it easier for us to access good talent and seek partnerships because of the transparency."
Otsuka's net income climbed 43 percent to 67.4 billion yen in the year ended March. Sales rose 13 percent to 1.08 trillion yen, of which 45 percent came from outside Japan.
Global sales of Abilify rose 31 percent to $4.67 billion last year, according to IMS Health Inc., a market research firm in Norwalk, Connecticut. Bristol-Myers Squibb Co. sells the medicine in the U.S., the world's largest drug market, and pays Otsuka royalties linked to the sales.
Otsuka, which derives two-thirds of revenue from pharmaceuticals, also makes Pocari Sweat drinks and Soyjoy nutrition bars. The company's assets include the Ridge Vineyard in California and a ceramic art museum in Japan.
Before it's here, it's on the Bloomberg Terminal.
LEARN MORE