IBM Weighs Mix of Invention, Acquisition at Brainstorm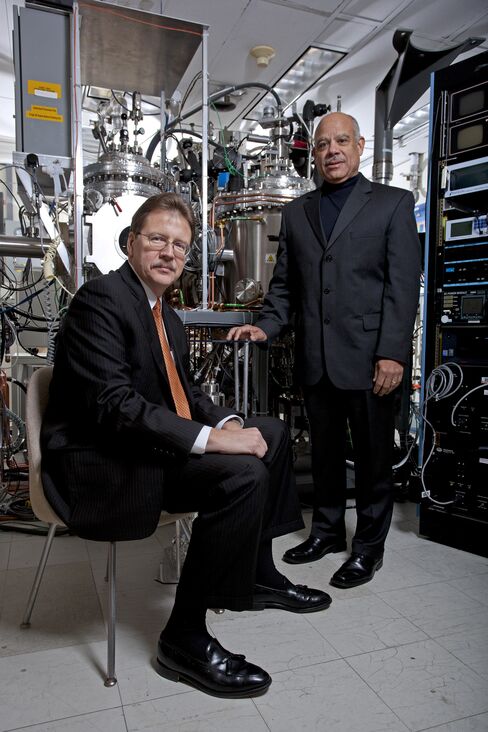 Sometime later this month -- precisely when is a secret -- Sam Palmisano, chief executive officer of International Business Machines Corp., will gather his 15 senior vice presidents in the company's walnut-paneled boardroom in Armonk, New York, for an all-day brainstorm.
It's the annual Global Technology Outlook, at which top executives and scientists decide what ideas to chase most vigilantly. Research chief John Kelly oversees the discussion as eight other Ph.D. scientists present slides about half a dozen trends the research team thinks IBM can't ignore. The group convenes at about 7:30 a.m., works through a lunch of sandwiches and salads, and doesn't quit until they've reached consensus.
Decisions made at the brainstorm shape which projects get funded, which companies IBM will buy next year, and, for investors, whether the company will extend its 26 straight quarters of increased earnings per share.
"The numbers are compelling," said Dick Glasebrook, a New York-based managing director at the Straus Group unit of Neuberger Berman, which owned 10.6 million IBM shares as of Sept. 30. "There's a high priority, as a differentiating factor, in focusing on research."
IBM invested $5.8 billion in research and development last year, 6.1 percent of revenue, compared with $3.0 billion, or 2.4 percent, at Hewlett Packard Co. That's led to technologies such as new microprocessor designs and an IBM supercomputer that will compete on the 'Jeopardy!' quiz show next year.
The company counts on Kelly and his team for the most significant innovations and augments their efforts with niche acquisitions. Since Palmisano became CEO in 2002, IBM has spent about $28 billion on deals compared with more than $43 billion each for HP and Oracle Corp.
More Than Invention
"We're not wandering off into the weeds relative to our strategy," Kelly, 56, said in an interview. "Sam spends not only a lot of money, but a lot of time on this subject."
IBM's 3,000 researchers play a role broader than invention. At the brainstorm session and other forums, Kelly and his scientists help forge strategy and deal plans. A year ago at the meeting, they identified the digitization of health-care records as a top priority, highlighting one gap in software that was filled with a deal for Initiate Systems Inc. in March.
Kelly also sits on the committee that screens possible acquisitions, along with M&A chief Elias Mendoza.
"They, more proactively than others, are really evaluating, 'Is this something we need to go out and purchase or is this a solution we can build'," said Jeff Bistrong, a Boston-based managing director at investment bank Harris Williams & Co. who has sold companies to IBM.
Revenue Growth?
The strategy hasn't led to stronger revenue growth or stock-market performance than rivals. In the past eight years, IBM has boosted sales 15 percent, while HP and Oracle have more than doubled revenue. Since the start of 2002 through yesterday, IBM shares climbed 21 percent as HP and Oracle more than doubled.
Still, IBM's 26 quarters of per-share earnings increases outstrips the six at HP and five for Oracle. Investors have started to reward IBM. Its stock has outperformed Oracle and HP since the start of 2009, rising 73 percent through yesterday and hitting a record high last month.
IBM fell $1.10 to $144.72 at 4:01 p.m. in New York Stock Exchange composite trading and have climbed 11 percent this year.
The 59-year-old Palmisano was openly critical of HP after it struck a deal to buy the data-storage company 3Par Inc. for $2.35 billion, about triple the company's market value before acquisition talks began.
"I'm never worried about a competitor that doesn't invest in R&D," he said in September.
Leo Apotheker, who took over as HP's CEO last month, said he plans to boost research spending at the company, which had cut such investments under his predecessor, Mark Hurd. Deborah Hellinger, a spokeswoman for Oracle, declined to comment.
Brainstorm Preparation
Planning for IBM's annual brainstorm takes months of preparation. Kelly, a 30-year IBM veteran with a Ph.D. in materials engineering, starts over the summer. He and his team meet with venture capitalists, universities and clients. They cull the information and narrow to five or six broad topics.
"The chances of us being blindsided are greatly reduced by this process," said Kelly. "We scour internally, globally around our research for opportunities, discontinuities and threats."
While IBM won't disclose what it will discuss this year, the company has been focusing on four areas -- emerging markets, cloud computing, analytics and its Smarter Planet initiative, or the idea that highways and electrical systems can be made more efficient through monitoring with digital sensors. Sixty percent of the research budget goes to those areas.
GTO Breakthroughs
The GTO, as acronym-happy IBMers call it, can lead to breakthroughs. In 2003, participants homed in on software that could collect and analyze information in real-time. Following the meeting, "the mandate was just to build machines that have the ability to sense the world," said Nagui Halim, the researcher tapped to head the project.
Halim and other researchers created InfoSphere Streams, software that identifies and analyzes data with stream computing. It was introduced as a product last year, helping its segment increase revenue by more than 10 percent. The technology has helped TD Securities develop an automated options trading system and Stockholm predict traffic flows.
Cloud Acquisition
Last year, Kelly and his team flagged the growing role that technology was playing in health care. Though researchers were developing ways for hospitals and insurers to share information, they still needed software to integrate various records. That led to the deal for Initiate, whose programs identify duplicate patient entries in different databases and consolidate them.
"We had quite a few research projects that had started in health care," Robert Morris, vice president of services research, said in an interview. "We pulled them all together and, when we did that, we started saying 'We need more here.'"
In some cases, Kelly, who has been research chief since 2007, suggests potential targets. Researchers in IBM's lab in Haifa, Israel, noticed XIV Information Systems, a local storage company that can increase storage capacity as clients need it. Kelly told the M&A committee about XIV and IBM pounced.
"We, working with M&A guys and our storage system guys said, 'Hey, here's a company with some very interesting technology, some very good people,'" Kelly said.
Long-Term Growth
Palmisano told shareholders in May that the company will almost double operating earnings per share to $20 by 2015. IBM will add about $20 billion in sales over that period from investments in its four growth initiatives, he said, while spending about $20 billion on acquisitions.
Research funding that isn't spent on IBM's four growth platforms goes toward product launches, such as the newest mainframe model, and exploratory projects, such as the 'Jeopardy' computer and an effort with candy maker Mars Inc. to map the cocoa gene.
Often, research leads to a process or software code or some other piece of intellectual property, which are all saved and vetted by a governance board. Those deemed reusable land in IBM's "Asset Hub" -- an internal website divided into 17 industries, such as banking, and further subcategories, such as financial risk. Consultants choose codes from an industry or service as they start projects for clients.
IBM, which has spent about 6 percent of its revenue on research for the past eight years, just completed its 2011 budget. Though the company won't disclose specific figures, Kelly said the company's priorities are clear.
"Sam and the board put their money where their mouth is," he said.
Before it's here, it's on the Bloomberg Terminal.
LEARN MORE