China to Act on Software Piracy, Spur Farm Exports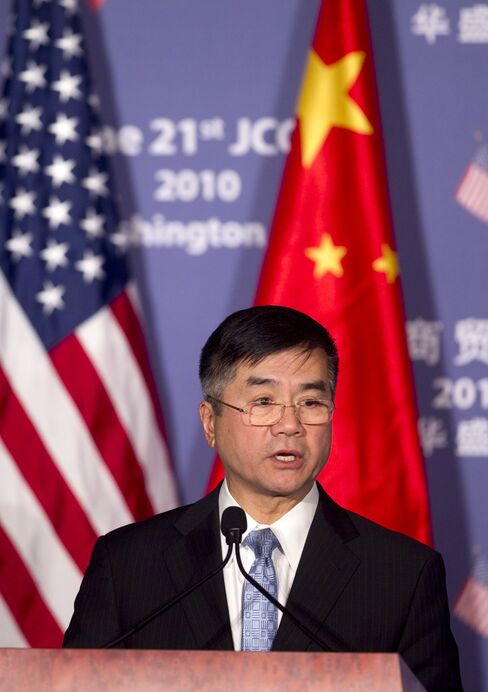 Dec. 16 (Bloomberg) -- China agreed to take steps that would counter mounting losses for U.S. software companies from piracy and spur shipments of farm goods, as the two nations sought to ease trade tensions.
"We made measurable progress to open the Chinese market to U.S.-made products," U.S. Commerce Secretary Gary Locke said yesterday at a news conference ending two days of meetings with China's Vice Premier Wang Qishan in Washington. "Of course, now we need to ensure full implementation of these promises."
Trade tensions have increased as China reported a record $153.3 billion of exports for November and some U.S. lawmakers called for legislation on Chinese imports to combat any advantages from what they say is an undervalued yuan. The agreements announced yesterday come ahead of a visit to Washington by Chinese President Hu Jintao next month.
"Today's promises must be measured not by words on paper, but by tangible progress on the ground," Myron Brilliant, senior vice president of the U.S. Chamber of Commerce, said in a statement after the announcements. "We urge both governments to quickly agree on metrics in future discussions that will quantify that new efforts are in fact translating into results."
Trade Deficit
Locke and U.S. Trade Representative Ron Kirk met with Wang and a Chinese delegation in Washington as part of the 21st annual Joint Commission on Commerce and Trade. The U.S. trade deficit with China widened to $201 billion in the first nine months of this year, more than the deficits with the next seven largest trading partners combined.
China is at the same time the U.S.'s third-largest export market with $69.5 billion of sales in 2009. Sales of goods and services by U.S. companies in China reached $98.4 billion, more than a fourfold jump from 2000, according to the U.S.-China Business Council, a Washington-based group that represents companies including Wal-Mart Stores Inc. and Citigroup Inc.
The Chinese government also at the meetings offered fresh pledges on express delivery, wind-turbine equipment and medical-device regulations. The two nations will start work on an agreement to end restrictions on U.S. beef and poultry exports to China, Agriculture Secretary Tom Vilsack said.
Chinese Middle Class
"China's burgeoning middle-class are discouraged by the appalling food safety records within China and are increasingly looking for food products from overseas," Guan Anping, chief consultant at Beijing Duebound Law Office and a former Chinese trade official, said by telephone today.
Japan and China imposed restrictions on U.S. beef imports in 2003 after mad-cow disease was found in three U.S. cattle. China began imposing anti-dumping duties on U.S. broiler chicken products in September after the Ministry of Commerce said an investigation showed the American poultry industry received subsidized soybean and corn.
In addition, China has also called on the U.S. to relax export controls on technology products, the official Xinhua News Agency reported, citing Commerce Minister Chen Deming. China aims to achieve a "greater growth" in imports as it maintains export growth, Chen was cited as saying.
A press official with the Ministry of Commerce, who refused to be identified because of the agency's rules, declined to comment.
U.S. Lawmakers
The U.S.-China trade gap, the drop in American manufacturing employment and the lack of appreciation of the Chinese currency, the yuan, have focused U.S. lawmakers on the commercial relationship. The House of Representatives passed legislation in September aimed at forcing China to raise the value of the yuan.
House Ways and Means Committee Chairman Sander Levin, a Michigan Democrat, and the panel's incoming Republican chairman, Dave Camp of Michigan, wrote Kirk and Locke on Dec. 9, prodding the administration to get China to accept strong new protections for copyrighted movies, music and software and end discriminatory restrictions on U.S. investors.
The annual meeting "has been an important vehicle for dialogue with China on piracy and other issues," the lawmakers wrote. "But improved market access results for U.S. companies, as measured by sales, jobs and exports, have been meager."
Software Piracy
The Business Software Alliance, which represents companies such as Apple Inc. and Microsoft Corp., complains that previous commitments by China to curb piracy haven't led to a reduction in their losses to unlicensed sales. Before the meeting, the alliance pressed Locke and Kirk to seek from the Chinese a guarantee that U.S. software sales to China would increase 50 percent in two years.
"We will know China has made real progress in reducing piracy only when software companies start seeing substantial increases in sales," President Richard Holleyman said in an e-mail statement yesterday.
In addition to commitments on software, China agreed to deal with U.S. demands to ease its rules requiring Chinese-developed technologies for government projects and said it would revise an offer to join the government procurement agreement of the World Trade Organization in 2011.
To contact the reporter on this story: Mark Drajem in Washington at mdrajem@bloomberg.net
To contact the editor responsible for this story: Larry Liebert at lliebert@bloomberg.net