Capital Shopping Rejects $4.6 Billion Offer From Simon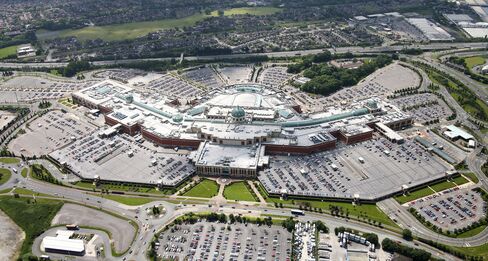 Capital Shopping Centres Group Plc, the U.K.'s biggest shopping mall owner, rejected an offer from Simon Property Group Inc. valuing the company at 2.9 billion pounds ($4.6 billion), describing it as inadequate.
Simon, the largest U.S. mall owner, proposed buying the company for 425 pence a share in cash. The bid "very substantially undervalues the company and its prospects," London-based Capital Shopping said today in a statement.
Capital Shopping owns four of the U.K.'s 10 biggest malls, including the Manchester Arndale and the Lakeside Shopping Centre in Essex. The offer from Indianapolis-based Simon is conditional on Capital Shopping abandoning a planned 1.6 billion-pound purchase of Trafford Centre mall in Manchester. The U.K. company said today its board plans to delay a meeting to approve that deal to late January from Dec. 20.
"I don't think we're done," said Rich Moore, an analyst at RBC Capital Markets in Solon, Ohio. "My intuition and experience with Simon tells me when they're interested they don't just walk away when someone says no to the first offer."
Capital Shopping rose 19.3 pence, or 4.9 percent, to 415.6 pence in London trading, the highest closing price since September 2009. Simon fell $2.39, or 2.5 percent, to $95.28 at 4:15 p.m. in New York Stock Exchange composite trading.
Simon "welcomes" the planned delay of the Trafford Centre vote, the company said in an e-mailed statement today. Simon said the conditions listed in its "indicative" offer shouldn't pose a barrier to a deal and it expects access to information from Capital Shopping to make a formal offer.
26% Premium
Simon's proposed bid was 26 percent more than Capital Shopping's closing share price on Nov. 24, the day before the U.S. company's interest was first disclosed. The offer was 13 percent higher than Capital Shopping's net asset value of 377 pence a share as of Nov. 1.
Land Securities Group Plc, the U.K.'s largest real estate investment trust, closed yesterday at 9.4 percent below its net asset value as of Sept. 30 and British Land Co., the second-largest REIT, was 2.6 percent lower.
This is the second time this year that Simon has faced resistance from a takeover target. It pursued General Growth Properties Inc., the second-biggest U.S. mall owner, for three months after being rebuffed by the Chicago-based company. General Growth, in bankruptcy at the time, favored a rival proposal to keep it independent and proceeded with that deal.
"They're going to be tenacious, I'm sure," Moore said of Simon's Capital Shopping bid.
Peel Stake
Capital Shopping disclosed Simon's interest last month while announcing the agreement to buy the Trafford Centre from closely held Peel Group.
To help with financing, Capital Shopping raised about 221 million pounds from selling the equivalent of 9.9 percent of its outstanding equity to investors. The deal would give Peel as much as 25 percent of Capital Shopping.
In the same statement, Capital Shopping said it rejected Simon's request to delay the purchase and share sale to give the U.S. landlord time to prepare an offer. Capital Shopping refused last week to provide Simon with information it said it needed to evaluate a possible takeover bid.
A condition for a firm offer from Simon was "access to satisfactory due diligence," David Simon, chairman and chief executive of Simon, said in a letter to Capital Shopping today.
Due Diligence
The conditions for due diligence and financing are among the reasons Simon's bid is inadequate, Capital Shopping said today. The company said Simon has spent "considerable time" with advisers completing public diligence and Capital Shopping has published a detailed prospectus. A separate Simon proposal related to the funding of the Trafford Centre deal didn't have a due diligence requirement, Capital Shopping said.
The company is postponing the vote on the Trafford Centre agreement to "ensure CSC's shareholders are provided with the necessary information about the proposal to make a clear decision," according to today's statement. Capital Shopping said it expects to continue to back the purchase unless Simon provides a firm proposal that the board is willing to recommend.
"There can be no serious doubt as to Simon's desire and ability to complete the proposed transaction," Simon said in its response today.
The Peel Group is committed to its deal with Capital Shopping and the company "strongly believes in the future growth prospects of CSC as an independent U.K. company," Peel Group said in a statement today.
Simon cut its European holdings this year with the sale of its interest in a joint venture that owned seven shopping centers in France and Poland. It recorded a gain on the sale of $281 million, according to a regulatory filing.
Simon gets 3.5 percent of its net operating income from international operations, according to a third-quarter supplemental report. The company also owns outlet shopping centers in Japan, Mexico and South Korea.
Before it's here, it's on the Bloomberg Terminal.
LEARN MORE