BofA Says Investors Extend Deadline in Mortgage Putback Dispute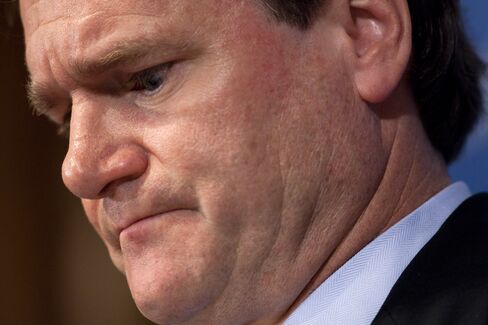 Bank of America Corp., facing demands from institutional investors that it buy back billions of dollars in soured mortgages, said some bondholders will delay action as it conducts "constructive" talks.
Owners of some bonds linked to home loans created by Bank of America's Countrywide Financial Corp. agreed to extend deadlines set in an Oct. 18 letter, the lender said yesterday in a statement, without identifying the holders. Pacific Investment Management Co., BlackRock Inc. and the Federal Reserve Bank of New York were among investors demanding that the bank repurchase loans packaged into $47 billion of bonds, people familiar with the letter said in October.
"The reason why settlement is a much-preferred alternative to litigation is to avoid extensive discovery," said Manal Mehta, a co-founder of hedge fund Branch Hill Capital in San Francisco, which has bet against Bank of America shares and on those of bond insurers battling with the company over soured mortgages. "Who knows what sorts of skeletons lurk in the closets of Countrywide?"
Chief Executive Officer Brian T. Moynihan said in November the bank would engage in "hand-to-hand combat" to fend off unwarranted buyback demands from Fannie Mae and Freddie Mac, as well as bond insurers and private investors who want to return loans. Pending putback claims rose to $12.9 billion by Sept. 30 from $7.7 billion at the end of 2009, the lender has said.
Bank of America climbed 31 cents, or 2.5 percent, to $12.60 yesterday in extended New York trading. It has declined 18 percent this year, compared with an increase of about 16 percent for the 24-company KBW Bank Index.
Investor Group
The group pressing banks over bad mortgages has grown to 17 firms from the eight that signed the Oct. 18 letter, said Kathy Patrick, a lawyer for the investors. Investment managers, pension funds and insurers are among the group, said Patrick, who declined to name the firms.
"The extension will go on as long as the parties are engaged in a constructive discussion," said Jerry Dubrowski, a spokesman for Charlotte, North Carolina-based Bank of America. "As we have said all along, if there is a valid claim, we will act responsibly. If there is no defect, we will defend our interests and the interests of our shareholders."
Any settlement would disadvantage bondholders not part of it, meaning that investors not participating in Patrick's group are finally realizing that they also need to act jointly, said Bill Frey, head of Greenwich, Connecticut-based securities firm Greenwich Financial Services LLC.
Free-For-All
"This says to investors, this is a free-for-all," said Frey, who is providing advice to a group of investors with more than $800 billion of mortgage bonds coordinating through a Dallas law firm.
MetLife Inc., the biggest U.S. life insurer, is part of the investor group with BlackRock, the world's largest money manager, and Pimco, which runs the biggest bond fund, people familiar with the matter said in October. They are represented by Gibbs & Bruns LLP.
Jack Gutt, spokesman for the New York Fed, declined to comment, as did Bobbie Collins of BlackRock and Mark Porterfield, a spokesman for Pimco.
"Our clients are pleased that all the interested parties are talking," Patrick said in an interview. The investors may still sue the banks if talks fall apart, she said.
The accord was reached among the bank's home-servicing unit, Gibbs & Bruns, and Bank of New York Mellon Corp., the debt's trustee, according to Bank of America's statement.
Claims, Defenses
"The claims and defenses of all parties are preserved," the company wrote in the statement.
The October letter and related deadline are tied to the bank's practices in managing, or servicing, mortgages. After notifying Bank of America of alleged servicing flaws, investors can after 60 days demand that BNY Mellon declare the bank in default of its servicing contract.
If that default isn't cured within an additional 60 days, investors can take action against Bank of America, BNY Mellon, or both, Patrick said in October. Typically, only trustees for mortgage bonds can demand sellers buy back loans whose quality failed to match contractual promises, and sue if they don't.