Asylum Seekers Killed as Boat Capsizes Off Australia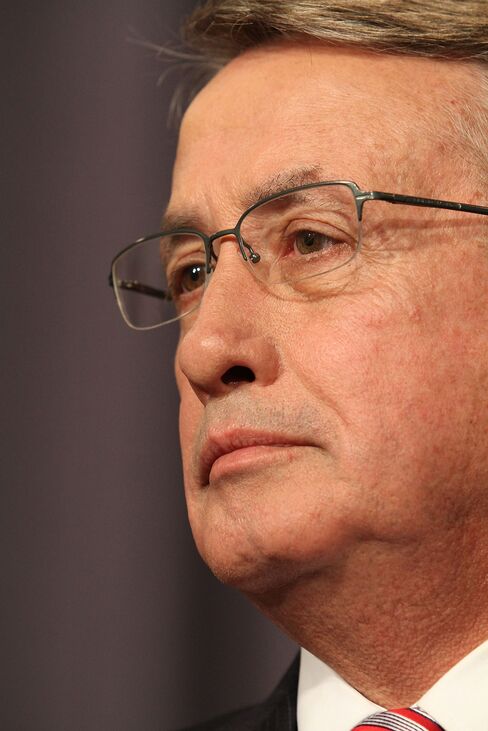 A boat carrying people suspected of seeking asylum in Australia capsized in heavy seas close to Christmas Island, killing several passengers. Customs officials have pulled 27 bodies from the water, Sky News said.
"A people smuggler's boat has crashed into rocks and some bodies have been retrieved," Treasurer Wayne Swan, who is heading the government while Prime Minister Julia Gillard is on leave, told reporters in Sydney today in a media conference broadcast on Sky. "A number of people have been rescued. The priority of officials is the rescue at this stage." He said he had briefed Gillard on the situation.
Island residents tossed life jackets and ropes to people thrown into the water after their vessel overturned early today, witnesses told Sky News. Federal police and Customs officials were earlier unable to confirm the broadcaster's report of 41 survivors from between 70 and 80 passengers. The passengers were mainly from Iraq and Iran, the Australian Broadcasting Corp. reported today.
Gillard will return from vacation for briefings tonight.
"This has been a tragic event and it will be some time before there is a full picture of what has happened," she said in an e-mailed statement.
Christmas Island, about 1,600 miles (2,600 kilometers) northwest of Perth, houses a center for people claiming refugee status. Almost 6,400 asylum seekers from countries including Iraq and Sri Lanka have arrived by boat in Australia this year, up from 2,726 in 2009.
Election Issue
Dealing with the rising number of asylum seekers was a central issue in August's national election. Gillard promised a regional center to process asylum claims in a bid to stem the flow. Opposition Liberal-National leader Tony Abbott said he would restrict the illegal entry of asylum seekers by boat and impose tougher rules on people who were waiting for their claims to be processed.
Some 12 asylum seekers were killed after their boat sank off the northwestern coast in November, 2009. In 2001, 353 people drowned in a bid to reach Australia.
The Australian Federal Police is responding to a "maritime incident," the agency said on its website. "Our paramount priority is the safety of all involved," the Customs agency said on its site.
"There have been a large number of fatalities and numerous injuries to those aboard the vessel, including women and children," Western Australian Premier Colin Barnett said in an e-mailed statement, adding that a disaster victims identification team was on stand-by. "Conditions in the ocean off Christmas Island are extremely dangerous."
An unidentified doctor involved in the rescue told Sky that many survivors had severe injuries, including head trauma and broken limbs, and might die before they could reach the nearest hospitals.
There are currently 2,735 people at the Christmas Island refugee center, according to Immigration Department figures.