Alstom Paying for Lost Years With Focus on Coal Rather Than Wind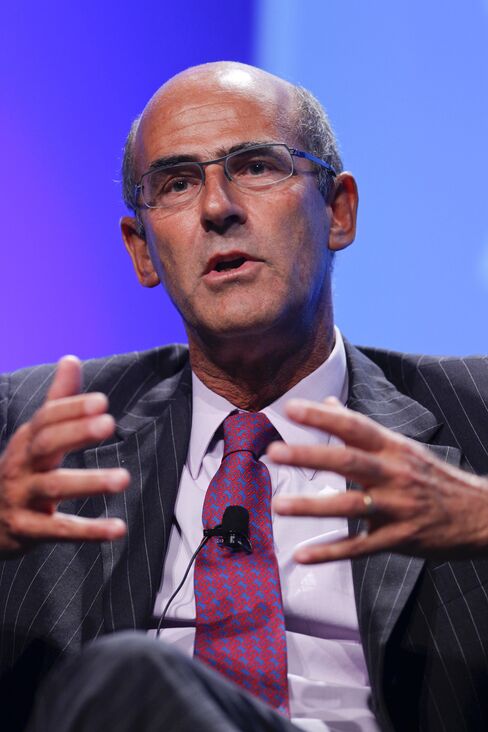 Dec. 15 (Bloomberg) -- Alstom SA is seeking to reverse the worst stock return of any major French company this year with a push into renewable energy as the maker of trains and turbines seeks to narrow the gap with German rival Siemens AG.
The company, which narrowly escaped bankruptcy in 2004, aims to get "double digit" market share in offshore wind turbines that it's developing, Philippe Cochet, head of its renewable-energy unit, said in an interview. It had 1 percent to 2 percent of the wind-turbine market last year, lagging behind the top 10 suppliers including Denmark's Vestas Wind Systems and Siemens.
While Alstom negotiated a state-backed rescue to cope with the costs of a faulty turbine business, General Electric Co. and Siemens gained an advantage by buying assets, including Enron Corp.'s wind-turbine unit that the Fairfield, U.S.-based company acquired in 2002. Alstom, based near Paris, entered the wind market in 2007 and is building plants in the U.S. and Brazil.
"Alstom has been quite late to the party in terms of renewables," Morgan Stanley analyst Ben Uglow said. "Their portfolio is less comprehensive than GE's and that of Siemens."
Chief Executive Officer Patrick Kron is seeking to restore Alstom's share price after a 26 percent drop this year, the worst performance in France's CAC 40 Index. Shares of Germany's Siemens, which is a rival power equipment and train supplier, have risen 42 percent. Swiss energy gear maker ABB Ltd. has added 6.2 percent. GE is up 17 percent.
Siemens shares have outperformed Alstom's because the French train and turbine maker is focused on markets that grow late in an economic cycle, whereas its German rival also offers building and machine controls, medical equipment and other products that are less tied to swings in gross domestic product, Kron said in a Dec. 7 interview from Beijing.
Going With the Flow
To keep Alstom's operating margin from dipping below 7 percent this fiscal year and next, Kron said in October he will cut 4,000 jobs at a thermal-power unit. Orders slumped as debt-laden European and U.S. utilities delayed investment because electricity demand has regained less than half its drop since the 2009 crisis. Price pressure intensified as Chinese turbine makers including Shanghai Electric Group Co. and Harbin Power Equipment Co. jostle for contracts.
Global coal-fired generation could drop one-third by 2035 in western Europe and North America amid public opposition and costs linked to carbon dioxide emissions, according to the International Energy Agency's 2010 outlook. By contrast, wind generation is poised to grow 8 percent annually, it said.
Stiffening competition is helping spur a search for new markets and value-added products, either alone or in joint ventures, to give Alstom the edge in tenders, Kron said.
"We're able to swim where the tide is," Kron, 57, told Bloomberg in the midst of a four-day trip to sites in India, China and Russia. "If we have to invest in emerging markets, we will. If we have to enter partnerships, we will. We're investing to differentiate ourselves from competitors."
Coal Riddle
The French company, the world's leader in coal turbines, is developing technology to capture carbon-dioxide emissions to overcome investors' concern that coal-fired plants will face more stringent environmental taxes and rules.
"If they manage to provide a product that solves the environmental equation of coal, then they'll be very well placed, but it's going to take a rather long time," said Pierre Boucheny, a Paris-based analyst at Kepler Capital Markets, who has a "reduce" recommendation on Alstom. "They are well placed in hydro and steam turbines for nuclear plants, which are more of niche markets."
Orders Slow
Recent contracts to provide gas-fired combined cycle plants in Singapore; turbines and alternators for coal-fired plants in India, where Alstom is building factories with Bharat Forge Ltd.; and metro cars in Canada suggest orders may have troughed, the CEO said Nov. 4. The inflow of new work in the six months ended Sept. 30 dropped 21 percent from a year earlier. Emerging markets accounted for half of new orders, up from 29 percent a year earlier.
Siemens, which has triple the sales and eight times the market value of Alstom, reported a 59 percent jump in orders at its fossil-fuel generation division for the July to September period, and an 85 percent jump in renewable energy contracts. Siemens's Mobility division, which competes with Alstom in subway, regional and high-speed trains, saw an 8 percent drop.
Acquisitions
"Alstom's portfolio is arguably less strong than some of its international peers if coal markets continue to decline," said Morgan Stanley's Uglow. "They need to lead the way in some of the energy efficient technologies, which in fairness they are doing. At some point they need to consider making acquisitions. They could think about renewables, nuclear equipment and compressors."
The French company had to sell units making power converters, grids and ships in the aftermath of the bailout. It resumed acquisitions in 2007, buying Spanish wind-turbine maker Ecotecnia.
Starting in 2013, the company will offer a 6-megawatt gearless turbine that it hopes will become the new standard in the offshore wind market. Alstom aims to grab more than 10 percent of a market that should grow from about 1 gigawatt this year to as much as 9 gigawatts in the second half of this decade, renewable head Cochet said in the interview.
In marine power, Alstom is developing a 1-megawatt undersea tidal turbine, which Cochet aims to start selling to utilities from 2014. The goal is to sell 100 such powerplants annually by 2020. Alstom will be able to combine its wind and marine offerings with its power-transmission business, which it bought from Areva SA for 2.3 billion euros in June.
"Alstom is well positioned to benefit from growth in the emerging markets, particularly in Russia and India, and growth in the mass transit segment," said Lisa Randall, a London-based analyst at Nomura who has a "buy" recommendation on Alstom, in a Nov. 19 note. "The company will be turning the corner now in terms of news flow."
To contact the reporter on this story: Francois de Beaupuy in Paris at fdebeaupuy@bloomberg.net.
To contact the editor responsible for this story: Benedikt Kammel at bkammel@bloomberg.net.