NYC Sells Build Americas as Taxable Deals Jump 96%: Muni Credit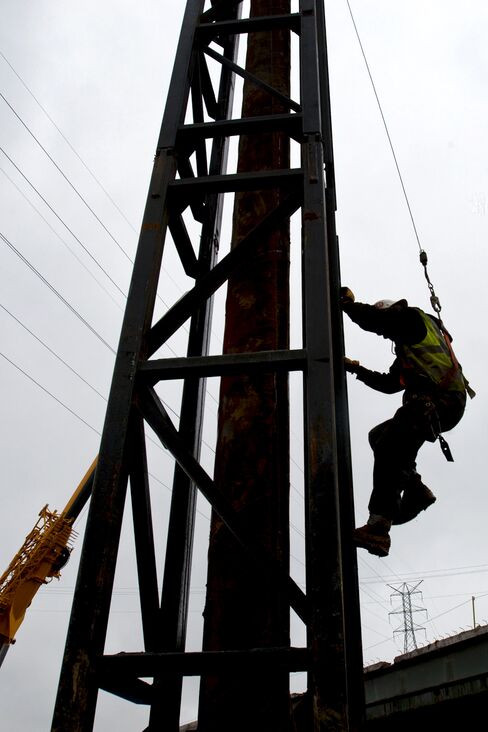 New York, the most-populous U.S. city, is selling $745 million in Build America Bonds, helping drive the level of scheduled taxable-municipal deals to almost double last week's, the biggest jump in four months.
States and local governments are set to market about $6.1 billion in taxable debt in the next 30 days, an increase of about 96 percent from Dec. 10, the largest one-day climb since Aug. 16, according to data compiled by Bloomberg. About $4.1 billion in Build Americas are planned this week, or 34 percent of the $11.4 billion in total issuance, Bloomberg data show.
The Build America program, which is set to expire Dec. 31, was excluded from the tax deal reached last week between President Barack Obama and Republican congressional leaders. The growing likelihood of the program's demise will help drive prices up and yields down as supply diminishes, said Jim Holihan, who helps oversee about $1 billion in municipal securities at New York-based Evercore Partners LLC.
"There's no shortage of supply of BABs at the moment but people are starting to anticipate the supply going away," said Holihan.
The city last issued Build Americas in October, with 27-year bonds priced to yield 5.52 percent, or 180 basis points above 30-year Treasuries. The securities traded yesterday at an average yield of 5.79 percent, a so-called spread of 137 basis points. A basis point is 0.01 percentage point.
General Electric
That compares with a 28-year corporate bond from General Electric Co., which was yielding 153 basis points above U.S. federal debt yesterday. New York City is rated Aa2 by Moody's Investors Service and AA by Standard & Poor's, both third-highest investment grade, while GE is ranked Aa2 by Moody's and one level higher by S&P at AA+.
Bill Gross, co-chief investment officer of Newport Beach, California-based Pacific Investment Management Co., told CNBC in an interview today that New York City's Build Americas are his top pick in the muni market and that investors should buy them at a yield of 6.65 percent. Gross spent $4.4 million of his own money this month to buy shares of five municipal-bond funds run by his firm.
Yields on the Build Americas, which include a 35 percent federal subsidy on interest costs, rose to 6.37 percent Dec. 10, an 11-month high, as the lack of clarity over the program's future led investors to sell the bonds. The premium investors demand above Treasuries to hold the debt rose to 199 basis points on Dec. 7, the highest since Aug. 31, before narrowing to 194 basis points at week's end, Bloomberg data shows.
Sell Off
"They sold off while everything was uncertain," Holihan said. "It's appropriate that they've tightened a little bit since."
The so-called spread will probably continue to narrow into the first quarter of 2011 with well-known and more frequent issuers outperforming, making such Build Americas a good investment opportunity, Citigroup Inc. analysts led by head municipal strategist George Friedlander said in a Dec. 10 research note.
"Longer-term, we continue to believe that Build America Bonds present one of the few pockets of value for investors in taxable fixed income," Citigroup said. "Both small and large issues are likely to tighten in the first quarter of 2011, but due to a lower liquidity premium, the larger names are likely to outperform."
New York City has sold about $2.17 billion of Build Americas since the program began, Bloomberg data shows. The city was the third-largest issuer of municipal debt in 2009 behind California and New York, according to data from Thomson Reuters.
'In the Market'
"We're in the market pretty much every month or two," said Alan Anders, deputy director of finance in the city's Office of Management and Budget.
The city's Build Americas are part of a $1.18 billion offering that includes $130 million in conventional taxables, which are being sold competitively today, and $300 million in tax-exempts.
Pricing on the city's issue has been accelerated even though the marketing strategy hasn't been changed since the Build America program's setback, Scott Sieber, a spokesman for Comptroller John Liu, said in an e-mail. JPMorgan Chase & Co., which is underwriting the offering, marketed the deal to both domestic and international buyers, he said.
"While we do not try to time the market, we will take advantage of current market conditions and look forward to a successful sale this week," Sieber said.
Justin Perras, a spokesman for JPMorgan, which is marketing the city's debt, didn't return a telephone call seeking comment.
U.S. Senator Ron Wyden, a Democrat from Oregon, who previously led an unsuccessful bid to include a Build America extension in the tax bill, offered an amendment yesterday seeking to renew the program.