Marines to Delay Combat-Readiness Target for F-35 Jet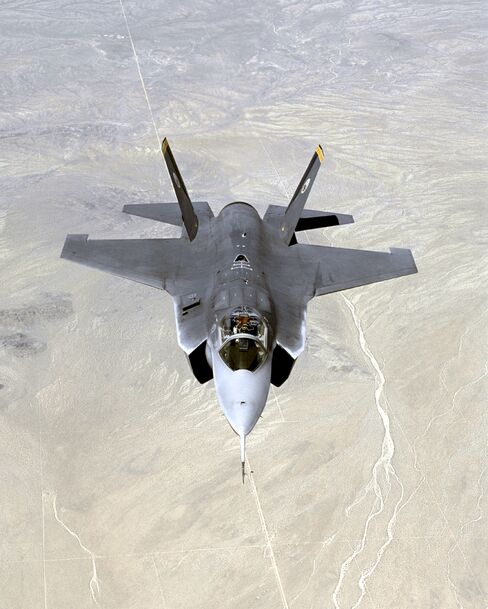 Dec. 14 (Bloomberg) -- The U.S. Marine Corps will scrap a December 2012 target to have its version of the Lockheed Martin Corp. F-35 Joint Strike Fighter ready for combat and isn't setting a new date, the service's commandant said.
"I'm really not wringing my hands over that," General James Amos told reporters today at the Pentagon. "It will be when it will be."
The decision means the Marines join the Air Force and Navy in pulling back on their combat-readiness goals for the biggest Pentagon weapons project. The Marine Corps had maintained its schedule, even with new delays on the JSF, when the Air Force and Navy reset their timetables this year to 2016.
Reaching the Marines' so-called initial combat capability, a squadron of 10 jets and fully trained crew, is a benchmark of progress in the $382 billion F-35 program. Other steps include finishing development and combat tests; a smooth transition to full production; and an efficient manufacturing process.
"I had hoped that it would be farther along" in the flight-test program, Amos said. "This is a complicated airplane. We are going to work ourselves through the issues."
The Marine version of the JSF is designed for short takeoffs and vertical landings, while the Air Force model is intended to fly from conventional runways and the Navy variant is built for carrier operations. Amos said engineers are working through "mechanical issues" with the propulsion system.
'Engineering Solutions'
"I'm told we have engineering solutions to these fixes," Amos said. "We have to prove to folks that those are fixable -- that it can be done."
Lockheed gained $1.40, or 2 percent, to $70.02 at 4 p.m. in New York Stock Exchange composite trading. The shares of the Bethesda, Maryland-based company have declined 7.1 percent this year.
Most parts of the JSF program are running about four years behind most of its initial schedule, and the estimated basic cost for one aircraft has surged about 84 percent, to $92 million in 2002 dollars from $50 million.
The Air Force has changed its first-unit combat date to April 2016 from a target of June 2011, and the Navy date also slipped to April 2016 from April 2012.
Defense Secretary Robert Gates said in a Dec. 3 meeting he would recommend giving the Marines as much as two more years to develop the short-takeoff/vertical-landing model and overcome technical and manufacturing snags, according to two defense officials asked not to be identified.
"I had an opportunity to sit down and tell him about the importance" of the Marines Corps' version of the plane, Amos said. "To the best of my knowledge, it was received very positively."
To contact the reporter on this story: Tony Capaccio in Washington at acapaccio@bloomberg.net.
To contact the editor responsible for this story: Ed Dufner at edufner@bloomberg.net