GE Projects Sales Growth Amid Industrial Expansion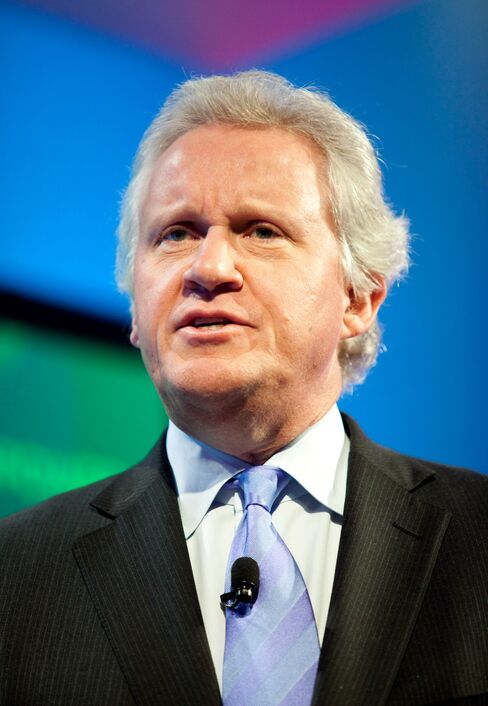 General Electric Co. said sales may increase as much as 5 percent next year as its industrial divisions return to growth and profit climbs.
Revenue in industrial units, which include the world's largest manufacturers of power-generation equipment, jet engines and locomotives, also may increase as much as 5 percent, the company said in a presentation.
Chief Executive Officer Jeffrey Immelt is seeking to bolster GE's industrial business while paring the finance unit as a source of sales and profit. His moves include deals such as yesterday's $1.3 billion agreement to buy oil-field equipment maker Wellstream Holdings Plc, adding solar-energy products and investing in refrigerator factories.
"I have to say this is the best portfolio I've had since I've been CEO of the company and we're quite excited about the prospects," Immelt, 54, said in an annual outlook meeting with investors at the "Saturday Night Live" studios in GE's New York offices at 30 Rockefeller Plaza.
Immelt, who became CEO in 2001, stopped giving per-share earnings forecasts in 2009 after the company missed them twice the previous year amid the worsening financial crisis. Instead, GE gives investors and analysts a framework to calculate their own.
The Fairfield, Connecticut-based company may earn $1.12 a share this year, $1.27 a share in 2011 and $1.52 in 2012, the average estimates from analysts surveyed by Bloomberg.
Revenue Estimates
Revenue may decline to $149.8 billion this year and $143.9 billion in 2011 before climbing back to $147.9 billion in 2012, according to the estimates, as GE sheds a majority stake in NBC Universal.
Since Immelt's midyear outlook discussion in May, GE has begun investing cash amassed during the recession on two dividend increases, resumption of share buybacks and acquisitions totaling at least $5 billion, mostly tied to energy.
"The combination of good, strong, solid visible dividend growth, bolt-on mergers and acquisitions and buyback, that trilogy, is powerful," Immelt said.
The company expects to repurchase a stake sold to Warren Buffett's Berkshire Hathaway Inc. before October, when it's callable, Immelt said.
GE sold $3 billion in preferred stock to Berkshire during the height of the financial crisis and would save an annual 10 percent special dividend payment, or about $300 million, by buying it back.
Cash Accumulation
The company accumulated cash of about $78 billion through Sept. 30, posted its second consecutive earnings gain last quarter and had simultaneous increases in service and equipment orders for the first time in two years. Discretionary cash may increase to $30 billion in 2013 from $20 billion, GE said.
"I don't want to be arrogant about it," said Immelt. "It's not my cash. It's not Jeff Immelt's cash. I want to deploy it in an investor-friendly way."
GE prefers to build businesses using its own research and development, make acquisitions in the $1 billion to $3 billion range and over time to maximize the return on total capital, Immelt said. The oil and gas unit will have a 20 percent return on total capital next year, he said.
"We have very much a long-term view in markets like oil and gas," Immelt said. "When you're GE, you don't have to do it in a day. You can do it in a decade and still have a lot of customers that want to buy your stuff."
'Good Year'
Next year, earnings will grow at both the finance unit and the industrial divisions and the pace of industrial expansion will increase further in 2012, he said.
"We're going to have a good year in 2010, a better year than I thought when I stood here a year ago," Immelt said. The company's performance was driven by GE Capital, which had a "very strong year," he said. GE Capital projected full-year profit of $3 billion on Dec. 7.
Immelt singled out GE Aviation, which had about $18 billion in revenue last year, as a model for the company's infrastructure units. He pointed to Brazil as an emerging market where GE is building investments to fuel sales growth from businesses it has owned more than a year.
GE said in November it would spend $500 million to expand energy, transportation and health-care manufacturing in Brazil while adding its fifth global research center.
Pension Expenses
GE climbed 16 percent this year through yesterday, while the Standard & Poor's 500 Index gained 11 percent. The shares gained 7 cents to $17.69 at 4:15 p.m. in New York Stock Exchange composite trading.
Net income will increase in 2011, Immelt said, even with a drag of 6 cents a share from pension costs. The company doesn't expect to make a cash contribution to its retirement plans, he said.
GE will begin separating pension results in its earnings report, starting in 2011, and report both net income and operating profit results so analysts can track operations alone, Immelt said. Its framework assumes asset returns decline to 8 percent from 8.5 percent.
Pension expense should be $2.2 billion in 2011, up from $1 billion this year, with costs declining by $100 million to $1.3 billion, Immelt said.