Jets Buzz Seoul as South Korea Simulates Attack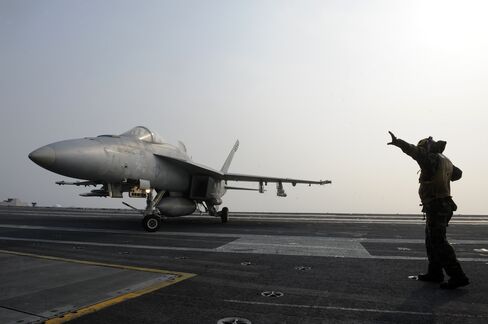 Dec. 15 (Bloomberg) -- Fighter jets buzzed Seoul today to simulate an attack by North Korea as the South conducted its biggest emergency drill in response to the deadly shelling of Yeonpyeong Island.
Sirens sounded across the country at 2 p.m. local time, when workers from the National Emergency Management Agency helped guide people to more than 25,000 shelters, said Kim In Han, a spokesman for the group, known as NEMA. Traffic stopped for 15 minutes and pedestrians took cover in nearby office basements and subway stations.
The government scaled back monthly civil defense drills to as few as three per year by 1992 as South Koreans turned their attention to building an economy that's made them 18 times richer on average than their communist neighbors, according to the central bank. The Nov. 23 strike that killed four people refocused attention on the border and the 250 North Korean long-range artillery pieces that U.S. Forces Korea says can strike the Seoul metropolitan area and its 23 million people.
"South Koreans became nonchalant to North Korean threats because most of their assaults happened off the coast or overseas," said Ahn Cheol Hyun, head of the Ahn's Institute of Crisis Management in Seoul. "The Yeonpyeong attack was a wake-up call to many and bolstering civil defense drills will be one way of raising people's awareness of the real threat."
Artillery Attack
Last month's artillery attack, the first on South Korean soil since the 1950-53 war, followed the March sinking of a warship. An international investigation concluded that a North Korean torpedo was responsible for the incident, in which 46 South Korea sailors died.
The North has been implicated in previous attacks on South Korea, including the 1987 bombing of a civilian airliner that killed 115 people, assassination attempts on presidents and incursions by submarines carrying commandos.
"These drills are taking place at a time when the threat of war is becoming more visible," Park Yeon Soo, the chief of NEMA, told reporters yesterday in Seoul. "They will help us build confidence in dealing with North Korea's provocations."
Twelve Navy KF-16 jets flew low over large cities including Seoul and Busan, according to a spokesman from the Joint Chiefs of Staff who declined to be named, citing military policy. Classes in schools were suspended as students evacuated to nearby shelters or waited for emergency instructions over the radio, NEMA's Kim said by telephone.
Stranded Housewife
It was the first time since 2000 that citizens were guided to shelters during the drills, which had typically been limited to forbidding pedestrians from crossing roads and requiring cars to pull off to the side.
"This kind of drill, just waiting at the subway and doing nothing, isn't useful," said Kim Young Ran, 57, a housewife who waited in Gwanghwamun station in central Seoul for the drill to end. "If Seoul is attacked the same way as Yeonpyeong, people will be in total confusion. Still, at least I learned where my nearest shelter is located."
Byeon Hyun Su, a 15-year-old middle school student from Guri on Seoul's eastern outskirts, said previous exercises were inadequate. During a 2009 drill for chemical and biological threats he and his classmates were simply told to crawl under their desks.
"We just chatted the whole time about how glad we were to be missing class," said Byeon. "What good is training or hiding in the basement? We are all going to die anyway if North Korea fires missiles."
Disputed Border
The attack on Yeonpyeong, about 120 kilometers (75 miles) west of Seoul near the disputed sea border, shattered the windows of a school during class, set 30 houses ablaze and scorched 25 hectares of land.
North Korea deploys 70 percent of its 1.2 million troops within 90 kilometers of the Demilitarized Zone dividing the two countries, according to an October report by the U.S. Forces Korea. Seoul is about 40 kilometers south of the dividing line.
There is likely to be "little warning of attack" if North Korea ever attempts to invade, the U.S. State Department says on its website.
Most of the shelters in South Korea, including about 4,000 in Seoul, are subway stations and the basements of large buildings with thick concrete walls that make them safe from strikes, according to NEMA. Only a small number are purpose built air-raid shelters, the agency said.
Gas Masks
The country's 3.9 million civil defense corps members, made up of men aged between 20 and 40, are responsible for ensuring the safety of citizens in case of war, according to the National Disaster Information Center.
Corps members receive an annual four-hour training session in first aid, putting out fires and using gas masks in their first four years. From the fifth year, they receive one hour of training annually, the information center said on its website.
"South Koreans are among the least sensitive to risks," said Steven Chon, country manager of Hill & Associates Ltd., a unit of G4S Plc, the world's largest security company.
To contact the reporters on this story: Bomi Lim in Seoul at blim30@bloomberg.net; Shinhye Kang in Seoul at skang24@bloomberg.net
To contact the editor responsible for this story: Bill Austin at billaustin@bloomberg.net