Best Buy Drops Most in 8 Years After Cutting Forecast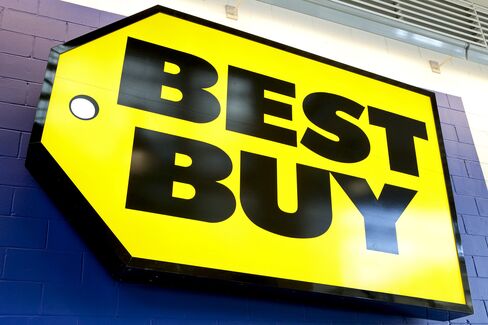 Best Buy Co., the world's largest consumer-electronics retailer, fell the most in more than eight years after slashing its annual profit forecast amid increasing competition from Wal-Mart Stores Inc. and Target Corp.
Best Buy plunged $6.18, or 15 percent, to $35.52 at 4 p.m. in New York Stock Exchange composite trading, the biggest drop since Aug. 8, 2002. The shares have declined 10 percent this year.
The retailer said its U.S. market share for the full year will decline because of weaker-than-expected sales of televisions, computers and video game software. Best Buy lost TV sales in the third quarter to "the large discounters" that promoted the least expensive models, Chief Executive Officer Brian Dunn said today on a conference call.
"What has really gone big in home theater so far this season is opening price point, tier-three brands going out at really, really hot prices," Dunn, 50, said today in a telephone interview. "We don't feature them."
Consumers bought cheaper models of flat-panel TVs with screens of 36 inches and smaller for $229 to $299, Dunn said. Rising demand for smartphones and tablet computers also hurt spending on TVs, he said.
In its third quarter, Wal-Mart reported a "solid increase" in unit sales of LCD and plasma TVs, U.S. stores chief Bill Simon said on a Nov. 16 conference call. Sales of laptops also increased compared with the same period last year, he said.
Profit Forecast
At Target "there is some momentum in electronics" due to customers seeking new products like Microsoft Corp.'s Xbox Kinect, Apple Inc.'s iPad, and Amazon.com Inc.'s Kindle in the third quarter, executive vice president Kathryn A. Tesija said on a Nov. 17 conference call.
Full-year profit at Best Buy will increase to $3.20 to $3.40 a share, reduced from a previous forecast of $3.55 to $3.70, the Richfield, Minnesota-based company said today in a statement. Analysts predicted $3.59, on average. The company earned $3.10 last year.
Third-Quarter net income unexpectedly fell 4.4 percent to $217 million, or 54 cents a share, in the three months ended Nov. 27, from $227 million, or 53 cents, a year earlier, the company said today. Analysts projected 60 cents, the average of 24 estimates compiled by Bloomberg.
"The U.S. business was pretty miserable," Joe Feldman, an analyst at Telsey Advisory Group in New York, said in an interview. "Sales are going to places like Amazon, Wal-Mart, Target, Costco and Sears."
Third-quarter Sales
Third-quarter sales fell 1.1 percent to $11.9 billion, missing the $12.4 billion average of analysts' estimates. Gross profit margin widened to 25.1 percent from 24.5 percent a year earlier.
Best Buy said U.S. sales of major consumer-electronics dropped more than expected in the quarter ended Oct. 31, the latest figure available for the industry, contributing to the drop in its U.S. revenue.
The retailer this year likely didn't cut electronics prices enough to lure customers from rivals, according to David Strasser, an analyst at Janney Capital Markets in New York.
"Best Buy did not go deep enough discounting in TVs on Black Friday, likely the result of their desire to protect gross margin," Strasser, who recommends buying the shares, wrote today in a note to investors.
Industrywide sales at U.S. retailers rose more than forecast in November as holiday shopping got under way. Purchases increased 0.8 percent, following a 1.7 percent gain in October that was larger than previously estimated, according to Commerce Department figures released today in Washington. The median forecast of economists surveyed by Bloomberg News was a 0.6 percent rise.
Before it's here, it's on the Bloomberg Terminal.
LEARN MORE