No New Normal as Strategists Predict 11% S&P 500 Gain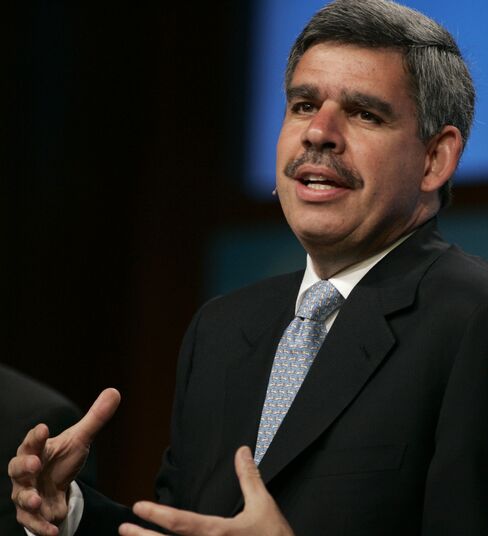 Rising profits and cash balances will push the Standard & Poor's 500 Index to the biggest three-year advance since the 1990s, surpassing forecasts for below-average returns, strategists at Wall Street's biggest banks say.
The benchmark gauge for American equities will rise 11 percent from last week's close to 1,379 in 2011, bringing the increase since 2008 to 53 percent, the best return since 1997 to 2000, according to the average of 11 strategists in a Bloomberg News survey. Goldman Sachs Group Inc.'s David Kostin, the most accurate U.S. strategist this year, said sales growth will spur a 17 percent rally in the S&P 500 through the end of 2011.
Market analysts say earnings will hit record highs, keeping valuations below historical averages at the same time government spending aids the economy. Reaching their average forecast for 2011 would give the index annualized gains of 15 percent over three years, twice the rate anticipated by Pacific Investment Management Co.'s new normal theory that anticipates deficits and increased regulation will limit returns.
"Your new normal may not be quite so new," said Barry Knapp, the New York-based head of equity strategy for Barclays Plc, who expects the S&P 500 will reach 1,420. "There's nothing to worry about with earnings. We'll get some margin expansion, and we're still at a pretty good stage in the economic cycle. From my perspective, I've tried to think about all the risks. I just think the outlook is favorable, so favorable that I struggle to see how the equity market doesn't perform well."
Tax Breaks
Stocks rose last week, pushing the S&P 500 up 1.3 percent to an almost 27-month high of 1,240.40, after President Barack Obama said he would agree to a two-year extension of tax cuts enacted under his predecessor, George W. Bush. The index has gained 11 percent this year.
The S&P 500 erased gains in the final hour of trading today, advancing 0.06 point, or less than 0.1 percent, to 1,240.46 at 4 p.m. New York time.
A Dec. 10 report showed U.S. consumer confidence jumped to a six-month high and the trade deficit narrowed more than economists estimated as exports rose to the highest level since 2008.
"Company balance sheets have never been stronger," said Kostin, citing Goldman Sachs data showing companies hold more than $1 trillion in cash, the most ever compared with the value of their assets. "We expect S&P 500 firms will increase spending in all categories, with the fastest growth in acquisitions and share repurchases."
Hiring Slump
Equities climbed on Dec. 9 when Mohamed El-Erian, the chief executive officer and co-chief investment officer of Pimco, raised his forecast for next year's U.S. growth as policy makers spend up to $600 billion to buy Treasuries through so-called quantitative easing. Pimco said the economy may grow 3.5 percent in the fourth quarter of 2011 from the year-earlier period, up from 2.5 percent.
Pimco, manager of the world's biggest bond fund, said since May 2009 that gains in financial assets would be below historical averages for years to come. Bill Gross, the other co-chief investment officer, said on Dec. 3 that a Labor Department report showing hiring trailed forecasts in November shows gross domestic product isn't expanding fast enough to sustain market rallies.
'Stable Wings'
"The old normal was 6 to 7 percent," Gross said in a Dec. 3 radio interview on "Bloomberg Surveillance" with Tom Keene. "The new normal is a 3 percent plus or minus nominal GDP. It speaks to 2 percent growth and 1 percent inflation. We are running at a half-size-paper-airplane type of economy as opposed to one with stable wings and full thrusting jet engines."
Federal Reserve Chairman Ben S. Bernanke said in an interview broadcast Dec. 5 by CBS Corp.'s "60 Minutes" program that the economy is barely expanding at a sustainable pace and that he may increase bond purchases. China, the world's fastest-growing major economy, said this month it's moving to a more "prudent" monetary policy to counter inflation.
Kostin, Goldman Sachs' New York-based strategist who said last year the S&P 500 would end 2010 at 1,250, wrote in a note Dec. 6 that below-average bond yields help create a "superb backdrop" for equities. He expects the S&P 500 to finish 2011 at 1,450, the second most-bullish call among 11 firms surveyed. Total per-share earnings among companies in the index may rise to $94 next year, he said.
The profit forecast would be a record and compares with an average prediction of $92 a share in the Bloomberg News survey of strategists. The index trades at 13.5 times that estimate, compared with a median price-earnings ratio of 16.4 since 1956, according to data compiled by Bloomberg.
Higher Yield
The S&P 500's earnings yield, or annual profit divided by share price, was 6.45 percent at the end of last week, according to Bloomberg data. That was 3.13 percentage points more than payouts on 10-year Treasuries and about 2.4 points more than the average interest on U.S. corporate bonds as measured by Barclays Plc. The spread between S&P 500 earnings and corporate bond yields is close to the highest level in more than two decades.
That suggests stocks are cheap relative to bonds and may spur investments by individuals, institutions and companies in 2011, Kostin said.
More than 70 percent of companies exceeded analysts' profit estimates in the third quarter. That was the sixth straight period that many beat projections, the longest stretch since at least 1993, data compiled by Bloomberg show.
'Chance of Great'
Jonathan Golub at UBS AG in New York expects a 6.8 percent rise to 1,325 in the S&P 500 through 2011, fueled by sales growth of as much as 7 percent. Next year looks "good, with a chance of great" for equities, he said in an interview. "You really get to good based on earnings alone. We're entering into a self-sustained recovery," and there's "a very accommodative backdrop being provided by the Fed," he said.
Record cash means companies can increase mergers, acquisitions and share repurchases, Golub said. Buybacks will amount to $375 billion by the end of this year, the fourth-largest annual total since at least 1985, should they continue at the current rate, according to Birinyi Associates Inc.
Hewlett-Packard Co., which has $10.9 billion in cash and equivalents, plans to repurchase shares, Chief Financial Officer Cathie Lesjak said Dec. 8 at an investor conference in San Francisco. The Palo Alto, California-based personal-computer maker added $10 billion in August to $4.9 billion already available for buybacks.
Shares for Takeover
Schlumberger Ltd., the largest oilfield services provider, is considering buying back some of the 176 million shares issued this year after an acquisition, Chief Executive Officer Andrew Gould said on an Oct. 22 conference call.
Golub said earnings valuations based on profit estimates for 2011 are the best way to judge value, and they show prices have been depressed by an overly pessimistic view of the economy. UBS's forecast for the S&P 500 in 2010 a year ago matched Goldman Sachs' at 1,250.
"Is the market discounting weaker growth rates? You have a multiple that's so substantially below normal it would appear that that's the case," Golub said. "But as the economy continues to surprise on the upside, there's a process by which the market starts to discount greater success. I'm not calling for a lower-return year."