No Health Mandate Means 'Skyrocketing' Costs, U.S. Insurers Say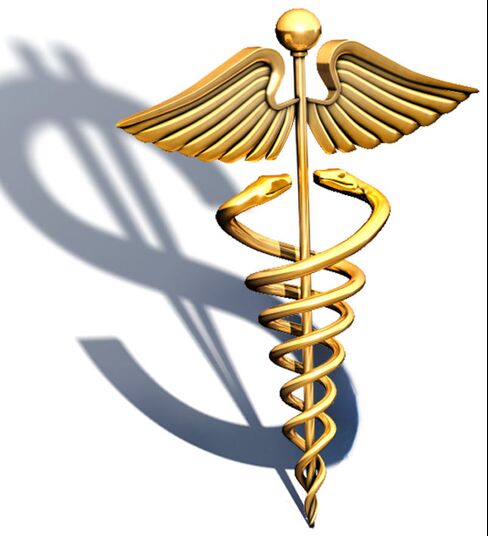 Businesses may face "skyrocketing" insurance costs if higher courts affirm a U.S. judge's decision voiding a health-law mandate that all Americans buy coverage, says a group that represents health plans in Washington.
Eliminating the mandate undercuts insurers' ability under the law to guarantee coverage for people with pre-existing conditions and to lower costs for those who can't afford to buy plans, said Robert Zirkelbach, a spokesman for the Washington lobby group, America's Health Insurance Plans.
The insurance industry can't afford to let people sign up only when they get sick, Zirkelbach said. An alternative being discussed is to guarantee coverage for all at a lower price for people who buy into plans during a certain time period, said Dan Mendelson, chief executive officer of Washington-based consulting firm Avalere Health.
"It's using a carrot instead of a stick," Mendelson said in a telephone interview.
U.S. District Judge Henry Hudson, of Richmond, Virginia, didn't order the government to stop implementing the law. He ruled that outside of the mandate, the rest of the law should stand. Yesterday's ruling is one among about two dozen suits against the health law. Judges in two other cases, in Michigan and a different Virginia court, have ruled that the law is constitutional.
32 Million People
Through the individual mandate and expansions of Medicaid and employer-based coverage, the health-care overhaul signed into law by President Barack Obama in March is estimated to provide 32 million more people with insurance coverage by 2019, according to the Congressional Budget Office.
Hudson said the mandate would extend congressional power beyond anything ever before upheld. No Supreme Court decision has authorized Congress to "compel an individual to involuntarily enter the stream of commerce by purchasing a commodity in the private market," he wrote.
To overcome that conclusion, the Obama administration would have to persuade at least one of the five Republican-appointed justices on a Supreme Court that in recent years has limited Congress's power to regulate interstate commerce.
The court hasn't directly considered a challenge to Congress' power under the Constitution's commerce clause since John Roberts became chief justice in 2005.
Essential Component
The administration contends that the individual mandate is an essential part of the law's goal of increasing the availability and affordability of health care. Without such a rule, people could forgo buying insurance until they became sick, at which point the new law would require insurers to provide coverage, the White House says. That would drive up costs and eventually drive insurers out of business, the administration says.
"Our belief is that when all the legal wrangling is done, this is something that will be upheld," White House spokesman Robert Gibbs said.
Because the mandate doesn't go into effect until 2014, the White House doesn't need to make any decisions on changes, said Nancy-Ann DeParle, director of the White House Office of Health Reform, in an interview. She said she expected the provision to be upheld by higher courts.
"We have plenty of time," DeParle told Bloomberg TV. "It's a really important provision and we're confident we'll prevail on it in the end."
Political Issue
The Republican Party isn't likely to push for a change in the mandate before the 2012 elections, Avalere's Mendelson said. That's because Republicans want to keep controversy over the mandate alive, believing the requirement is unpopular with voters, he said.
Democrats and Republicans on Capitol Hill disagreed over what the ruling meant. Representative Eric Cantor, a Virginia Republican in line to become House majority leader next year, called on Obama and Attorney General Eric Holder to ask the Supreme Court for an expedited review of the health-law challenge.
"We must not burden our states, employers, and families with the costs and uncertainty created by this unconstitutional law," Cantor said in a statement.
Because people buying insurance affect the price of medical services and coverage, it "clearly affects interstate and is thus within Congress' power to regulate," Senator Tom Harkin, an Iowa Democrat, said in a statement.
They will have opportunity to debate those points next year, when Republicans control the House of Representatives and have pledged to try and roll back the law.
Repeal Vote
Republicans plan a House vote to repeal the health law, said John Murray, a spokesman for Cantor. He said they are no plans for a separate vote to repeal only the mandate.
Even without a mandate, there are still policy options to expand coverage. The Obama administration faced a similar situation when pushing insurers to comply with a requirement in the law to offer coverage to children with pre-existing conditions. Insurers wanted to set up a separate, limited enrollment period in which children who had pre-existing conditions or were sick would be able to sign up for coverage.
The White House told insurers then that they couldn't set up different sign-up periods for sick and healthy kids.
The government could take a similar route with the coverage expansion, using some combination of existing state law, federal and state regulations, and voluntary agreements with insurers to offer incentives for people to sign up before they get sick.
Negotiations Urged
The White House needs to begin discussions with congressional leaders about an alternative because a ruling upholding the mandate is "well short of a certainty," said Henry Aaron, a health-care policy expert at the Brookings Institution in Washington.
While there are other options, almost all would require a higher federal subsidy so people would see it in their interest to buy insurance, Aaron said in a telephone interview.
"The only way this works is if they offer an adequate subsidy and it's debatable whether the law currently does that," he said.
Another option would be fining people who wait to buy coverage until they're sick. "Take a look at what Congress did with respect to Medicare Part D," the prescription drug benefit for the elderly, created in 2003, said Ron Pollack, executive director for Families USA, a consumer advocacy group that backed Obama's law.
Congress did not require senior citizens to purchase drug coverage in the 2003 law. Instead, the law penalizes people who wait to purchase drug coverage after they are first eligible for Medicare, at age 65, by charging them a surcharge.
"There are provisions like that that could be implemented in lieu of an individual mandate," Pollack said.
Before it's here, it's on the Bloomberg Terminal.
LEARN MORE