Infineon CEO Bauer Leads Company to Profit as Last Man Standing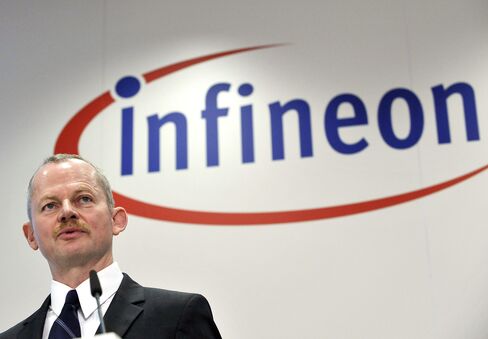 Dec. 14 (Bloomberg) -- Infineon Technologies AG's Chief Executive Officer Peter Bauer says a focus on tailor-made chips for cars and machinery is helping Europe's second-largest semiconductor maker overcome the industry's sharp price and demand swings.
"Our risk profile is much lower" after getting rid of high-volume, commoditized chips used in personal computers and mobile phones, Bauer said in an interview last week at the company's headquarters in Neubiberg, south of Munich. "The company has some difficult times behind it. Now we are cyclical, but not volatile."
In 2004, Bauer assumed board responsibility for Infineon's automotive, industrial and multimarket units -- six years later, those are the only businesses left and Bauer is CEO. And Infineon, the worst-performing company in Germany's benchmark DAX Index before he took over, can show off rising profits, the first dividend in more than a decade and an 85 percent share price gain this year. STMicroelectronics NV, Europe's largest chipmaker, has risen 20 percent in 2010.
"Bauer picked the right markets where price is not everything and long-term customer relationships are important because the chips are application-specific," said Boris Boehm, who helps manage 1 billion euros ($1.34 billion) at Aramea Asset Management in Hamburg, including Infineon shares. "The company is now in a surprisingly good state, considering that it posted massive losses for such a long period of time."
Accumulated Losses
Infineon accumulated losses of 4.7 billion euros after it was sold by Siemens AG, Europe's largest engineering company, in an initial public offering in March 2000. Infineon's shares were sold for 35 euros each, rose as high as 83.74 euros in June 2000 and fell to an all-time low of 35 cents in March 2009. The stock dropped 0.3 percent to 7.186 euros in Frankfurt yesterday.
Bauer, 50, became CEO in June 2008 and completed a revamp that started in 2006 with the carve-out of the unprofitable memory-chip unit Qimonda and ended with the agreement in August to sell the mobile-chip division to Intel Corp. Qimonda filed for insolvency in 2009.
Other chipmakers also retreated from the memory market to avoid dealing with uneven sales of personal computer semiconductors that hurt earnings when supply outweighed demand. Intel exited the memory-chip industry more than 20 years ago and Texas Instruments Inc. sold its business in 1998.
After posting a net income of 390 million euros in the fourth quarter of fiscal 2010, Bauer has five consecutive quarters of profits behind him -- the longest streak since the IPO. His predecessor Wolfgang Ziebart presided over 13 quarters of losses and three of profit, according to Bloomberg data.
Conservative Forecast?
Bauer forecast a 10 percent improvement in sales as well as stronger margins in fiscal 2011 and said last month that Infineon plans a dividend of 10 cents for the past fiscal year, the first payout in a decade. The sales target for the current fiscal year may be "conservative" as the company is awash with orders, the CEO said.
Bauer, whose first job was as a judo trainer, completed his engineering degree at Technical University in Munich in 1986 and started at Siemens as development engineer of microcontrollers, eventually becoming vice president of that unit.
Infineon's remaining businesses have "been hidden behind the turnaround story of wireless, and before that it was about memory, memory, memory," Bauer said. As investors learn more about the complex industrial business, "they become increasingly happy with what they see there."
Windmills, ID Cards
The industrial and multimarket unit makes chips for smart power use in electronics and for windmills and the automotive unit supplies companies like Audi AG and China's Chery Inc. with chips that replace expensive mechanical parts. The chip card and security unit recently won a deal to supply security controllers for some 6.5 million new electronic identification cards that the German government issues each year.
Infineon's success is partly due to Bauer and also a result of demand for semiconductors recovering after the economic slowdown last year, said Eerik Budarz, an analyst at Silvia Quandt & Cie. AG in Frankfurt.
"Now they are doing extremely well and I'd love to credit Bauer for a lot of that but at the same time they've benefited from the cycle," he said. "Hopefully, it should be a more stable business going forward, with higher margins and possibly even higher peer multiples." Infineon's shares trade at 16.3 times estimated earnings compared with 13.8 times at ST.
The new, stable business model "is probably also luring some investors who are also more conservative and not just the casino type," Budarz said.
To contact the reporter on this story: Ragnhild Kjetland in Frankfurt at rkjetland@bloomberg.net
To contact the editor responsible for this story: Vidya Root at vroot@bloomberg.net