Good Cholesterol Linked to Reduced Alzheimer's Risk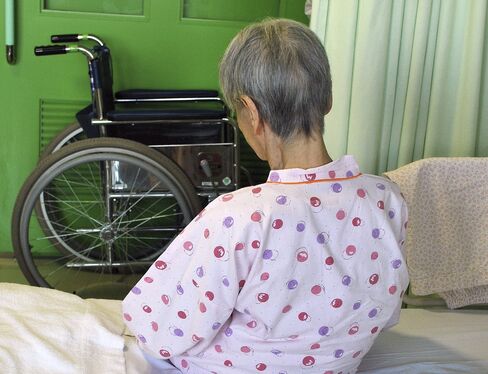 High levels of "good" cholesterol may help prevent Alzheimer's disease later in life, a Columbia University study found.
People with the most high-density lipoprotein, or HDL, were 60 percent less likely than those with the least to develop Alzheimer's disease over four years, according to research reported today in the Archives of Neurology. LDL, or bad cholesterol, contributes to fat buildup that clogs blood vessels, while good cholesterol, or HDL, ferries that away.
Abbott Laboratories, based in Abbott Park, Illinois, markets Niaspan to raise HDL. Whitehouse Station, New Jersey- based Merck & Co., Roche Holding AG of Basel, Switzerland, and Indianapolis-based Eli Lilly & Co. are testing treatments. HDL may lower Alzheimer's risk by influencing how plaque is cleared from the brain, said Christiane Reitz, the lead researcher.
"Even at the age of 65, the higher the good cholesterol, the lower your risk of developing Alzheimer's disease," said Reitz, an assistant professor of neurology at Columbia University's Taub Institute in New York, in a Dec. 10 telephone interview. Eating a healthy diet and getting exercise may also help raise HDL levels.
Alzheimer's is a disease that gradually damages brain cells, afflicting 60 percent of those older than age 95, Reitz said. Lilly and London-based GlaxoSmithKline Plc and AstraZeneca Plc, are among the drugmakers whose experimental medicines, designed to slow or stop the condition, have failed or had setbacks in tests in recent years.
36 Million People
As Alzheimer's progresses, the condition makes it difficult for people to think, remember and function. About 36 million people worldwide have the disease and different dementias, according to the website of Alzheimer's Disease International, a London-based group.
Current therapies for the disease, including Nameda from New York-based Forest Laboratories Inc. and Aricept from New York-based Pfizer Inc. and Tokyo-based Eisai Co., address only Alzheimer's symptoms; they don't cure or slow the illness.
Researchers don't know what causes Alzheimer's, but evidence suggests it develops as the result of multiple factors, according to the Chicago-based Alzheimer's Association. Today's study adds to other research that has shown a link between cholesterol, high blood pressure, diabetes and weight and the risk of developing Alzheimer's later in life, the association said.
Manhattan Participants
Researchers in the study included 1,130 Medicare recipients from northern Manhattan who were age 65 and older and had no history of dementia or memory problems. They were followed for four years.
The men and women were divided into four groups. Those in the highest group had HDL levels of more than 55 milligrams per deciliter of blood, while those in the lowest group had levels of 38 or less.
Over the course of the study, 101 people developed Alzheimer's. Of those, 16 were in the highest HDL group and 32 were in the lowest HDL group.
The researchers also found that those with the highest HDL were 20 percent less likely to develop the disease compared with those in the middle two groups, Reitz said.
Total cholesterol levels consist of three components: HDL, LDL or low-density lipoprotein and triglycerides. While high total cholesterol can increase the risk of health problems including heart disease, HDL is the exception and is thought to protect against heart attack, according to the American Heart Association.
Heart Disease Protection
Having a HDL cholesterol level of 60 or higher gives "some protection" against heart disease, according to the heart association. Low HDL is less than 40 for men and less than 50 for women, the group said.
"More needs to be learned about this complex issue," said William Thies, chief medical and scientific officer for the Alzheimer's Association, in a Dec. 10 e-mail. "The relationship between cholesterol levels and Alzheimer's is complex and still needs further investigation."
Long-term studies are needed to determine possible risk factors for Alzheimer's disease over the course of lives and generations, he said. Also, more trials are needed to show if changing lifestyles or intervening with medicines can lower the risk of developing the disease.
Today's study was supported by grants from the National Institutes of Health, the Charles S. Robertson Memorial Gift for Research in Alzheimer's Disease and the Blanchette Hooker Rockefeller Foundation.