Dollar Fluctuates Versus Euro, Yen Before Fed Meeting Outcome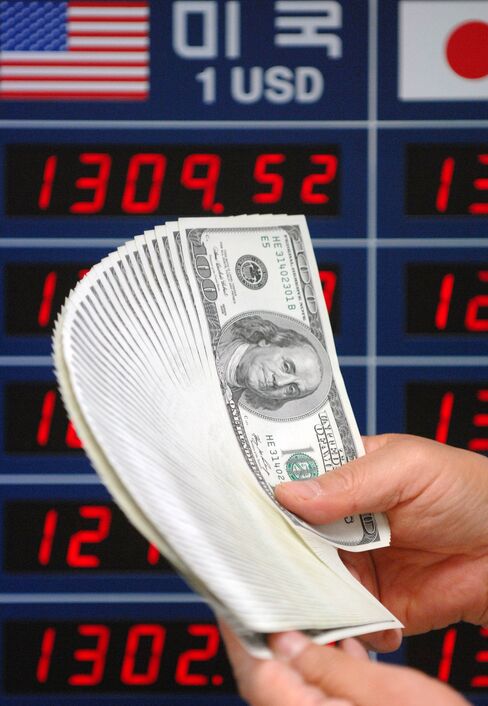 The dollar fluctuated against the yen and euro before the outcome of the Federal Reserve's meeting to review its policy of debt purchases to bolster the U.S. economy.
The U.S. currency fell against 15 of 16 major counterparts as Treasury yields increased after U.S. retail sales rose more than forecast during November, a sign consumers will play a bigger role in the economic recovery. The Swiss franc strengthened after the government raised its economic growth forecast for 2011. The Federal Open Market Committee will issue a policy statement at 2:15 p.m. New York time.
"We are going to have this bipolar dollar for a time to come, with the two faces being better growth outlooks and additional stimulus and then a worse deficit and debt picture based on the massive increase in the budget, as well as QE continuing to undermine dollar sentiment," said Brian Dolan, chief strategist at FOREX.com, a unit of online currency trading firm Gain Capital in Bedminster, New Jersey.
The U.S. currency fell 0.2 percent to $1.3423 per euro at 1:07 p.m. in New York, after sliding 0.8 percent to 1.3499, the weakest since Nov. 23. The dollar was little changed at 83.36 yen from 83.39 yen. Japan's currency fell 0.1 percent 111.82 per euro.
Yields Rise
U.S. 30-year bond yields surged to a seven-month high, rising as much as 12 basis points, 0.12 percentage point, to 4.51 percent. Ten-year yields rose 11 basis points to 3.38 percent.
The Dollar Index, which tracks the greenback against the currencies of six major U.S. trading partners, fell 0.1 percent after touching the lowest since Nov. 23.
The dollar has fallen 2.2 percent this year in a measure of the currencies of 10 developed nations, according to Bloomberg Correlation-Weighted Currency Indexes. The euro has dropped 9.2 percent. The yen is up 10.2 percent.
The euro gained earlier as German investor confidence rose more than forecast for a second month, indicating the recovery in Europe's largest economy may be broadening.
A ZEW Center for European Economic Research index of German investor and analyst expectations increased to 4.3 this month from 1.8 in November. ZEW's gauge measuring sentiment in the current situation rose to 82.6 from 81.5, falling short of economist expectations.
'Euro Zone'
"When you have no one aiming to force any kind of policy decisions in the euro zone, the market is going to underweight euros and we have seen a rebalancing of that yesterday and today," said Stephen Gallo, head of market analysis at Schneider Foreign Exchange in London. "No one in the market wants to go in to 2011 excessively overweight euros."
The one-year cross-currency basis swap between euros and dollars reached minus 52 basis points today, the lowest since Dec. 1, when concern Ireland's debt problems would spread drove it to trade near a seven-month low of 55 basis points reached the day before. A negative swap rate signals that investors are willing to receive reduced euro interest payments to obtain dollar-based financing.
U.S. retail sales increased 0.8 percent, larger than previously estimated, Commerce Department figures showed today in Washington. The median forecast of economists surveyed by Bloomberg News called for a 0.6 percent rise.
Risk Positive
"It is positive for risk appetite," Kathy Lien, director of currency research, with online currency trader GFT Forex, in New York. "Investors are losing site of the bigger picture that Europe is going to have a tougher time next year than the U.S."
Wholesale costs in the U.S. rose in November by the most in eight months, led by higher prices for gasoline, heating oil and fruit. The producer price index increased 0.8 percent, Labor Department figures showed today in Washington.
Excluding more volatile food and energy costs, the so-called core measure posted the smallest year-over-year gain in five months.
The Swiss franc gained against all its major counterparts. Swiss gross domestic product will rise 1.5 percent next year instead of the 1.2 percent projected in September, the State Secretariat for Economic Affairs in Bern said in a faxed statement today.
The franc has appreciated 14 percent against the euro this year as European leaders struggled to contain the region's fiscal crisis. Today it rose 0.7 percent to 1.2873 per euro and traded at 96.12 centimes per dollar.
Gain Capital's Dolan listed the Swiss franc as one of the currency market standouts. "They don't have the fiscal deficit or debt issues and growth is reasonably robust so the currencies will continue to be the outperformers," he said.
The Norwegien krone was the second-best performer based on the prospect the central bank will raise interest rates soon.
Norges Bank officials have said they plan to raise rates in 2011. The Norwegian krone has outperformed the 16 major currencies tracked by Bloomberg against the euro and the dollar since the start of the month, gaining 2.1 percent against the euro and 5.4 percent against the dollar. The krone gained 0.6 percent against the dollar to 5.8889.