Boeing Boosts Jet Prices 5.2%, Drops Short-Range 787-3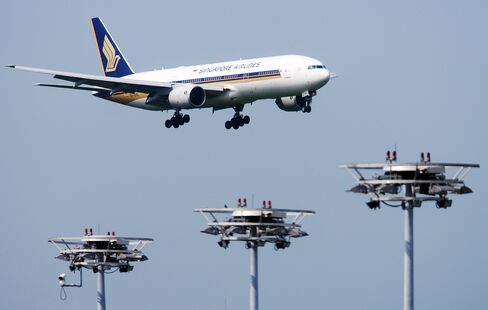 Dec. 13 (Bloomberg) -- Boeing Co. is raising aircraft prices by about 5.2 percent, the first increase in two years, and dropping the short-haul version of the 787 Dreamliner.
Higher costs for wages, goods and services are driving the boost, said Jim Proulx, a spokesman at Boeing's commercial headquarters in Seattle. He confirmed the changes made to the price list on Chicago-based Boeing's website today as well as the withdrawal of the 787-3 variant.
Boeing's last price increase, an average 2.6 percent boost, was for 2008, Proulx said. Prices were raised 5.6 percent in 2007. Most carriers and leasing companies get discounts.
"If I were an airline, I'd be reading this as a message that Boeing thinks it can get higher prices because demand is rising and supply is limited, but you'll still have the usual discussion over discounts," said Rob Stallard, an analyst at RBC Capital Markets in New York. "Boeing and Airbus deeply discount to airlines, so theoretically they could raise list prices and boost the discounts, and it would all be the same."
Boeing and larger rival Airbus SAS are pushing production rates to records to work through a seven-year backlog of orders from carriers seeking to expand and refresh their fleets with more fuel-efficient jets. Demand is recovering this year after dipping in 2009 amid the recession.
The average price for the smallest Boeing jet, the single-aisle 737, is now about $71.4 million, up from about $69.3 million. The 777's list price rose to about $258.2 million from $246 million. The two 787 models still being offered now average $201.7 million, up from $183.3 million, according to Boeing's website.
Japanese Airliner Market
The 787-3 was designed to carry as many as 330 passengers as far as 3,500 miles (5,600 kilometers), compared with the 787-8's top capacity of 250 people and 9,400-mile range. Boeing has been reviewing the model's future after All Nippon Airways Co. swapped its 787-3 order for another variant in January.
All Nippon had been the last carrier to hold an order for the 787-3, which was designed specifically for the Japanese market.
Boeing diverted resources from the short-haul model in 2008 as it struggled to move the long-distance 787-8 toward production amid problems with parts shortages, redesigns and incomplete work by suppliers. The Dreamliner's entry into service is now running about three years behind schedule.
Boeing fell 37 cents to $63.79 at 4:15 p.m. in New York Stock Exchange composite trading. The shares have tumbled 37 percent since the first Dreamliner delay was announced in October 2007.
To contact the reporter on this story: Susanna Ray in Seattle at sray7@bloomberg.net.
To contact the editor responsible for this story: Ed Dufner at edufner@bloomberg.net.