A&P Bankruptcy May Prompt Ahold Bid for Pathmark, Analysts Say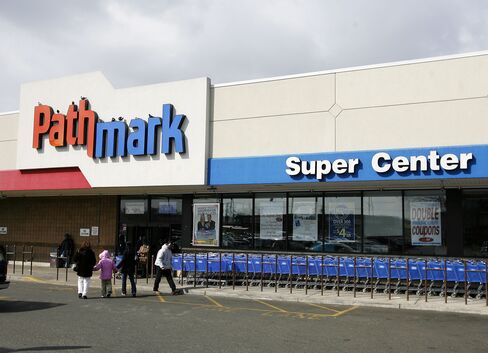 Great Atlantic & Pacific Tea Co.'s filing for bankruptcy protection may prompt Dutch competitor Royal Ahold NV to bid for the U.S. retailer's Pathmark stores to add to grocery operations in the country, analysts said.
A&P, which operates 400 supermarkets under the Waldbaum's, Food Emporium and Pathmark brands, filed for Chapter 11 protection from creditors on Dec. 12. Amsterdam-based Ahold owns the Stop & Shop grocery chain and acquired a 25-outlet retailer in Richmond, Virginia, a year ago. The Dutch company had 2.4 billion euros ($3.2 billion) in cash at the end of September.
"For Stop & Shop, the good news is a further weakening of its largest competitor and the possibility to buy some pockets of stores," John David Roeg, an Amsterdam-based analyst at ING Groep NV, said today in a report to clients.
"We don't exclude Ahold to take over some stores from A&P's portfolio," Richard Withagen, an analyst at SNS Securities in Amsterdam, said in a note today.
Ahold rose as much as 1.3 percent to 9.64 euros and was up
0.7 percent as of 1:02 p.m. in Amsterdam trading.
The Dutch company "will continue to look at opportunities in the market to grow the business," Jochem van de Laarschot, a spokesman for Ahold, said today in an e-mailed statement. He declined to provide further details.
$153.7 Million Loss
According to its most recent quarterly report, Montvale, New Jersey-based A&P had a net loss of $153.7 million for the three months through Sept. 11. The retailer had $8.8 billion in sales for the year ended in February, according to its website.
To cut debt and boost performance, A&P will most likely try to get rid of the poorest-performing stores, said ING's Roeg, who estimates A&P to have a 24.5 percent market share in the New York metropolitan area, followed by 12.9 percent for Ahold's Stop & Shop.
The U.S. accounts for about 60 percent of Ahold's revenue. The purchase of 25 family-owned Ukrop's Super Markets Inc. stores in Richmond was the Dutch company's first U.S. takeover under Chief Executive Officer John Rishton, who called the new business "a turnaround story" that will return to profit by the end of 2011.
Rishton is scheduled to leave Ahold in March to become CEO of plane-engine maker Rolls-Royce Group Plc and to be succeeded by Dick Boer, currently head of the retailer's European operations. Rishton said on Nov. 18 that he'll continue to look for targets in the U.S.
Before it's here, it's on the Bloomberg Terminal.
LEARN MORE