Florida Pastor Who Planned to Burn Koran Would Protest U.K. Ban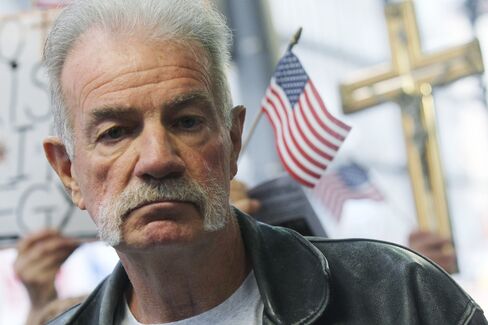 Terry Jones, the Florida pastor who threatened to burn Korans on the ninth anniversary of the Sept. 11 attacks, said he would "protest" any move by the U.K. government to ban him from making a planned visit to England.
Jones, pastor of the Dove World Outreach Center in Gainesville, told BBC Radio 4's "Today" show that there was no need for a ban as he wouldn't do "anything that would break the law or causing uprising or violence."
Home Secretary Theresa May said yesterday she was considering prohibiting Jones from entering Britain to preach at an event run by the English Defence League, an anti-Islam organization, in Luton, north of London, in February. Jones canceled plans in September to burn Korans in protest at the proposed building of an Islamic center near the World Trade Center site in New York. President Barack Obama was among those who urged Jones to call off that event.
"We believe that we have a message about Islam that's valuable," Jones said. "I would be coming to preach what I believe is a very positive message for the English Defence League."
May has the power to ban foreign nationals from entering Britain on national-security grounds or to prevent breaches of public order.
"Pastor Terry Jones has been on my radar for a few months now," she said in an interview with Sky News television yesterday. "If it is now clear that he's definitely coming to the U.K., then of course this is a case that I will be actively looking at."
Jones told BBC Radio 5 in an interview aired yesterday that he had "no problem" with "Muslims who want to make our country their country, obey our laws and constitution.
"We have a problem with them, which I believe you all have also, when they go on the street as I have seen and I am aware of, and they call for the death of the U.K., for the death of Israel, for the death of America," Jones said. "They say they are going to turn Buckingham Palace into a mosque and the queen must convert to Islam or leave the country."
Before it's here, it's on the Bloomberg Terminal.
LEARN MORE