U.S. East Braces for Frigid Blast as Storm Grounds More Flights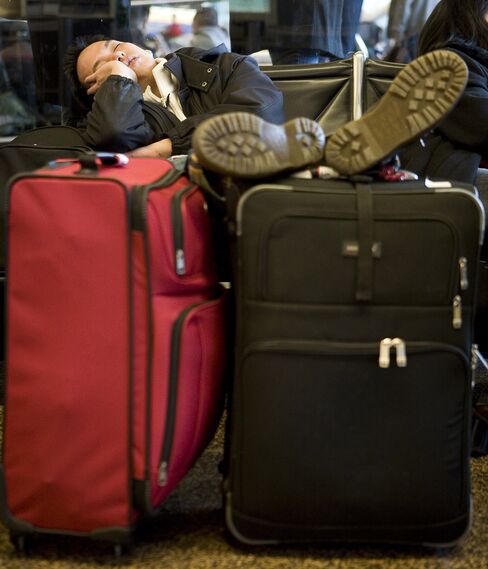 Dec. 13 (Bloomberg) -- The eastern U.S. braced for frigid weather from a snowstorm that slammed the Midwest over the weekend, grounding thousands of flights.
"It will be below to much-below normal across most of the eastern half of the nation over the next couple of days," said Brian Korty, a meteorologist with the National Weather Service. Strong winds will compound the cold, he said.
Colder-than-normal weather is likely in parts of the Midwest, Southeast and mid-Atlantic through Dec. 27, according to MDA Federal Inc.'s EarthSat Energy Weather in Rockville, Maryland. The low temperature in Chicago on Dec. 18 may be 8 degrees Fahrenheit (minus-13 Celsius), 13 degrees below normal, according to AccuWeather Inc. in State College, Pennsylvania. The low in New York may be 29 degrees, 2 below normal.
The cold weather has led to new air-travel delays after the snowstorm that battered the Midwest, causing the collapse of the Metrodome roof in Minneapolis and forcing airlines to ground more than 1,400 flights from Chicago.
The roof's failure forced the National Football League to move yesterday's game between the Minnesota Vikings and the New York Giants to today at Ford Field in Detroit.
There were 125 canceled flights among 21 airports along the U.S. East Coast as of 10:45 a.m., according to FlightStats.com, a Portland, Oregon-based company that tracks aviation data. Atlanta, the world's busiest airport and a Delta Air Lines Inc. hub, had the most with 41 cancellations. New York's LaGuardia and Kennedy airports each had fewer than 10.
Delays in Charlotte
US Airways Group Inc. is experiencing delays today to de-ice planes at its Charlotte hub after rain turned to snow overnight, said Todd Lehmacher, a spokesman for the Tempe, Arizona-based carrier.
American Airlines and American Eagle canceled 625 flights yesterday because of winter weather in Chicago and the Midwest, fog in San Francisco, ice in Atlanta and wind and rain from Washington up to Boston, including the three New York-area airports, said Mary Frances Fagan, a spokeswoman for the carrier, operated by AMR Corp.
American Eagle has canceled 42 departures today, mostly in Chicago and because of crosswinds and blowing snow in Cleveland, Traverse City, Michigan, and Baltimore, she said.
United Continental
United Continental Holdings Inc., the world's largest carrier, canceled about 475 flights yesterday, most of them at Chicago's O'Hare airport, said Megan McCarthy, a spokeswoman for the Chicago-based carrier. The company added 14 flights to and from O'Hare today to help catch up on getting passengers to their destinations, she said.
Weather in the New York area may force the carrier to scrub some flights today at New Jersey's Newark Liberty airport, a hub for Continental, McCarthy said.
Southwest Airlines Co. is "back to normal operations today," said Chris Mainz, a spokesman for the Dallas-based carrier. Southwest canceled 400 flights yesterday, primarily in Chicago, Milwaukee, Nashville and Islip, New York.
As many as 2.3 million people a day may fly on U.S. airlines from Dec. 16 through Jan. 5 as demand rises 3.1 percent this holiday season compared with last year, the Air Transport Association forecast Dec. 8. Planes may be 90 percent full on average for the busiest days, the Washington-based industry group said in a statement.
The storm covered parts of Iowa, South Dakota, Minnesota and Wisconsin. Osceola, Wisconsin, got the most snow, with 23 inches yesterday, while 21.5 inches fell in New Market and Shakopee, Minnesota, the National Weather Service said.
Temperatures in parts of central and northern Florida orange-growing areas may fall as low as 26 degrees, said Jason Nicholls, a senior meteorologist at AccuWeather Inc. Several hours of temperatures below 28 degrees can damage oranges.
To contact the reporters on this story: Asjylyn Loder in New York at aloder@bloomberg.net; John Gittelsohn in New York at johngitt@bloomberg.net
To contact the editor responsible for this story: Dan Stets at dstets@bloomberg.net.