Darlene Love, Ronettes Sue Phil Spector for Royalties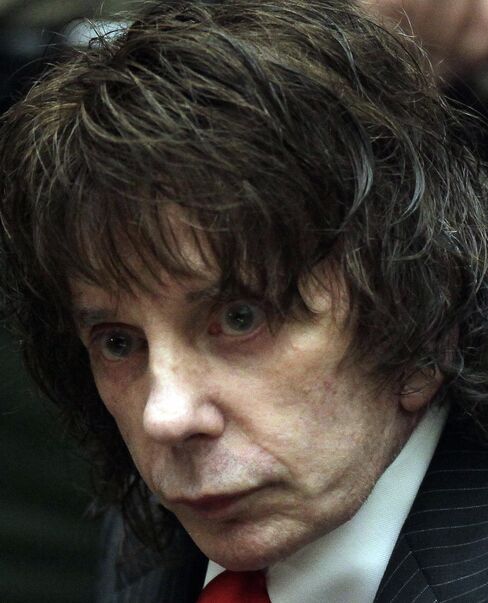 The Ronettes, singers of "Be My Baby," and Darlene Love sued Phil Spector, who's in prison in California for murder, for unpaid royalties on songs recorded in the 1960s, at least their third case against the music producer.
The plaintiffs, who include Spector's former wife Ronnie Greenfield, accused him in a complaint filed yesterday in state court in New York of violating a 2009 settlement court order requiring him to pay royalties twice a year.
"Defendants have generated millions of dollars through the sale of plaintiffs' musical recordings, yet have paid only a fraction of royalties," the singers said in the complaint.
Spector last year was sentenced to 19 years to life for the 2003 shooting death of actress Lana Clarkson in his mansion hours after they met at a nightclub. He has appealed his conviction.
In a 2006 judgment, the Ronettes were granted a lump-sum payment for royalties and interest. After Spector failed to pay further required royalties, another suit was filed in 2008 and another settlement followed in 2009, according to the complaint.
Required royalty statements have been inaccurate, resulting in "gross underpayment," the group alleged, asking for at least $600,000 in damages.
Besides the producer, defendants include his wife, Rachelle Spector, and his businesses, Phil Spector Records, Phil Spector Enterprises, Philles Records and Back to Mono Music. Rachelle Spector manages Phil's businesses, according to the complaint.
Spectors' Lawyer
Michael Dempsey, a lawyer for Phil and Rachelle Spector, said he hadn't seen the complaint and declined to comment.
Spector was credited with producing dozens of hit records in the 1960s using what was called a "wall of sound." Singers were accompanied by an orchestra and guitars playing the same parts and recorded using an echo chamber.
Love sang with the groups the Blossoms, the Crystals and Bob B. Soxx and the Blue Jeans. The Crystals' hits included "Da Doo Ron Ron."
The Ronettes are Ronnie Greenfield; the late Estelle Bennett, Ronnie's sister, whose estate is suing; and their cousin Nedra Talley Ross.
Fanita James, who sang with the Blossoms and Bob B. Soxx and the Blue Jeans, is another plaintiff.
Copyrights on the songs are held by EMI Music Publishing, a unit of Terra Firma Capital Partners Ltd., and the Philles Records catalog is distributed by Sony Corp.'s Sony Music Entertainment, according to the suit.
The case is Love v. Spector, 652227-2010, New York Supreme Court, New York County (Manhattan). An earlier case was Greenfield v. Philles Records, 000763-1988, New York Supreme Court.