Ryan, Conrad Say U.S. Congress Will Approve Obama Tax-Cut Deal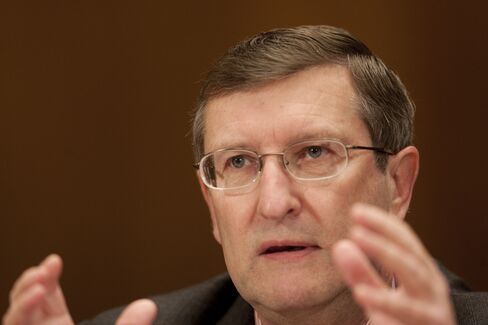 President Barack Obama's tax-cut deal with Republicans will pass in Congress, budget leaders of both parties predicted, as they disagreed on whether the plan might be altered.
Republican Paul Ryan, who becomes House Budget Committee chairman in January, and Democrat Kent Conrad, chairman of the Senate Budget Committee, said the plan will be sent to Obama's desk though Conrad said he hoped House Democrats would change estate tax provisions he considers too generous to the wealthy.
In interviews airing this weekend on Bloomberg Television's "Political Capital with Al Hunt," both men said they expect Congress to pivot from tax-cutting to reducing the budget deficit early next year before a vote that will be required to raise the federal debt limit.
"There has got to be an agreement to deal with our long-term debt challenge," Conrad said he told Treasury Secretary Timothy Geithner and White House budget director Jack Lew during a meeting on Dec. 9. Otherwise, "extending the debt limit will not happen but for short periods of time," the lawmaker said.
Ryan, of Wisconsin, said he plans lead the Republican push to cut domestic spending by $100 billion early next year, before the debt-limit vote.
"The debt ceiling obviously is going to have to be increased if we're not going to default," Ryan said. "So the question is, what do we get in exchange for that?"
"We want to bring spending back to something like pre-binge, pre-spending levels of 2008. So that means we want to go after a good $100 billion," he said.
Public Opinion
Conrad, of North Dakota, said efforts to cut the deficit are made more difficult by polls showing the public opposes many of the tax increases and spending cuts that would be needed. A Bloomberg News survey this week showed that Americans want Congress to reduce the deficit without cutting Social Security, defense or many other programs.
"We've got a huge educational job to do with the American public," Conrad said. Lawmakers "have to be prepared to sacrifice their political careers to do what must be done for the nation."
"If we fail to get our deficits and debt under control, America will become a second-class nation," he said. "We are going to slip over the abyss into a fiscal crisis that is as sure as we sit here."
The Senate plans a Dec. 13 test vote on this week's agreement between Obama and Republicans to extend Bush-era tax cuts for all income levels for two years. Obama and most congressional Democrats had pushed to limit the tax breaks to the first $250,000 in family income.
Estate Tax
The deal Obama reached would create a 35 percent top estate-tax rate that would apply above a tax-free level of $10 million per couple. A 2001 law abolished the estate tax for 2010, and the top levy currently set for 2011 would be 55 percent, with the first $2 million per couple tax free.
Conrad said the administration "went too far" with its estate tax proposal, calling it "impossible to justify." "We just can't afford that kind of giveaway to the very wealthiest among us," he said, saying it would cost an estimated $100 billion if it were continued over 10 years.
Conrad, 62, said he favors setting the top estate tax rate at 45 percent with a $3.5-million-per-person exemption.
Ryan, 40, said that though House Democrats are "throwing a fit" over the plan, he doubted it would be changed.
"A deal is a deal -- we have an agreement and that ought to be honored and it should pass soon so we don't create this volatility in the economy," he said.
The tax cuts enacted under former President George W. Bush are scheduled to expire Dec. 31.
A Second Tax
Ryan said he opposes any estate tax because it represents a second levy on money that was already subject to income taxes. He said it makes it too difficult to transfer wealth within families.
"We're not talking about, you know, Bill Gates here," he said. "We're talking about successful family businesses and farms that are big employers having to be cut in half or liquidated in order to pay a tax when the owner dies. This is not right."
Conrad and Ryan endorsed proposals to overhaul the tax code by reducing tax breaks and marginal tax rates. Conrad said a plan could generate additional revenue to help reduce the deficit. Ryan said Republicans and Democrats are likely to disagree on "the proper level of revenues" because "we just have a different view on the size of government."