Wall Street Pushing 'Cockamamie' Deals, New York's Ravitch Says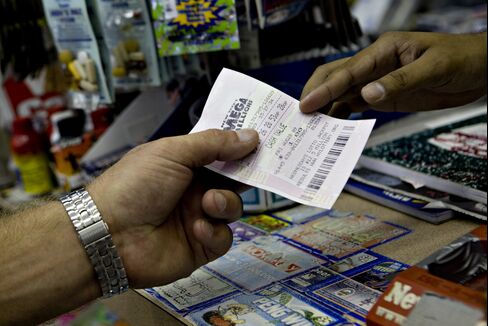 Wall Street bankers perceive New York's $9 billion budget deficit as an opportunity to propose financing deals that may worsen the state's long-term fiscal condition, Lieutenant Governor Richard Ravitch said.
"They are up here peddling the same cockamamie borrowing schemes that helped get us in trouble," Ravitch said today at a conference sponsored by the Rockefeller Institute of Government in Albany, the state capital.
About $9.8 billion of the $60.4 billion in state-backed debt is from bonds sold to finance previous years' deficits, according to a report in March by Comptroller Thomas DiNapoli. New York is the second-largest state borrower after California, and its debt per person of $2,925 is three times the national average and second only to New Jersey among the 10 largest states by population, according to the report.
Ideas proposed by bankers include the sale and leaseback of the Empire Plaza, a group of state office buildings across the street from the Capitol, and borrowing backed by revenue from the state-owned lottery and parking garages, Ravitch said. A refinancing of tobacco bonds, which some lawmakers endorsed last year as a way raise more than $500 million, is another proposal, he said.
"The state has a lot of ways of borrowing money, and Wall Street is eager to facilitate that," Ravitch said.
End of Term
Ravitch, 77, whose term ends Dec. 31, is a former chairman of the Metropolitan Transportation Authority. He helped arrange compromises by bankers, unions and government officials during New York City's financial crisis in the mid-1970s.
In March, Ravitch proposed allowing New York to sell as much as $6 billion of bonds over three years to close its budget gap if those sales were accompanied by the creation of a financial oversight board and other changes to balance spending and revenue. That plan was opposed by Governor David Paterson and Governor-elect Andrew Cuomo, both Democrats.
Ravitch said New York and other states need to devote more effort to solving the fundamental imbalance between spending plans for services and pensions and available resources. Too often, he said, they behave as if "the only thing that matters is that you have enough cash to avert catastrophe."
The problem with borrowing to raise that cash is "you are building up liabilities in the future and making it more painful when the process ultimately comes to an end," Ravitch said.
Moving Money Around
While bankers have a useful role in the economy, too often their ideas are merely moving money around and not financing job-producing activities, he said.
New York's general-obligation bonds, backed by its full faith and credit, are rated Aa2 by Moody's Investors Service and AA by Standard & Poor's and Fitch Ratings, all third highest.
Bonds backed by personal income-tax revenue have the top AAA grade from S&P and AA from Fitch. Debt backed by contracts that require annual appropriations are rated AA-, or one grade lower than the general-obligation debt, by S&P and Fitch.
While New York has many ways to raise cash, Ravitch said he was concerned enough about the safety of state debt that he personally would buy only bonds backed by revenues such as the personal income tax, and avoid those backed by annual appropriations.
Before it's here, it's on the Bloomberg Terminal.
LEARN MORE