House Democrats Oppose Vote on Tax-Cut Extension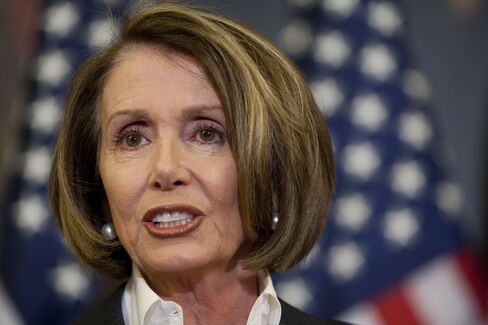 Dec. 9 (Bloomberg) -- House Democrats voted to block a floor debate on President Barack Obama's tax deal with Republicans, in a non-binding move to force changes in the proposal to extend Bush-era tax cuts for all income levels.
House Speaker Nancy Pelosi of California told reporters that members will make suggestions and "bring something to the floor." She said the Democrats' action was "nothing different" from Democratic senators' effort to seek changes in the bill.
"The need is great, but we do not have to capitulate to just any deal that is offered," said Representative Lloyd Doggett of Texas after Democrats adopted the resolution during a private caucus. "We have to stand up and say unless we get some changes in the agreement it ought not to come up for a floor vote."
Senate Democratic leaders have been planning to move forward with a vote as early as this week on the tax deal, brushing past a rebellion in their party. Senate Majority Leader Harry Reid today said lawmakers should "stay tuned" on timing of a vote. He said a procedural vote might be held Dec. 11.
The Obama administration recognizes "there are parts of the agreement that Democrats don't like," White House press secretary Robert Gibbs said today. "There are certainly parts of this that Republicans don't like."
'Strengthen' Framework
There may be ways to "strengthen the framework" that would draw broader support, Gibbs said, and the administration wouldn't try to prevent that.
"If everybody took out what they didn't like we would have nothing," Gibbs said. "At the end of the day this will get done."
Reid, of Nevada, said the Senate text of the proposal may be introduced later today.
Obama yielded to Republican demands to extend Bush-era income-tax cuts for two years for all taxpayers, including the highest-earning Americans. Democrats have sought to limit the tax reductions, which expire Dec. 31, to the first $250,000 of annual income.
Democratic Representative Charles Rangel of New York said House and Senate leaders should have been part of the negotiation between the Obama administration and Republicans. Democratic leaders in Congress "can't be told what the decision is," he said.
Lone Vote
Representative Shelley Berkley of Nevada said she was the lone vote against the House Democrats' resolution, which she said "means nothing" besides allowing members to express their disagreement. "This is a good deal," she said, adding that "you are going to have a dickens of a time" getting its economic-stimulus provisions passed after Republicans take the House majority in January.
U.S. stocks swung between gains and losses as Democratic opposition to the tax-cut plan helped offset investor optimism after a bigger-than-projected drop in jobless claims. The S&P 500 rose 0.2 percent to 1,230.99 at 1:22 p.m. in New York after gaining 0.5 percent earlier. The Dow lost 17.10 points, or 0.2 percent, to 11,355.38. Treasury 30-year bonds rose for the first time in three days.
'Major Setback'
"This would be a major setback if we don't take it up and approve it this year," Scott Davis, chairman and chief executive of United Parcel Service Inc., told reporters at the White House today after a meeting of the President's Export Council.
Because the plan would allow a quick write-off of expenses, UPS will "invest an awful lot more money" in equipment next year, Davis said. "This tax proposal would help continue the recovery; I think it's vital to the recovery."
"It would be very disappointing if it didn't pass," said Ursula M. Burns, chief executive of Xerox Corp. She said the tax deal "will give us a little bit of certainty about how the near term will look."
Reid said "I hope so" yesterday when asked whether the measure will pass the Senate. While many of the 58 Democrats expressed reservations about the plan, most Senate Republicans support it.
"No one is happy," said Representative Bart Stupak, a retiring Democrat from Michigan who plans to vote against the plan in the House. "But this is not going to pass with Democratic votes, this will pass with Republican votes."
Private Talks
The proposal was largely negotiated in private meetings between Vice President Joe Biden and Senate Republican leader Mitch McConnell of Kentucky. Biden told House Democrats yesterday that no major changes can be made to the proposal, lawmakers said.
"A lot of people said they were undecided, but the vice president said 'this is the deal, take it or leave it,'" said Representative Henry Waxman, a California Democrat.
The plan includes a 13-month extension of federal unemployment insurance for the long-term jobless, a one-year cut in payroll taxes and tax breaks for small businesses that were part of his economic package. It would set the estate tax at a top rate of 35 percent after a $5 million tax-free allowance per person. That would be the second-lowest estate tax in 80 years.
"A deal breaker for me is the estate tax," Representative Gregory Meeks, 57, a Democratic member of the Congressional Black Caucus from New York, said today on CNBC. He said he would support the package if the estate tax provisions were removed.
Senators expressing support for the bill include Democrats John Kerry of Massachusetts, James Webb of Virginia and Bill Nelson of Florida; Republicans Christopher Bond of Missouri and Lindsey Graham of South Carolina, and independent Joe Lieberman of Connecticut.
DeMint, Voinovich
Senator Jim DeMint of South Carolina, a Republican and a Tea Party favorite, said in a radio interview he would vote against it because it wouldn't make the tax cuts permanent. Also opposing the measure is George Voinovich of Ohio. Twenty Democratic votes would be needed to advance the plan if all other Republicans backed it.
Senator Barbara Mikulski of Maryland said two chief concerns were voiced in a closed-door meeting yesterday among the chamber's Democrats and White House officials. She said senators consider the estate tax too generous to the wealthy and are concerned that the payroll tax cut could harm the Social Security system that it funds.
A congressional staff member helping draft the legislation said the agreement would give people who died in 2010 a choice of tax treatment for the year: the 35 percent estate tax or a replacement capital-gains tax.
Alternative Energy
Several lawmakers, including Senator Tom Harkin of Iowa, said they want to include tax credits for production of wind and solar energy.
Representative Peter Welch, a Vermont Democrat, and 53 members of the progressive caucus came out against the proposal today, calling the plan "fiscally irresponsible" and "grossly unfair" in a letter sent to Pelosi.
"This bill is too much debt, too few jobs," Welch said in an interview today with Bloomberg Television.
The opposition to the plan from fiscally liberal Democrats makes gaining support from the centrist New Democratic caucus and fiscally conservative Blue Dogs a top priority for the White House.
Some people who are prepared to support the package are "perhaps holding their nose," said Democratic Representative Gerald Connolly of Virginia, a member of the New Democratic caucus who supports the plan.
To contact the reporters on this story: Lisa Lerer in Washington; Ryan J. Donmoyer in Washington at rdonmoyer@bloomberg.net
To contact the editor responsible for this story: Mark Silva at msilva34@bloomberg.net