Nikkei 225 Gains to Seven-Month High on GDP, Stronger Euro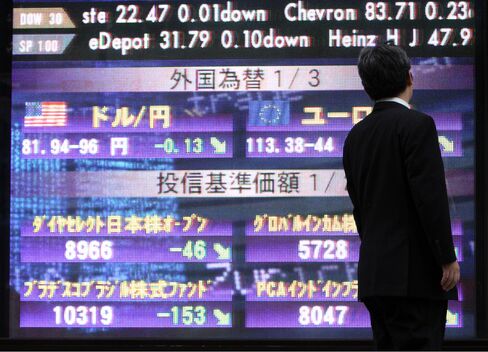 Dec. 9 (Bloomberg) -- Japanese stocks gained, sending the Nikkei 225 Stock Average to almost a seven-month high, as Japan's economy grew faster than expected and the euro strengthened against the yen.
Mitsubishi UFJ Financial Group Inc., Japan's biggest publicly traded bank, rose 3.7 percent. Nomura Holdings Inc., the nation's biggest brokerage, climbed 3.9 percent. T&D Holdings Inc., a life insurer, jumped 4.4 percent. Honda Motor Co., a carmaker that gets about 80 percent of its sales abroad, advanced 1.6 percent. Fanuc Ltd., the nation's largest maker of industrial robots, gained 1.2 percent as Japanese companies increased capital spending.
"Investors already knew that higher capital spending in the July-September period would boost Japan's GDP, but they took it as a good direction once the result was disclosed," said Masaru Hamasaki, who helps oversee about $17 billion as chief strategist at Toyota Asset Management Co. in Tokyo. "Stable currency movements are gradually bolstering investors' confidence about the economic future."
The Nikkei 225 Stock Average gained 0.5 percent to 10,285.88 at the close in Tokyo, the highest since May 14. The broader Topix rose 0.5 percent to 891.60, with about eight shares rising for every seven that fell. The Nikkei 225 formed a so-called golden cross, indicating the gauge may climb 11 percent back to this year's April high within the next quarter, according to Nomura Holdings Inc.
Golden Cross
The Nikkei's 25-day moving average surpassed the 200-day moving average today to complete the golden cross, which is considered by chart watchers to be a bullish signal. The event last occurred in June 2009. The Nikkei's high this year was on April 5, when it closed at 11,339.30 and it may rise back to that level in the quarter ending March, said Shoichiro Yamauchi, a technical analyst at Nomura.
The Nikkei 225 has tumbled 9.3 percent from its high this year on April 5 as Europe's debt crisis, China's steps to curb property prices and concern about U.S. economic growth damped confidence in a global recovery. Stocks in the index trade at 18 times estimated earnings on average, compared with 14.4 times for the Standard & Poor's 500 Index and 12.2 times for the Stoxx Europe 600 Index.
Mitsubishi UFJ Financial Group gained 3.7 percent to 417 yen, and its closest rival Sumitomo Mitsui Financial Group Inc. climbed 3.5 percent to 2,712 yen. Mizuho Financial Group Inc., Japan's third-biggest bank, rose 2.9 percent to 141 yen. The three lenders were the largest contributors to the Topix's gain.
GDP Beats Estimates
Gross domestic product grew at an annualized 4.5 percent rate in the three months ended Sept. 30, faster than the 3.9 percent reported last month, the Cabinet Office said today in Tokyo. The median forecast of 19 economists surveyed by Bloomberg News was for a 4.1 percent expansion.
Capital investment in the third quarter advanced 1.3 percent from the previous three months, more than the 0.8 percent increase in the preliminary report, today's data showed.
Nomura Holdings rallied 3.9 percent to 509 yen. Daiwa Securities Group Inc., Japan's second-largest brokerage, leapt 3.3 percent to 403 yen. T&D, a life insurer, jumped 4.4 percent to 2,079 yen, the highest since June 4. Dai-Ichi Life Co., Japan's second-biggest life insurer, soared 5.6 percent to 130,700 yen.
Banks, insurers and brokerages contributed the most to the gain of the Topix among its 33 industry groups, followed by makers of cars and electronics.
Exporters Gain
Honda, Japan's second-largest automaker, advanced 1.6 percent to 3,185 yen. Mazda Motor Corp., Japan's second-largest car exporter, jumped 2.9 percent to 247 yen. Nissan Motor Co., a carmaker that earns almost 80 percent of its sales overseas, climbed 1.2 percent to 825 yen.
Fanuc, a maker of industrial robots that earns about 80 percent of revenue overseas, rose 1.2 percent to 12,590 yen, contributing the most to the Nikkei 225's gain. Canon Inc., the world's biggest camera maker, increased 0.7 percent to 4,115 yen.
The yen depreciated to as low as 111.57 against the euro today in Tokyo, compared with 110.92 at the close of stock trading yesterday. A weaker yen boosts overseas income at Japanese companies when converted into their home currency.
"Investors' risk tolerance toward Japanese stocks is rising because the yen has been weakening," said Gentoku Kiyokawa, operating officer at BNP Paribas Investment Partners in Tokyo.
To contact the reporter on this story: Norie Kuboyama in Tokyo at nkuboyama@bloomberg.net;
To contact the editor responsible for this story: Nick Gentle at ngentle2@bloomberg.net.