U.S. Initial Jobless Claims Fell 17,000 to 421,000 Last Week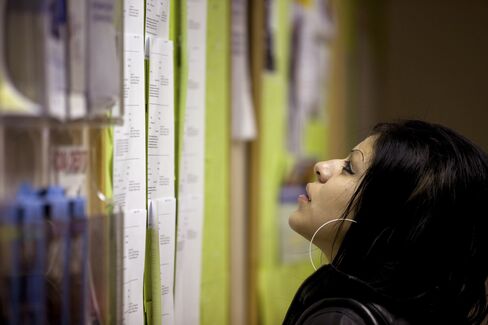 The number of workers filing first-time claims for unemployment insurance payments fell last week in the U.S., showing the labor market continues to improve.
Applications for jobless benefits decreased to 421,000, in line with the median forecast of economists surveyed by Bloomberg News, from a revised 438,000 the prior week, Labor Department figures showed today. The four-week moving average, a less-volatile measure, dropped to the lowest level in more than two years.
Companies are holding on to more workers as sales improve and expectations for growth brighten. A faster pace of growth is needed for firms to add enough jobs to bring down the November unemployment rate of 9.8 percent, the highest since April, and alleviate concerns of policy makers including Federal Reserve Chairman Ben S. Bernanke.
"Companies are maintaining very, very lean staffing levels," Neil Dutta, an economist at Bank of America Merrill Lynch Global Research in New York, said before the report. "It would take a big shock for companies to significantly increase firings but at the same time, they're not hiring."
Economists forecast claims would fall to 425,000, according to the median of 50 projections in a Bloomberg News survey. Estimates ranged from 394,000 to 445,000.
A Labor Department official said there were no special factors that had an impact on the figures released today. The four-week moving average fell to 427,500, the lowest since August 2008, from 431,500.
Jobless Benefits
The number of people continuing to collect jobless benefits fell by 191,000 in the week ended Nov. 27 to 4.09 million. They were forecast to fall to 4.24 million.
The continuing claims figure does not include the number of workers receiving extended benefits under federal programs.
Those who've used up their traditional benefits and are now collecting emergency and extended payments decreased by about 393,200 to 4.51 million in the week ended Nov. 20.
The Obama administration on Dec. 6 announced an agreement with congressional Republicans to extend Bush-era tax cuts, reduce the payroll tax and fund unemployment insurance for the long-term jobless for 13 months. Under current legislation, the extension in emergency benefits expired Nov. 30, which the Labor Department has estimated would interrupt aid to 1.36 million before the last week of 2010.
The unemployment rate among people eligible for benefits, which tends to track the jobless rate, dropped to 3.2 percent in the week ended Nov. 27, the lowest in two years, today's report showed. Sixteen states and territories reported an increase in claims, while 37 had a decrease.
Weekly Firings
Initial jobless claims reflect weekly firings and tend to fall as job growth -- measured by the monthly non-farm payrolls report -- accelerates. That relationship has broken down in recent months as some companies cut staff and others expand -- pointing to an uneven recovery.
The U.S. added 39,000 jobs in November, fewer than forecast, the Labor Department reported Dec. 3.
Federal Reserve Chairman Ben S. Bernanke has been among those saying the recovery has been too slow, keeping unemployment too high.
"At the rate we're going, it could be four, five years before we are back to a more normal unemployment rate" of about 5 percent to 6 percent, Bernanke said in an interview broadcast Dec. 5 by CBS Corp.'s "60 Minutes" program.
The economy hasn't grown to the point where demand can't be met with current staff at Illinois Tool Works Inc., chief executive officer David Speer said in an interview on Dec. 3.
Next year "there will be some modest level of improvement in employment in industrial manufacturing in the U.S.," Speer said. "I don't think anything significant for us, because I still see us with enough capacity in terms of labor right now to not have to make any significant additions."
ITW, the maker of Hobart food mixers and Duo-Fast nail guns, may do more hiring in 2012 if "we progress as I suspect we will," Speer said. The company last week forecast business revenue, which doesn't include sales from acquired companies, will increase 5 percent to 7 percent in 2011 over this year.