Ireland's Rating Cut Three Levels by Fitch on Banks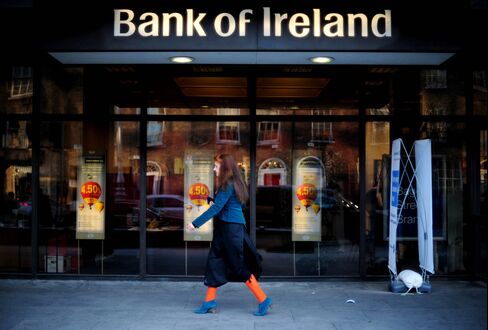 Ireland's credit rating was cut three levels by Fitch Ratings to the lowest of any of the major rating companies after the country sought international assistance last month to rescue its banks.
The rating was lowered to BBB+ from A+, Fitch said in a statement in London today as it cut Ireland for the second time in two months. The outlook on the rating, which is three steps above non-investment grade, is "stable," it said.
Ireland agreed to an 85 billion-euro ($112 billion) bailout from European governments and the International Monetary Fund on Nov. 28 as the cost of protecting ailing lenders overwhelmed the state's finances and sent the budget deficit soaring. European authorities pressured the nation to seek aid in a bid to stem a growing crisis and prevent contagion to Spain and Portugal.
"The downgrade reflects the additional fiscal costs of restructuring and supporting the banking system," Fitch said. "Ireland's sovereign credit profile is no longer consistent with a high investment grade rating."
Irish bonds rose today after declining immediately after Fitch's announcement. The yield on the 10-year security fell 3 basis points to 8.19 as of 12:44 p.m. in London.
The premium investors charge to hold the debt over German bunds, Europe's benchmark, was at 503 basis points, compared with 502 basis points yesterday. It reached a euro-era record of 680 basis points on Nov. 30.
Greece Rating
Fitch analyst Chris Pryce said the three-step cut reflects the "seriousness of the situation," though he doesn't expect Ireland to default.
It's "an investment grade rating. That doesn't mean we expect the country to default," Pryce said on Dublin-based RTE radio. "There is obviously a chance, but that is not our main expectation."
The downgrade leaves Ireland two rating steps above Greece, which earlier this year became the first euro-area country to seek aid from the EU and the IMF.
"The key point is the rating is still investment grade and obviously Ireland needs to hold onto that," said Dermot O'Leary, chief economist at Goodbody Stockbrokers in Dublin. "It has to sort out the banking system."
Standard & Poor's lowered Ireland's rating by two levels to A on Nov. 23, citing increased borrowing by the sovereign to prop up its "troubled banking system." Moody's Investors Service, which has Ireland on an Aa2 credit rating, last month said a "multi-notch" downgrade was "most likely" because the bailout would increase its debt burden.
Bank Rescue
Under the EU-IMF bailout, Irish banks will receive as much as 35 billion euros of additional capital. The aid includes an "immediate" injection of 10 billion euros, with a further 25 billion euros in contingency funding. With deposits falling and lenders locked out of credit markets, Irish banks have increased their reliance on emergency European Central Bank funding.
Allied Irish Banks Plc, Ireland's second-biggest bank, said Nov. 19 that deposits fell 17 percent this year. Anglo Irish Bank Corp., nationalized in 2009, lost about 12 billion euros of deposits this year, Chairman Alan Dukes said Nov. 25.
Ireland's government this week unveiled a 6 billion-euro budget tightening for 2011, the first step on a four-year plan to lower the deficit to the EU limit of 3 percent of gross domestic product. The shortfall will be about 12 percent of GDP this year, or 32 percent of GDP once bank-rescue costs are included.
The outlook for the Irish economy is "highly uncertain," Fitch said. The austerity measures, together with "accelerated bank deleveraging, could stall the incipient recovery,"