AIG Recovers From 'Disgraced' to Pay Back Fed's Loan: Timeline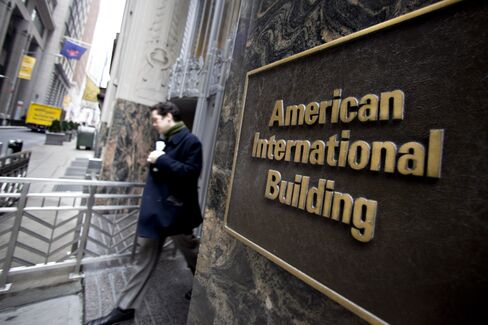 American International Group Inc., once the world's largest insurer, struck a deal to repay the Federal Reserve as the company works toward independence, less than two years after the bailed-out firm's then-leader said the AIG name was "disgraced."
"This company is not going away, it's here to stay," Robert Haines, an analyst at CreditSights Inc., said in an interview yesterday after the insurer announced the agreement. "There's a lot of interest in AIG again, and AIG as a franchise." The following is a timeline of the rescue of New York-based AIG and the company's efforts to repay taxpayers.
Sept. 16, 2008: The U.S. agrees to loan AIG as much as $85 billion in exchange for a stake of almost 80 percent after credit downgrades force the insurer to post collateral to banks that purchased derivatives from the company.
Sept. 18, 2008: AIG's board approves Edward Liddy, who ran Allstate Corp. from 1999 to 2006, as chief executive officer. The two-year credit line is "enough" for AIG, Liddy says.
Oct. 8, 2008: Liddy gets an expanded bailout from the government with authorization for an additional $37.8 billion in liquidity as AIG struggles to meet the demands of clients pulling out of its securities-lending program.
Oct. 22, 2008: Liddy tells PBS that the $122.8 billion offered by the government "may not be enough" to stabilize AIG.
Nov. 10, 2008: Treasury commits to a $40 billion investment, and New York Fed agrees to spend as much as $52.5 billion to buy mortgage-related securities owned or backed by the insurer as losses tied to housing best mount. The credit line is cut to $60 billion and AIG wins a lower interest rate and three extra years to pay back the loan. The $37.8 billion facility is canceled.
March 2, 2009: AIG reports a record $61.7 billion fourth-quarter loss and gets an additional Treasury injection of as much as $29.8 billion, raising the bailout total to about $182.3 billion. "Liquidity is not an issue for us now," Liddy says.
March 3, 2009: Federal Reserve Chairman Ben S. Bernanke says AIG operated like a hedge fund and having to rescue the insurer made him "more angry" than any other episode in the credit crisis.
March 18, 2009: "The AIG name is so thoroughly wounded and disgraced that we're probably going to have to change it," Liddy tells Congress.
Aug 3, 2009: AIG's board elects ex-MetLife Inc. leader Robert Benmosche as CEO.
Dec. 1, 2009: The Fed reduces AIG's credit-line debt by $25 billion in anticipation of receiving proceeds from the eventual sale of two non-U.S. life divisions, American Life Insurance Co. and AIA Group Ltd.
Jan. 27, 2010: Treasury Secretary Timothy F. Geithner says the AIG bailout prevented an "utter collapse" of the U.S. economy. Had AIG failed, "thousands of factories would have closed their doors," Geithner tells a congressional panel. "Millions more would have lost their jobs. People would have rushed to take their savings out of banks."
April 12, 2010: Fairholme Capital Management, led by Bruce Berkowitz, says it acquired about 15 million shares of AIG, gaining the second-largest holding in the company.
July 14, 2010: Chairman Harvey Golub steps down after feuding with Benmosche over the stalled divestiture of AIA. He is replaced by Steve Miller, an AIG director.
Aug. 6, 2010: Benmosche says in a memo to staff that AIG is in talks with U.S. regulators about "a complete government exit."
Aug. 11, 2010: AIG agrees to sell a majority stake in its consumer lender to Fortress Investment Group LLC, getting rid of a unit that accumulated more than $17 billion in debt.
Aug. 25, 2010: AIG's draw on the credit line falls to the lowest since the bailout after the plane-leasing unit raises about $4.4 billion in bond sales to private investors earlier in the month.
Sept. 30, 2010: AIG says it will convert Treasury's preferred stake of about $49.1 billion to common shares for sale to private investors. Geithner says "we are much closer to seeing a clear path out."
Oct. 28, 2010: AIG sells a majority stake in AIA in an initial public offering in Hong Kong, raising $20.5 billion.
Nov. 1, 2010: MetLife purchases Alico for $16.2 billion.
Nov. 30, 2010: AIG sells $2 billion of bonds in its first offering since the bailout in 2008.
Dec. 8, 2010: AIG agrees to repay a Federal Reserve credit line, on which it owes about $21 billion, using proceeds from the Alico and AIA sales.
Before it's here, it's on the Bloomberg Terminal.
LEARN MORE