Visa Europe Settles EU Antitrust Case, Reduces Fees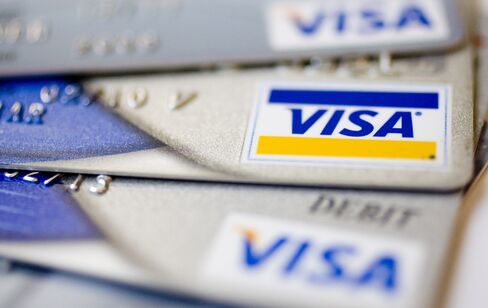 Dec. 8 (Bloomberg) -- Visa Europe Ltd., operator of the largest payment-card network in the 27-nation European Union, will reduce debit-card transaction fees paid by retailers as part of a deal to end EU antitrust action.
The European Commission will drop its investigation into debit-card charges after Visa Europe promised in April "to significantly cut" fees to 0.2 percent of a purchase, the agency said in an e-mailed statement.
"Lower inter-bank fees will trigger real benefits for merchants and consumers whilst more transparent rules will also improve competition in the cards market," said Joaquin Almunia, the EU's competition commissioner.
Visa Europe, which split from Visa Inc. before the U.S. card company's initial public offering in early 2008, will reduce fees for transactions worth as much as 20 billion euros ($26.5 billion) every year, Almunia said. MasterCard Inc. agreed to reduce debit card fees to the same rate last year.
The so-called interchange fee, based on Visa Europe's guidelines, is paid by a retailer's bank to the bank that issued a customer's card. Visa Europe, owned by more than 4,000 European banks, said the new rate would cut the fees concerned by less than 20 percent.
EuroCommerce, a group representing stores including Carrefour SA, the world's second biggest retailer, and Tesco Plc, said it was "dismayed" because the settlement "will do little to remove the burden of interchange fees from Europe's retailers and consumers."
Separate Probe
Visa Europe said it hoped to reach "an agreed outcome" on a separate EU probe into fees for credit-card and deferred-debit transactions, where customers must settle their bills at the end of the month.
Out of 400 million Visa-branded cards in Europe, about 280 million are debit cards, said Simon Kleine, a spokesman for Visa Europe, in a telephone interview.
Almunia said the 0.2 percent rate was chosen as "the level where merchants have no preference whether consumers pay with a Visa debit card or with cash."
Visa Europe, based in London, said the agreement may allow the average 0.2 percent fee to be revised "if further data becomes available on the cost of different means of payment, including cash."
Under its legally binding deal with the EU, Visa Europe promised to reduce the maximum interchange fee for four years in Greece, Hungary, Iceland, Ireland, Italy, Malta, Sweden, Luxembourg and the Netherlands. Visa Europe will also publish fee amounts and allow retailers to choose whether to accept its various debit cards. The company can be fined by regulators if it violates the deal.
MasterCard settled a similar case with the commission last year, agreeing to reduce the interchange fee to 0.3 percent of a transaction's cost for credit cards and 0.2 percent for debit cards.
To contact the reporter on this story: Aoife White in Brussels at awhite62@bloomberg.net.
To contact the editor responsible for this story: Anthony Aarons at aaarons@bloomberg.net.