Siam Cement to Sell $1.1 Billion PTT Chemical Stake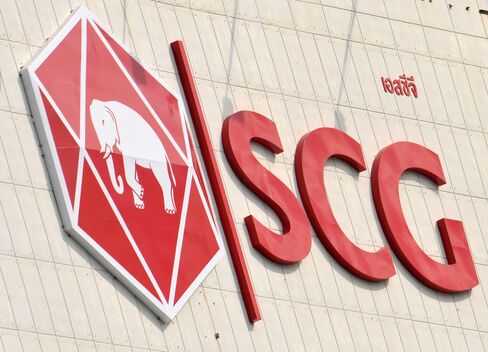 Siam Cement Pcl said it will sell a 15.6 percent stake in PTT Chemical Pcl for 33 billion baht ($1.1 billion) as Thailand's third-biggest publicly traded company by market value seeks funds for domestic and overseas expansion.
Siam Cement will sell 236 million shares of PTT Chemical at 140 baht, booking a gain of about 8.8 billion baht in the fourth quarter, the company said in a regulatory filing today. That was 9 percent less than PTT Chemical's closing price yesterday.
Siam Cement, controlled by King Bhumibol Adulyadej's asset management arm, has built new plants and bought rivals in countries including Vietnam, Cambodia and Malaysia to bolster growth. Demand for Siam Cement's petrochemicals, paper and cement has increased as economic growth in China and the rest of Asia spurs sales of cars, electrical appliances and other consumer products.
"The proceeds will provide Siam Cement financial resources to accelerate its expansion and acquisition in the region," Rattana Leenutaphong, an analyst at IV Global Securities Pcl in Bangkok, said by phone today. Siam Cement selling PTT Chemical stock at a discount is "acceptable" given the large number of shares, said Rattana. She has a "buy" recommendation on Siam Cement.
Siam Cement's shares fell 1.4 percent to 342 baht as of 12:24 p.m. in Bangkok. PTT Chemical's stock dropped as much as 6.2 percent, the biggest intraday drop since Sept. 2, and traded at 146.5 baht.
Domestic Sale
The divestment is the biggest domestic sale since Siam Commercial Bank Pcl sold a $1.45 billion stake in Singburi Sugar Ltd. in March 2002, according to data compiled by Bloomberg. Earlier this year, Thanachart Bank Pcl agreed to pay about 1 billion baht for the Bank of Thailand's 48 percent share in Siam City Bank Pcl.
Siam Cement will hold 67 million shares, or 4.42 percent stake, of PTT Chemical after the sale, according to the filing. Siam Cement also has its own petrochemical plant, competing with PTT Chemical.
"This sale will enhance SCC's ability to pursue both regional and domestic business expansion in its core businesses," President Kan Trakulhoon said in a statement to the stock exchange today. The board approved the stake sale because Siam Cement is a minority shareholder in PTT Chemical and isn't involved in its management, Kan said.
Siam Cement first invested in National Petrochemical Pcl in 1984 and Thai Olefins Pcl in 1989, according to the statement. The companies then combined in 2005 to become PTT Chemical, the nation's biggest petrochemical company by market value.
Phatra Securities Pcl, Bank of America Corp.'s Merrill Lynch unit, UBS AG and Credit Suisse Group AG managed the share sale for Siam Cement.
-- Editors: Vipin V. Nair, Garry Smith.
Before it's here, it's on the Bloomberg Terminal.
LEARN MORE