Netflix Adds Disney Television Shows for Streaming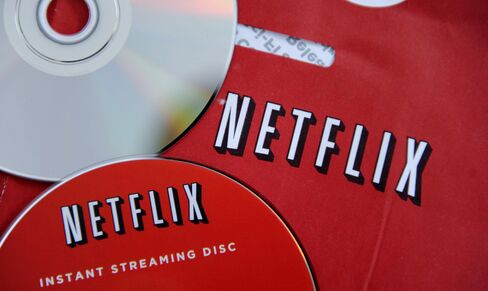 Netflix Inc., the movie-rental service, will expand its online offering of Walt Disney Co. shows, adding programs such as ABC Family's "Greek" after introducing a streaming-only service last month.
The licensing deal with the world's biggest media company covers delivery over the Internet for an expanded lineup of TV shows from the ABC broadcast network, Disney Channel and, for the first time, ABC Family, the companies said today in a statement.
Netflix is making more films and programs available to consumers through Web-connected TV sets and game consoles, lowering its dependence on mail-order DVDs. In November, the Los Gatos, California-based company introduced its first streaming-only subscription in the U.S. for $7.99 a month.
A few Disney Channel and ABC Family shows will be available for streaming on Netflix as early as 15 days after airing on TV, Kim Harbin, a Disney spokeswoman, said in an e-mail. No ABC broadcast episodes will be on Netflix during the current season, she said.
Prior seasons of ABC's "Lost," "Ugly Betty" and "Grey's Anatomy" will be available, the companies said today, as well as shows from ABC Studios such as "Scrubs" and episodes of Disney Channel's "Good Luck Charlie." The agreement includes old episodes of Disney Channel hits "Hannah Montana" and "The Suite Life of Zack & Cody," and movies such as "High School Musical" and "Camp Rock."
Analysts' Ratings
Under its October 2008 deal with the Starz premium cable channel, Netflix streams first-run movies to its "Watch Instantly" service from Walt Disney Studios and Sony Pictures. The agreement is set to expire in late 2011, said Richard Greenfield, an analyst at BTIG LLC in New York.
Of the 29 analysts who follow the company, 7 have sell ratings, 17 say hold and 5 suggest buying it, according to data compiled by Bloomberg.
"Studios will likely become much more aggressive in pushing for higher content fees," Barton Crockett, an analyst with Lazard Capital Markets who has a "hold" rating on the stock, said today in a research note to investors.
Netflix named David Wells to replace Chief Financial Officer Barry McCarthy, according to a statement yesterday after the markets closed. Wells, who served most recently as vice president of financial planning and analysis, will take on the new role as of Dec. 10. McCarthy is leaving to explore positions outside the company, Netflix said.
Speaking at a Barclays Capital investor conference today, McCarthy said there is no single piece of content that Netflix must have to succeed. The company might expand its international streaming business beyond Canada as early as next year, he said.
Disney, based in Burbank, California, fell 36 cents to $36.97 at 4 p.m. in New York Stock Exchange composite trading. Netflix, whose share price has more the tripled this year, dropped $1.58 to $188.23 on the Nasdaq Stock Market.
Before it's here, it's on the Bloomberg Terminal.
LEARN MORE