Imagine There Was No Shooting -- John Lennon at 70: Mark Beech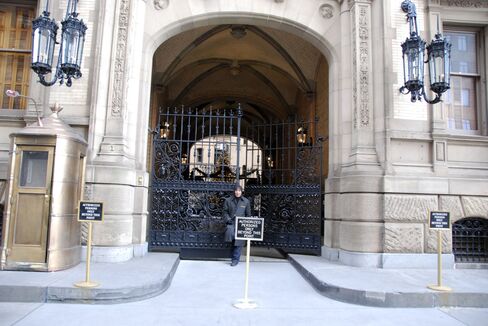 Imagine there was no shooting. It's easy if you try. No Mark Chapman. Only John, a bitter old guy.
You may say I'm a dreamer, but I'm certainly not the only one: Lennon fans today face the 30th anniversary of his death. Based on what we know from his short life, we can guess what the ex-Beatle might have done, what causes he would have embraced, what songs he would have written. My guess is that he would be a cranky 70-year-old, a not-so-English eccentric, ridiculed by many, still venerated by fans.
Not that the creative outlook was so good in 1981. Rock is best born out of youthful passion and pain (in Lennon's case, "God" and "Help!"). He died a middle-aged millionaire, mellowed by domestic bliss and extended vacations. On the sugary "Double Fantasy" LP, he told his son Sean "I can hardly wait to see you come of age," a line now heavy with irony -- at the time just cringe-worthy.
The best hope is that some headline or another would have shaken Lennon's complacency and fueled feverish bursts of music. He was best when grumpy and outspoken. I suspect John would have overcome technophobia to deliver his message fast: streaming tracks, blogging and Twittering.
Most enticing was the prospect of a Beatles reunion. Paul McCartney, carrying a guitar, showed up at the Dakota during Lennon's "househusband" years and was turned away. John was baking bread and looking after the baby. Still, it's easy to see the "estranged fiances" joining again for a good cause.
Lennon always erratically pleased himself and didn't care what others thought. I think he'd have got more into vegetarian and macrobiotic food (with lapses for fish and chips and Brandy Alexanders, not together) and hobbies (sailing, Beatles memorabilia). He'd probably have written more books, loved Nirvana for its uncompromising attack and attacked Oasis as copycats. Here's what might have happened.
Dec. 8, 1980: Lennon returns to the Dakota. He decides to call his older son -- John had just said in an interview he was sorry to have missed out on the boy's growing up. He promises Julian a motorbike for Christmas. After a long chat, it's late: the Lennons stay in for a TV dinner. The only shots they hear are from the Clint Eastwood film. John falls asleep, saying life begins at 40.
1984: Lennon gleefully joins Bob Geldof's Band Aid.
1985: The Beatles reunite to sing "Across the Universe" at Live Aid. In subsequent years, Lennon plays with U2 and Bob Dylan at the Live 8 and Live Earth concerts, then declares he's "bored with the whole charity thing, it doesn't do any good."
1986: Lennon re-records "Give Peace a Chance" and attacks Ronald Reagan, Margaret Thatcher and yuppies. He starts campaigning for Nelson Mandela's release.
British Tea
1991: While Lennon's accent is now trans-Atlantic, he misses "things like British tea and horseraddish sauce (not together)" and buys a house in London then a Wiltshire country estate. Still, he spends more time in New York, Beverly Hills and Bermuda. He later considers the sale of his estate to Madonna then gives it to a meditation charity backed by George Harrison.
1995: McCartney asks for Lennon's help with a Beatles compilation. The band jams at Harrison's studio until Ringo Starr falls asleep and the others argue. The project is shelved.
1997: McCartney is knighted. Lennon, who sent back his own U.K. honor in 1969, says "once I'd have been disgusted. Now, if it makes him happy, that's cool."
2001: Lennon completes the unfinished Beatles reunion album with Phil Spector. After Harrison dies, it's released as a tribute under the title "Free as a Bird."
2003: Lennon gets his 15th honorary doctorate and releases his 20th CD, "Crosspatch," a plea for the environment.
Imagine Obama
2008: Lennon campaigns for the election of Barack Obama, "my chum." Wearing a fedora over thinning gray hair, he sings "Imagine" at the 2009 inauguration. The relationship is later strained when Lennon demands free organic food for the homeless and impatiently demands more action on the Gulf oil spill.
2009: The Lennon-Ono marriage, which he says could have ended in tears, marks its 40th anniversary with a new version of his song "Grow Old With Me," now a standard at weddings. "Grow old along with me, two branches of one tree, face the setting sun, when the day is done."
Today, Dec. 8, 2010: An ordinary day in the Lennon household. Julian calls his dad to say that it was exactly three decades ago they were reconciled: He has cherished the motorbike and wants to sell it for a charity run by Bono. Lennon gives his blessing and decides to head for the studio.
There is a deranged fan with a gun waiting for him outside.
Imagine no new Lennon material, just endless repackaging and the money machine cranking into top gear and the cash tills ringing out to the tune of "Happy Xmas (War is Over)."
Fans who fail to imagine there's no heaven will see Lennon looking down as the reissues roll out.
As he once sung, "I'm just sitting here watching the wheels go round and round, I really love to watch them roll."
(Mark Beech writes for Muse, the arts and leisure section of Bloomberg News. The opinions expressed are his own.)
Before it's here, it's on the Bloomberg Terminal.
LEARN MORE