Icahn's Pursuit of Motorola Split Has Yet to Pay Off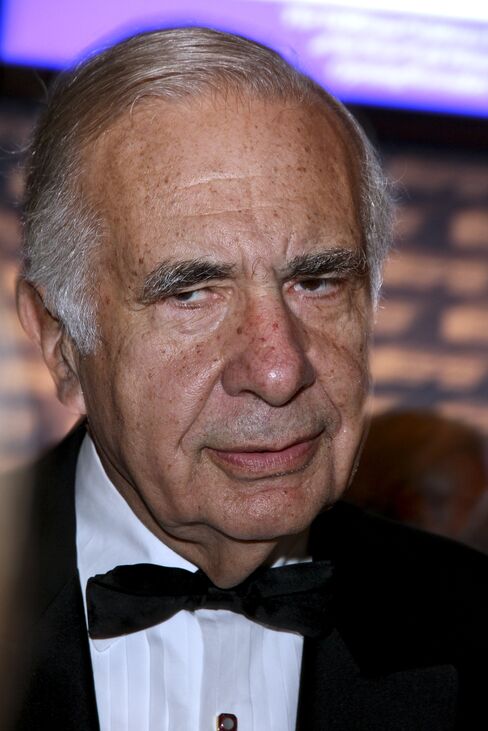 Four years after he began agitating for change at Motorola Inc., Carl Icahn will get his wish Jan. 4 with the spinoff of its mobile-phone unit. He still hasn't made money on the investment, according to Bloomberg calculations.
Icahn's stake in Motorola is worth at least $159 million less than what he paid and perhaps several hundred million more, according to calculations based on regulatory filings. The current value of his holdings is $2.17 billion.
The stock still has great potential with the spinoff approaching and Motorola making progress in its mobile-phone business, Icahn, 74, said in an interview.
"Even if there is a deficit, I have become a believer in the two companies that are being separated," he said. The split is something "we have been strong proponents of for four years, and I believe the separation will greatly enhance shareholder value," he said.
Icahn said he doesn't run the numbers every day and couldn't comment on the estimates or say precisely where his investment stands. Motorola shares trade at less than half their level four years ago. He said he has bought shares more recently at lower prices so his average cost per share has dropped. Motorola's stock has more than doubled from its low in 2008, moving him closer to breaking even.
"That initial investment has not worked out, but he has finally gotten Motorola to do what he wanted," said Tavis McCourt, an analyst at Morgan Keegan & Co. in Nashville, Tennessee, who rates Motorola "outperform." "Can the shares get back to the value of where he made his original investments? I doubt it. Can he get to a point where he is making money on the total investment? That is definitely doable."
Icahn's History
Motorola plans to spin off its mobile-phone and set-top box units into a company called Motorola Mobility Holdings Inc., leaving it with businesses that make bar-code scanners, walkie-talkies and other emergency-communication equipment.
"We believe it's still an inordinately cheap stock," Icahn said. "The greatest investments are made by understanding simple facts. With Motorola it's the fact that when you're buying the shares, you're buying into the company without paying for the mobile business."
Icahn built his reputation as a corporate raider in the 1980s targeting companies such as Phillips Petroleum Co., Texaco Inc. and Trans World Airlines Inc. He more recently sparred with management at Time Warner Inc. and Yahoo! Inc., and is now battling for control of Metro-Goldwyn-Mayer Studios Inc., distributor of James Bond and Rocky films. He often spends years holding stocks as he waits for investments to pay off.
Regulatory Filings
Icahn disclosed a stake in Motorola in January 2007, first pushing for a seat on the board and stock buybacks. At the time, Ed Zander was chief executive officer and the company was the world's second-largest mobile-phone maker, behind Nokia Oyj. In the third quarter of this year, Motorola ranked seventh in the industry, according to researcher Gartner Inc.
Icahn spent at least $3.52 billion buying Motorola stock and sold over $1 billion since January 2007, based on regulatory filings and Bloomberg calculations. The most conservative estimate for his deficit uses the lowest price for purchases and highest price for sales in each quarter, assuming that Icahn always bought at the low in a quarter and always sold at the period's high. If he bought and sold at average prices in each quarter, he would be down by about $700 million.
Icahn has raised his Motorola stake in seven quarters since early 2007, including the past three, according to the filings. He has also sold Motorola stock in three quarters, though not since the last three months of 2008. The filings disclose prices for some though not all of his transactions.
Icahn vs. Motorola
Motorola rose 14 cents to $8.23 at 4 p.m. in New York Stock Exchange composite trading. The shares have climbed 6.1 percent this year. Motorola had no comment on Icahn's investment, according to spokeswoman Jennifer Erickson.
In May 2007, Icahn's pitch for a seat on Motorola's board was defeated by shareholders. He kept buying stock and began pressuring the company to split in two to unlock what he saw as hidden value for shareholders.
Motorola first announced a plan to spin off its mobile-phone business in March 2008, though it was delayed amid the global recession. Sanjay Jha joined from Qualcomm Inc. to lead the mobile-phone business and has rebuilt the unit around smartphones that use Google Inc.'s Android software.
In an interview in June, Jha said Icahn, now the company's largest shareholder, has been a "force for good" at Motorola.
"Carl is seen as an agitator, but in this instance I think he's agitated in the right ways," Jha said at the time.
Icahn, for his part, has also begun to praise Motorola's management, four years after he attacked it.
"Motorola needed a guy like a Sanjay who understands business and also how to turn it around," he said.