Taleb Mocks 'Boring' Bernanke, Wage Slaves in Book of Aphorisms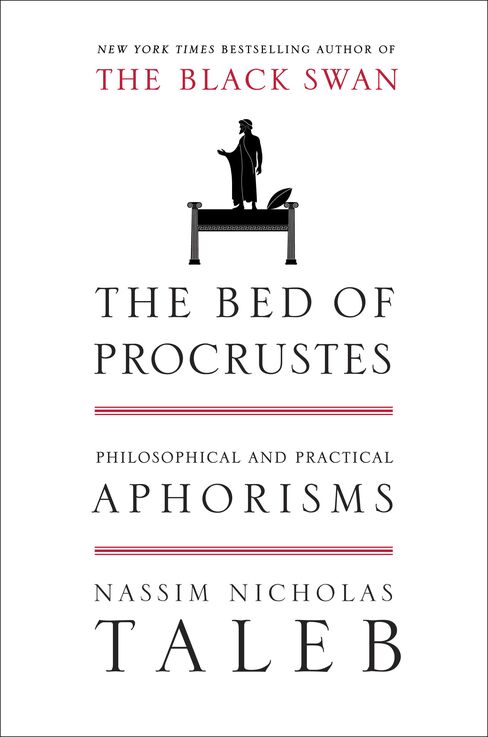 Why do hedge-fund traders seek to be seen as philosopher kings?
George Soros set the pace with his "theory of reflexivity." Then came Nassim Nicholas Taleb, who became a professor at New York University and gave us the catchphrase "black swans."
In his writings and publicity photos, Lebanese-born Taleb strikes a pose. His biographical sketch says he "spends most of his time as a flaneur, meditating in cafes across the planet."
Now, in time for the holidays, Taleb has brought out a slim volume of aphorisms, "The Bed of Procrustes." Laced with contempt for all kinds of people -- including Robert Rubin and Ben Bernanke -- the book makes for a provocative and frostily charming collection of sophistry.
The title refers to a sadistic thug from Greek mythology who abducted travelers and forced them to lie in a special bed. If a hostage was too short, Procrustes stretched him to fit the furniture. If too tall, his legs got lopped off. The bed came to symbolize any arbitrary standard ruthlessly used to produce conformity. The theme speaks to Taleb's preoccupation with how humans handle the unknown and unexpected.
"Every aphorism here is about a Procrustean bed of sorts," he writes. "We humans, facing limits of knowledge, and things we do not observe, the unseen and the unknown, resolve the tension by squeezing life and the world into crisp commoditized ideas, reductive categories, specific vocabularies and prepackaged narratives, which, on the occasion, has explosive consequences."
Procrastination and Hatred
What we get, then, are epigrammatic distillations revolving around the issue of "how we deal, and should deal, with what we don't know," a topic he explored in "The Black Swan" and "Fooled by Randomness."
In some of these aphorisms, Taleb captures the human condition with terse precision: "Procrastination is the soul rebelling against entrapment," he writes.
Elsewhere, he tries a little too hard: "Hatred is love with a typo somewhere in the computer code, correctable but very hard to find."
Hatred is a recurring motif in these pages, along with slavery, suckers and Taleb's disdain for consultants, economists, journalists and Harvard Business School professors. After every brush with people engaged in such "depraved pursuits," he takes "a ritual bath" to purify himself from the profane, he says.
Nabokov and Boxes
Taleb can be funny in an acerbic way, as in this gem: "For pleasure, read one chapter of Nabokov. For punishment, two."
All too often, though, the peripatetic sage leaves the creepy feeling that he's sneering at you from a great height. Here's how he sees his fellow men:
"They are born, then put in a box; they go home to live in a box; they study by ticking boxes; they go to what is called 'work' in a box, where they sit in their cubicle box; they drive to the grocery store in a box to buy food in a box; they go to the gym in a box to sit in a box; they talk about thinking 'outside the box'; and when they die they are put in a box," he writes. "All boxes, Euclidian, geometrically smooth boxes."
This is a savage dismissal from a man who, flaunting his own celebrity and freedom, suggests that most humans are serfs: "Those who do not think that employment is systemic slavery are either blind or employed," he says. Does he derive pleasure from rubbing it in?
'Bankster' Rubin
To be fair, Taleb challenges us to think for ourselves, a job too many shirk. He's as severe with the high and mighty as he is with the plebs.
At one point, for example, he voices concern about "the growing separation of the ethical and the legal." A footnote reads: "Former U.S. Treasury secretary 'bankster' Robert Rubin, perhaps the biggest thief in history, broke no law."
As for Federal Reserve Chairman Bernanke, he inspired this line: "How superb to become wise without being boring; how sad to be boring without being wise."
After reading the book twice, I got to wondering if Taleb hadn't built his own Procrustean bed: Here lies the money man stretching himself into Plato.
"The Bed of Procrustes: Philosophical and Practical Aphorisms" is from Random House in the U.S. and from Allen Lane in the U.K. (112 pages, $18, 14.99 pounds). To buy this book in North America, click here.
(James Pressley writes for Muse, the arts and leisure section of Bloomberg News. The opinions expressed are his own.)