Obama Summons CEOs to White House for Talks as He Seeks Change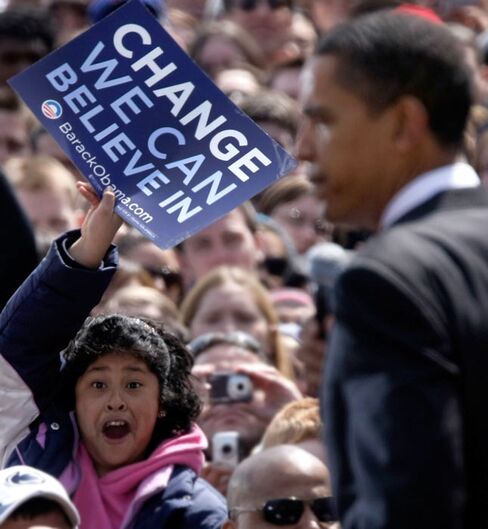 The president who promised change for a country that was brought to the brink of depression is seeking advice from business leaders two years later for what may be his own makeover as he tries to find jobs for 15 million unemployed Americans.
President Barack Obama has met with Michael Duke, chief executive officer of Wal-Mart Stores Inc., Alan Lafley, a former CEO of Procter & Gamble Co., and Steven Reinemund, former chairman and CEO of PepsiCo Inc. He has also spoken with former President Bill Clinton. More discussions are on the way.
"Over the next several weeks I'm going to be meeting with my economic team, with business leaders and others to develop specific policies and budget recommendations for the coming year," Obama, whose Democratic Party last month lost its U.S. House majority in its worst defeat since 1938, said yesterday during a speech in Winston-Salem, North Carolina.
For all his achievements since he was inaugurated Jan. 20, 2009 -- reviving General Motors Co. from bankruptcy, moving to expand health coverage to some 30 million uninsured Americans, and creating or saving what the White House says are 3.3 million jobs with a stimulus program -- Obama still "has a jobs problem," says Paul Begala, a Democratic strategist.
"The beginning of the recovery is when you stop pretending it's merely a political problem or a messaging problem," said Begala, who served as an aide to Clinton when Democrats lost the House and the Senate in 1994.
Rolling Out Changes
Administration officials and friends of the president say they expect a gradual rollout of staff changes as well as initiatives to coordinate with the new Republican power as he prepares for his State of the Union address in January.
The president, who has opposed extending Bush-era tax cuts for the highest-income Americans, may have taken a first step yesterday by agreeing to a two-year extension of the tax cuts for all income levels to break a "stalemate" between Democrats and Republicans. He's also insisting on extending jobless benefits for the long-term unemployed. His action won applause from some Republicans yet may cause conflict within his own party.
The "trick" in restoring employment is to channel any savings from tax incentives into investments in the economy, says Greg Mankiw, an economics professor at Harvard University and former top economic adviser to President George W. Bush.
Need a 'Vision'
As some of the senior advisers who steered him through the first half of his term move on, the president must find a driving personality to help set priorities and discipline within the West Wing; a fiscal expert who grasps the nexus between policy and politics; and a CEO to calm a business community complaining that the White House isn't listening.
"They need to lay out their vision," said Stan Greenberg, a former pollster for Clinton. "People are worried about America's economic decline, and he's got to show them he's got a path forward."
He'll have to do that with a team that so far isn't top tier, say observers such as New Hampshire Senator Judd Gregg, a Republican who was once asked to serve as Obama's first Commerce secretary.
"They've lost their first team," Gregg said. "What they really need are people who understand how to communicate in the legislature effectively," said Gregg, who added that he'd "be happy" to fill such a void.
Forecasting 2012
Obama's re-election prospects depend heavily on the economy. Ray Fair, a Yale University economics professor who developed a computer model to predict presidential election outcomes, said he believes Obama will win in 2012 with 55.9 percent of the vote.
That scenario is based on Fair's forecast that the economy will be growing 4.7 percent in 2012. He says the Federal Reserve's aggressive monetary policy, the fiscal stimulus from a continuation of the Bush tax cuts, and a rising stock market will boost the economy.
Fair says the election would be closer under more modest economic growth along the lines of consensus forecasts.
The median forecast for gross domestic product growth in 2012 is 3 percent, according to a Bloomberg survey of economists in November. Under that scenario, Fair's model predicts a 50.8 percent vote for Obama, with a 2.5-percentage-point error margin.
"Basically, too close to call," said Fair.
The stock market has rebounded from the worst U.S. recession since the Great Depression: The Standard & Poor's 500 Index is up 44 percent from the final market close of Bush's administration.
Beyond the Moment
David Axelrod, Obama's senior adviser, said the crises the administration faced forced tough decisions that resulted in negative political consequences.
"But the answer to those is not to remake yourself or trade in your principles or philosophy for something that you think is more serviceable to the moment," he said.
White House Chief of Staff Pete Rouse is conducting an internal review that covers personnel, policy and political strategy. The most prominent decision so far, aides say, is Axelrod's anticipated departure after the State of the Union speech and the addition of former campaign manager David Plouffe.
In addition to corporate chiefs, Obama has sought counsel from former Senate Democratic Leader Tom Daschle; John Podesta, director of the Center for American Progress; and former chief of staff Rahm Emanuel, who stepped down in October to run for mayor of Chicago.
"He has to build a governing coalition, and it can't include only those people who were wildly enthusiastic about him because that's not 50 percent," said former Nebraska Senator Bob Kerrey, a Democrat.
New Phase
Obama's State of the Union speech represents a new phase - - both in his political fortunes and for the economy -- where he will look at the long term and how the U.S. competes in the global economy in the 21st century, aides said.
In his speech yesterday, Obama said the nation faces a "Sputnik moment" in the challenge to train a workforce to compete, referring to the Soviet Union's 1957 satellite launch that spurred the U.S. to focus on science and math education to catch up.
"Will there be a set of prescriptions and goals, some of which may be new? The answer to that is probably yes," Axelrod said of the State of the Union address. "But will his basic philosophy have changed? And the answer to that is no."
Beyond the message, Obama needs a staff to implement his vision. The term "fried" is commonly used to describe the exhaustion level of aides, many of whom transitioned to the White House after two years of near nonstop campaign work.
"You can see the fatigue in their eyes," said Democratic consultant Bill Carrick.
'A Big Debate'
The president is considering whether to bring someone from the business community as a point person on job creation.
"They're going to have a big debate with the Republicans on how to create jobs and how to cut taxes and the deficit," said Greenberg. "They need an economic team that's up to that."
Though Obama was weakened by the congressional elections, he can regain strength as other presidents like Dwight Eisenhower, Harry Truman, Ronald Reagan and Clinton did when their parties suffered heavy losses, historians said.
Clinton benefited from a rebounding economy and gained when Republicans shut down the government over a budget impasse.
The recovery was well-established in 1994 and unemployment had been falling for more than two years. By November 1996, when Clinton won re-election, unemployment had dropped to 5.4 percent and the economy was growing at a 4.4 percent annual rate.
On Election Day, the S&P 500 closed up more than 53 percent from its close on the day of the 1994 midterms.
Obama's economy may not be as kind. The median private forecast is GDP growth of 3.2 percent for the final quarter of 2012 and an unemployment rate averaging 8.7 percent during the year, according to a Bloomberg survey of economists in November.
Still, things may go his way, said Michael Beschloss, a historian and author of "Presidential Courage: Brave Leaders and How They Changed America 1789-1989." "The three last presidents who lost Congress were Truman and Eisenhower and Clinton. All three got re-elected."
Before it's here, it's on the Bloomberg Terminal.
LEARN MORE