Turner Prize Won By Singing Artist Philipsz as Students Shout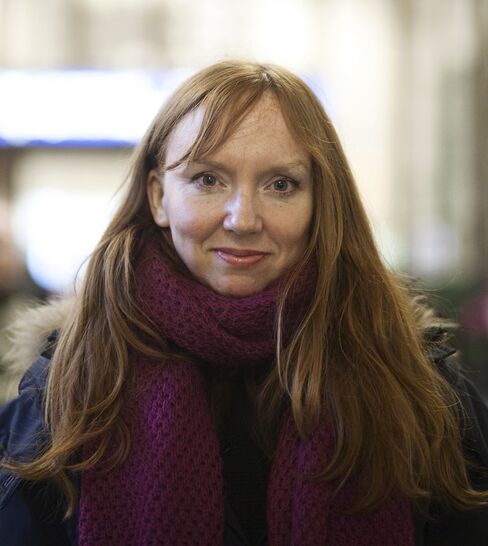 The Turner Prize, Britain's top visual-arts award, last night went to the sound artist Susan Philipsz, who plays recordings of her singing voice at bus stations and bridge underpaths.
The prize-giving event at London's Tate Britain was overtaken by about 50 students protesting government cuts in education spending. Though they were walled off behind partitions, their shouts -- that Tate "would be empty without art schools" and that education "should be free for all, not a product for purchase" -- virtually drowned out the live, televised proceedings.
Philipsz, the winning artist-balladeer, backed the protesters in comments to reporters. "My heart goes out to them," said the 45-year-old redhead, who was dressed in a black pinstripe skirt and polka-dot blouse.
Speaking of her work, Philipsz said while sound was her "primary tool," she didn't think of herself as a sound artist. "I've studied fine art and only ever exhibited within a visual-arts context," she said, explaining that her sculpture studies naturally led her to the vocal work. Philipsz described her singing voice as "fine, but not in any way special."
Earlier, as students belted out their slogans, Tate Director Nicholas Serota said on live television that he shared their concerns. "Arts should continue to be accessible to all," he said. He later told reporters, "It seems as though it's a moment for sound."
"We work in a public institution and we work in a public arena," said Serota, sporting a thin red tie. "That means that everyone who wishes to should have a voice."
Aural Sculptures
Born in Glasgow and now based in Berlin, Philipsz fills public spaces with the sound of her a cappella voice, singing folk or pop songs. Like aural sculptures, they take over the places they are in, and alter the experience of being there.
For "Filter" (1998), Philipsz delivered tunes by Radiohead, Marianne Faithfull, Nirvana and the Velvet Underground that wafted through a busy bus station's sound system.
Earlier this year, in "Lowlands," she produced mournful recordings of three different versions of the 16th-century Scottish lament "Lowlands Away," about a sailor who drowns at sea, and whose ghost returns to his lover's side. The tapes were played below the three bridges over the river Clyde in Glasgow.
In the Tate Britain exhibition put on by this year's Turner Prize nominees, her unspectacular version of "Lowlands" echoed out of three chunky speakers placed on low shelves in different corners of a room.
Prize Money
The Turner Prize is given every year to "a British artist under 50 for an outstanding exhibition or other presentation of their work in the 12 months preceding." The prize money is 25,000 pounds ($39,000) for the winner and 5,000 pounds each for the other three.
Tate organizes the award, and the director of Tate Britain heads the jury. The award this year was presented by fashion designer Miuccia Prada.
Created in 1984 to acknowledge the U.K.'s up-and-coming contemporary artists, the Turner Prize often puzzles the public and press with its choice of winners. In 2001, it went to Martin Creed, whose body of work included a gallery light switch that went on and off at five-second intervals.
Hirst, Wallinger
Last year's winner was Richard Wright, a British artist known for creating wall paintings that he destroys after exhibition. Other winners include Damien Hirst, Grayson Perry, and Mark Wallinger, who in 2007 won the prize for his recreation of a real-life Iraq war protest by Brian Haw in London's Parliament Square.
This year's winner irked the prize's longstanding critics, the Stuckists -- a group of figurative painters who blame Tate for focusing too much on conceptual art. The group staged a protest outside the Turner Prize party, as it does each year, and objected to a song-based work winning a visual-arts award.
"It's not art -- it's music," said Stuckist spokeswoman Jasmine Maddock in e-mailed comments. "They don't give the Mercury Music Prize to a painter. They shouldn't give the Turner Prize to a singer."
Philipsz's competitors this year were: Angela de la Cruz, who reduces painting to crumpled pieces of canvas and chopped-up stretchers; Dexter Dalwood, who splices together found images to depict celebrities' living quarters; and the Otolith Group, which examines the value of documentary by creating or reconfiguring footage.
Before it's here, it's on the Bloomberg Terminal.
LEARN MORE