Rosneft, Gazprom May Bid for Poland's Lotos Refiner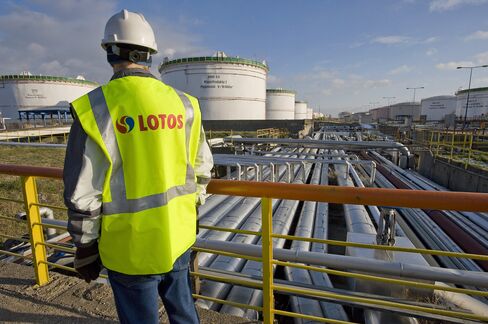 Russian companies such as OAO Gazprom's oil arm and OAO Rosneft are interested in acquiring Grupa Lotos SA, Poland's second-biggest refiner, and may team up to make a competitive bid, said Energy Minister Sergei Shmatko.
Russian oil producers may also bid separately or form ventures with foreign companies, Shmatko told reporters in Warsaw today, saying it's too early to give details.
"It's politically very important to signal that our companies are ready to come, and at least to hear from Poland that there won't be any discrimination in decision-making," Shmatko said. "It makes logistic sense," he said earlier in an interview.
Russian oil producers are seeking refining assets in Europe and Asia to boost the value of their crude supplies. Rosneft in October agreed to buy Petroleos de Venezuela SA's 50 percent stake in a German refining venture, following OAO Lukoil, which bought almost half of ERG SpA's Sicilian refinery in 2008, and OAO Surgutneftegaz, which acquired a stake in Mol Nyrt. Surgut has been barred from exercising its ownership rights in Mol as the Hungarian company termed the deal a hostile takeover attempt.
The Polish government is selling a majority stake in Grupa Lotos, which operates a refinery in Gdansk, as part of a $19 billion asset-sale plan. Poland's Treasury Ministry wants potential buyers to place preliminary bids by Feb. 4, it said in a newspaper announcement in October.
Looking at Lotos
Russian President Dmitry Medvedev, who is leading a Russian delegation for political and economic talks in Warsaw today, said "several" Russian companies are looking at Lotos.
State-controlled Rosneft is a major supplier to the refiner, and OAO Gazprom Neft has expressed interest in bidding, Shmatko said. Gazprom Neft Deputy Chief Executive Officer Anatoly Cherner said on Nov. 3 that the Polish market is "interesting," although a final decision on bidding hadn't been made.
Rustam Kazharov, a spokesman at Rosneft, declined by phone to comment on the company's plans regarding Lotos, as did Gazprom Neft's press service in an e-mailed response to questions today.
TNK-BP, the country's third-largest oil producer after Rosneft and OAO Lukoil, is also considering a bid, Rp.pl said on Nov. 3, without saying where it got the information. TNK-BP Deputy Chief Executive Officer Maxim Barsky is listed among delegates visiting Poland with Medvedev.
Before it's here, it's on the Bloomberg Terminal.
LEARN MORE