KDDI to Revive Mobile Profit Growth in Two Years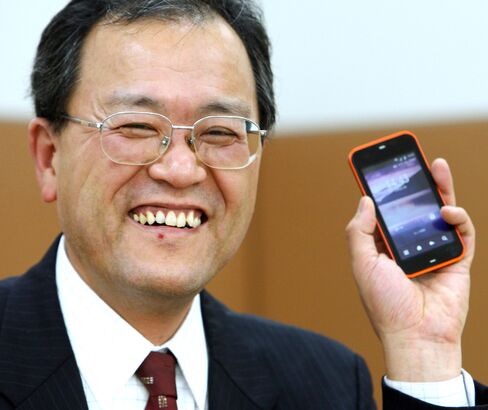 KDDI Corp., Japan's second-largest mobile-phone operator, expects smartphones to revive profit growth at the main wireless business in about two years, President Takashi Tanaka said.
Profit growth will begin accelerating in the year ending March 2013, Tanaka, 53, who took over as president this month, said in an interview in Tokyo today. KDDI also plans in the next fiscal year a 3G smartphone that can detect WiMax signals.
Profit at the mobile-phone business will probably fall 11 percent to 430 billion yen ($5.2 billion) in the 12 months ending March 31, as revenue declines 4 percent to 2.55 trillion yen, the company said in October. KDDI also lags behind NTT DoCoMo Inc., Japan's largest mobile-phone operator, and Softbank Corp. in net user additions.
"Tanaka's outlook on the mobile-phone operations is in-line with the market," said Hitoshi Hayakawa, an analyst at Credit Suisse Group AG in Tokyo. "The market's view on KDDI would change dramatically if he sped up smartphone deployment and managed to make profit in the business grow next fiscal year," said Hayakawa, who recommends holding KDDI shares.
Smartphones, such as handsets running Google Inc.'s Android operating software, will account for a majority of new models in the company's lineup next fiscal year, Tanaka said. KDDI in October said it plans to introduce four Android models by March 31, including handsets made by Sharp Corp. and Toshiba Corp.
KDDI fell 1.2 percent to 478,000 yen at the 3 p.m. close of trading in Tokyo, a second consecutive day of decline. The shares have dropped 3 percent this year, compared with the 3.6 percent decline by the Nikkei 225 average.