Ivory Coast Rival Cabinet May Welcome Gbagbo Allies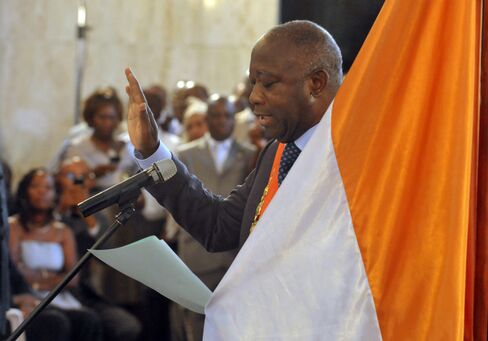 Dec. 6 (Bloomberg) -- The government of the United Nations-backed winner of Ivory Coast's Nov. 28 election said it's willing to include allies of Laurent Gbagbo, who defied the Electoral Commission and claimed victory.
"There will be no witch hunts," Guillaume Soro, who resigned as Gbagbo's prime minister last week and joined the rival Cabinet of Alassane Ouattara as premier and defense minister, told Europe1 radio today. "If Laurent Gbagbo agrees to peacefully transfer power, ministers of his party will be welcome."
Gbagbo, 65, the incumbent, was sworn in as president on Dec. 4 after the Constitutional Council rejected the Electoral Commission's vote count, alleging irregularities in some northern states. Hours later, Ouattara, 68, said he had taken the oath of office, citing the 54.1 percent of the vote the commission says he won. The European Union and the U.S. have also backed Ouattara.
"We are in the logic of confiscation of power," said Soro, the former commander of rebel forces in the north. "The alternation of power must be allowed."
Curfew Extended
The election was meant to unite the world's top cocoa grower, which has been divided into a rebel-held north and government-controlled south since a 2002 uprising. The dispute over the results produced an increase in violence that has left several dead, with Ouattara supporters taking to the streets in protest. A curfew that was instituted before the vote was extended for another week, Radiodiffusion Television Ivoirienne reported today.
Cocoa for March delivery surged 4.5 percent to $3,068 as of 11:56 a.m. in New York today. Cargill Inc. said it is "experiencing some challenges both in terms of delivery of beans and logistics on the ground," Stephen Fairbairn, Cobham, England-based head of communications said in a phone interview today.
"A president was elected and it's Alassane Ouattara," French President Nicolas Sarkozy told a press conference in New Delhi, India, today. "I have called Gbagbo once on the telephone. I told him that it was up to him to choose what place he wants to have in history."
Economic growth in Ivory Coast has averaged 1.1 percent in the eight years since the conflict started as the cocoa-dependent country missed out on the wave of foreign investment in Africa from such nations as China. Gbagbo's supporters hold Ouattara, 68, responsible for the revolt, a charge he denies.
Army Support
The leaders of the armed forces in the former French colony have backed Gbagbo.
"The international community does not choose for the Ivorians," Pierre Kipre, the country's ambassador to France, said in an interview with Europe1. "Let the Ivorians make their own decision. It is essential that the Ivorian army provide security."
Gbagbo has held onto key support within the country from National Assembly lawmakers and leaders of the armed forces, said Sebastian Spio-Garbrah, chief analyst with DaMina Advisors in New York.
"He still maintains the levers of power in Abidjan and has the xenophobic and nationalistic youth militias ready to unleash mayhem," he said in an e-mailed note today.
Newcrest Mining Ltd., Australia's largest gold mining company, suspended operations at its Bonikro mine in Ivory Coast over the weekend because of political unrest. Randgold Resources said its Tongon mine in the country is operating normally.
AU Mediation
Former South African President Thabo Mbeki went to the Ivory Coast yesterday to mediate an agreement between the two sides. He was appointed by the African Union after he led previous mediation efforts during the uprising. He will leave today and give a report to the Addis Ababa-based AU, his spokesman Mukoni Ratshitanga said today.
"Mbeki will try and get both sides to the negotiating table, most likely to form some sort of broad-based inclusive government," said Rolake Akinola, an independent Africa analyst. "Ouattara's side, and indeed Gbagbo's side will likely adopt a wait-and-see approach to the mediation efforts, but only for a short while, before seeking to up the ante through threats of a return to war or violent protests," she said in an e-mailed from London today.
Clashes between the rival camps have claimed the lives of 18 people in Abidjan alone over the past three days, Amadou Coulibaly, a spokesman for Ouattara's party, said late yesterday. Sporadic gunfire could be heard in the city yesterday.
Looting, Deaths
Six people died and four were seriously wounded in the central cocoa-producing town of Issia on Dec. 3, after pro-Gbagbo youths attacked shops owned by Ouattara supporters and looted a cocoa-bean warehouse, according to an opposition official who did not want to be identified for fear of reprisals.
Local officials at the Red Cross declined to comment on the reports of violence. Gendarmerie spokesman Ange Nouko didn't answer calls to his mobile phone seeking comment.
The country's borders, which were sealed off on Dec. 2, will reopen today, army spokesman Hilaire Gohourou said in a statement read on state television.
To contact the editor responsible for this story: Antony Sguazzin at asguazzin@bloomberg.net.