Forint, Bonds Tumble as Moody's Cuts Hungary to Step Above Junk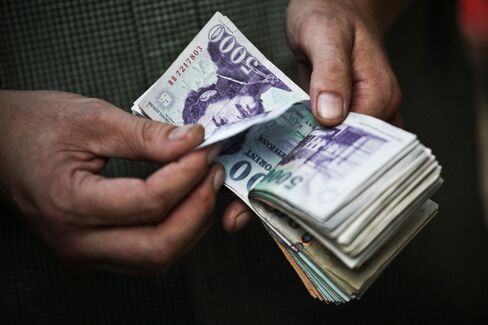 The forint tumbled, extending the biggest decline among emerging-market currencies this year, and bonds and stocks fell after Moody's Investors Service lowered Hungary's credit rating to one step from junk.
The forint snapped a four-day rally, sliding 1.4 percent to 280.32 per euro at 5:15 p.m. in Budapest, the most among more than 150 currencies tracked by Bloomberg worldwide. The yield on bonds maturing in February 2016 rose 10 basis points to 8.06 percent. The BUX Index of stocks dropped 0.7 percent.
Hungary, the first European Union nation to get an international bailout during the credit crisis in 2008, is levying special taxes and funneling assets from pension funds to plug the budget gap. The government is relying on "temporary measures rather than sustainable" fiscal policies, leading to a "gradual but significant loss" of the eastern European nation's financial strength, Moody's said in a report today.
"We do not like what is happening in Hungary and see the forint as one of the most vulnerable currencies in the region," Elisabeth Andreew, chief foreign currency strategist at Nordea Bank AB in Copenhagen, wrote in a note to clients. "Market forces to some extent will prevent the government from doing even more harm."
Prime Minister Viktor Orban's cabinet on Nov. 24 approved a plan to strip citizens of state pensions unless they move privately managed retirement funds to the state. The government is imposing special taxes on selected industries until at least 2014 to cut the budget deficit below the European Union limit of 3 percent of output next year.
Default Swaps
Moody's downgraded Hungary to Baa3, its lowest investment- grade ranking, the company said today in a statement from London.
Standard & Poor's put Hungary on review for downgrade in July after talks on economic policy failed between the government and the International Monetary Fund. S&P kept Hungary's rating on Nov. 3 at BBB-, its lowest investment-grade category, with a negative outlook.
Fitch Ratings said last month it may cut Hungary from BBB, the second-lowest investment-grade ranking, because the pension changes are "negative" for public finances.
"There is now a clear risk that, at some time over the next year, Hungary loses its investment grade status," Timothy Ash, head of emerging-market research at Royal Bank of Scotland Group Plc in London, said in an e-mailed note. "The message from all three rating agencies is that they feel uncomfortable with the course of government policy making at present."
Bond Risk
The cost of protecting the country's debt against non-payment with credit default swaps rose 15 basis points to 370.9 basis points, less than 10 basis points from the highest level since June reached on Nov. 30, according to data from CMA. It compares with 300.7 basis points for Romania, which is rated at the same level as Hungary by Moody's and a step lower at non-investment grade of BB+ by S&P.
The default swaps market has "already downgraded Hungary to junk status," Luis Costa, an emerging-market strategist at Citigroup Inc. in London, wrote in a note to clients.
Credit default swaps, which rise as the perception of creditworthiness deteriorates, pay the buyer face value in exchange for the underlying securities or the cash equivalent should a government or company fail to adhere to its debt agreements.
The yield on Hungary's dollar-denominated bonds maturing in January 2020 widened 18 basis points to 6.36 percent today, according to HSBC Holdings Plc prices compiled by Bloomberg.
Creditor Base
A downgrade to junk by two credit companies would mean the country's dollar bonds will have to leave major U.S. credit indexes, "eroding part of Hungary's credit investor base," Barclays Capital strategists including Koon Chow and Christian Keller in London wrote in a note to clients.
The forint has weakened 3.7 percent against the euro this year and 11 percent versus the dollar, the steepest decline among 25 emerging-market currencies tracked by Bloomberg.
Hungary last week became the first of the EU's eastern members to raise interest rates this year to combat the fastest inflation since June and support the forint. The increase in the benchmark two-week deposit rate to 5.5 percent from a record-low 5.25 percent signals the start of a monetary tightening cycle, online news portal Index said on Dec. 3, citing central bank President Andras Simor.
"It's possible foreign players will try to squeeze out further rate increases" from the central bank, said Attila Behan, head of trading at K&H Bank, a unit of KBC Groep NV in Budapest. The government "does not care what messages they send abroad, they are not trying at all to convince or calm down international markets," Behan said in a phone interview today.
Central Bank
The government has called on Simor to resign and said it wants to strip him of the right to nominate policy makers responsible for setting interest rates, giving parliament the power to select future policy makers. The terms of four of the seven Monetary Council members will expire in March.
Traders in interest derivatives have bolstered their bets for borrowing-cost increases in the past month. Three-month forward rate agreements are trading at 6.26 percent, or 65 basis points above the three-month Budapest Interbank Offered Rate at 5.61 percent. The spread rose from 10 basis points on Nov. 4.
Hungary will probably be able to sustain state finances on expectations that the new government will continue to narrow the budget deficit, said Kieran Curtis, who helps manage $2 billion of emerging-market debt including Hungarian bonds, at Aviva Investors in London.
Orban's government plans to cut the budget shortfall to 2.94 percent of gross domestic product in 2011, down from a targeted 3.8 percent this year. The previous government's austerity measures narrowed the shortfall from a record 9.3 percent four years ago.
"If reforms come along, there is a lot of upside in the assets," Curtis said. With the yield on forint-denominated 10-year bonds above 8 percent, "Hungary is an OK place to invest," he said.
Before it's here, it's on the Bloomberg Terminal.
LEARN MORE