Ford Delaying F-150 Shipments Due to Parts Shortage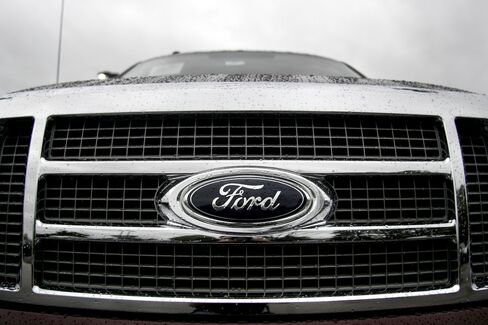 Dec. 6 (Bloomberg) -- Ford Motor Co., the second-largest U.S. automaker, is delaying the shipment of some of its 2011 F-150 pickups because of a parts shortage.
The shortage affects a "small population" of trucks and will be resolved "soon," Anne Marie Gattari, a Ford spokeswoman, said today in an interview, without being more specific. Most of the thousands of 2011 F-150 pickups Ford has stockpiled in parking lots around the Detroit area still will be shipped as the new model is introduced nationwide, she said.
Ford has equipped the 2011 version of the F-150, its top-selling vehicle, with more fuel-efficient engines to boost sales to buyers seeking to avoid higher gas costs. Ford sold 473,461 F-series trucks this year through November, a 30 percent gain from the same period in 2009, according to Autodata Corp.
"Any vehicle that is hot is important to Ford, and it's doubly bad in the case of the F-150 because it's such a volume product," said Jim Hall, principal at automotive researcher 2953 Analytics in Birmingham, Michigan. "It's a negative for Ford because of the lost revenue and the lost volume. It's one of the most profitable vehicles in their range."
Ford fell 15 cents to $16.65 at 4:15 p.m. in composite trading on the New York Stock Exchange. The shares have risen 67 percent this this year.
"A certain population of trucks is being held due to limited part availability," Gattari said, declining to identify the part or the number of trucks being held back from delivery. "We're awaiting that part so we can ship this small population of trucks."
Fuel Economy
The F-series pickups have been the top-selling trucks in the U.S. for 33 years, according to Ford. After customers complained about fuel economy, Ford added a 3.7-liter V6 engine to the 2011 F-150 that gets 23 miles per gallon on the highway and 16 mpg in city driving, the automaker said. Ford also is offering new 5.0-liter and 6.2-liter V8 engines on the 2011 model. Next year, Ford will add a turbo-charged, direct-injected V6 engine to the lineup.
Ford needs to protect its improving quality reputation and not release the new F-150 with any flaws, Hall said.
"They're far better off not trying to put a sub-par vehicle out there," Hall said. "Then you end up with a problem that's too expensive to fix down the road."
To contact the reporter on this story: Keith Naughton in Southfield, Michigan, at Knaughton3@bloomberg.net
To contact the editor responsible for this story: Jamie Butters at jbutters@bloomberg.net.